BWW Interview: Katy Brand Talks 3WOMEN at Trafalgar Studios
Writer, actress, and comedian Katy Brand debuts as a playwright with 3Women at Trafalgar Studios. We met up at the theatre to discuss influences, writing, and her play.
You're mainly known as a comedian - what's your relationship to theatre?
We went to the theatre when I was a kid. It was always a treat. I liked musicals and my family were very musical - often, when we had a birthday, that's what we'd do. So, that was always a big part of my life. Big West End theatre.
And pantomime, that was the other thing. My family love a pantomime, so that was always another big theatrical experience. Very much my earlier experiences with theatre were about a big show and showbiz and lights and dancing and music and putting on a show.
Then later in life, as I got older, I got more interested in going to see what are called straight plays and drama. I had a few friends at university who were very into that and had very sophisticated taste, so I started meeting them to go to shows in London. It's sort of grown with me as I've got older, really.
Did you prefer comedy or heavier pieces?
I wouldn't say I had any particular preference actually - I was quite lucky to know people with eclectic tastes, so they would introduce me to all different things. I think when I was young I preferred big shows and big musicals and that sort of thing, I liked a bit of razzle-dazzle and a song, a well-timed song. But my taste has changed, although I still love musicals.
I remember seeing Copenhagen when I was only about 20 and that was pretty heavy in terms of a think piece. I remember seeing Art as well - I think it made a big impression on me from a theatre point of view. Just that people could sit and talk about ideas, and that was a play and it was very interesting.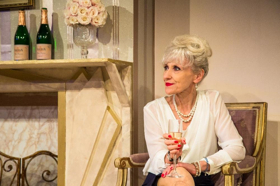 Was it different writing for the theatre after you've written for other media?
Funnily enough, out of all the different things I've written, the ones that have the most similarities are the play and the book. I'm not widely experienced in either, but what I found for both, as the writer, you're given as much space as you need to write what you want to write.
And yes, you get notes and you have an editor and a producer and a director, but there seems to be so much more freedom. And, possibly, even more respect in terms of it being your creative project.
It's your voice and your ideas. That was very freeing. Whereas in TV and film and radio, to some extent, there's always a committee of 15 or 20 people - everyone's got an opinion and everyone wants to give notes. They have concerns that maybe haven't got anything to do with the creativity of it, they have to do with demographics and ratings and what's on directly before it and directly after it...
I'd say that's the main difference. You get far less freedom, in TV particularly, to just be the writer and write what you want. Unless you're one of the top TV writers - they're given a lot of freedom.
Why did you write 3Women as a play as opposed to, say, a film?
I have some ideas that I think are the basis for a good story and then I wonder what they would fit into. Would it be best for it to be told in six episodes, or is it atmospheric and visual and it requires a lot of music and cuts, so is it a film, or do I want to go inside a lot of people's head and I want to describe things, so maybe a book would be best...
For this, it felt like a play from the start. It sounds ridiculous, but it felt like something you would see at the theatre.
What sparked it?
I had the original idea a few years ago. I wanted three women from different generations talking to each other in private about how they felt about being a woman, about ambition, professional life, domestic life, having children, feminism, men, just everything. All things women talk about. They've got a long time together and quite a lot of alcohol. That was the original idea. This desire to write something like that.
And I love writing dialogues, I love the idea of hearing women talk to each other. Then, I got busy with other things and had a baby and it fell to the side. But last September I suddenly felt a very strong urgency to write it, and I was incredibly lucky that when I pitched it to Stage Traffic they really liked it. It all happened really fast.
How long did it take you to write the first draft?
I wrote the first draft by Christmas, even though I wasn't writing it every single day - I took my time over it a little bit, which is also something that's different.
In TV, you can spend years working on something for a commission and if it does get commissioned, they want it all in six weeks. But with this, it felt to me like a luxurious amount of time - September to Christmas to write the first draft.
Then I rewrote it and suddenly we were casting it and rehearsing it. It all fell into place really fast. I think if I had pursued it a few years ago when I had the initial idea, I don't think it would have happened.
Sometimes it's just the right moment and it happens rarely - most of the time you feel like you're just chipping away at something. I think all the #MeToo stuff and Time's Up and women being very much in the news all the time, women talking about experiences and how they feel, it made it feel quite urgent.
Tell us about the characters - are they inspired by anyone?
No character is inspired by one particular person; it's not autobiographical in any way. I felt that they each should represent, to some extent, a certain set of viewpoints that I feel like are widely held by each age - one is 18, one's 40 and one is 65. Through reading and talking to people and observing things and thinking about my own experience and some people I know, they became people.
I didn't want them to just be mouthpieces of ideas. I tried to make them into people. As individual characters, they're total works of fiction in themselves. But there's lots of people I know in each of them. And I'm in each of them, as you'd expect. I guess I'm in all of them but none of them are anyone. No one is based on anyone real.
Do you think it has a different impact since it's directed by a man?
Possibly, but I think in as much as it would be a different person. And I do prefer to see people as individuals rather than in gender roles. I'm very much in favour of women having equal opportunities, obviously, and we need to push women forward somehow for a bit in order to achieve that.
In an ideal world, everyone is just seen as an individual and I think [Michael Yale, the director] is very sensitive, he really likes people - he was an actor himself, so he's very sympathetic towards the actors in the way he directs them.
I think for a piece like this, which is emotional and quite naturalistic and meant to be real, that was the most important thing. I've met female directors who wouldn't have been able to do that just because of their own personalities. I don't feel like any gender is the path to the right way, I think he was the right person to direct it.
And he's done Late Company, which is quite similar tonally and he knew the space because he's directed here before. I think he's ideal. I don't think a woman would have necessarily done what he's done.
What would you like the audience to take from it?
I've said it before, I'm not really into messages in writing. I don't want to be preachy or anything. I feel like I've tried to weave in this idea of being responsible for your own choices and trying to examine the choices that you've made.
And make the choice that has the more potential towards your happiness. I think that if there is any message, it's that at every stage of your life you should try to take responsibility for your own happiness. And pursue it - I don't think there's anything wrong with that.
Your choices should lead you to that each time. It can be quite an odd thing for women particularly to say they're going to prioritise their own happiness. It doesn't mean you have to be cruel or selfish, but to be strong about your choices and agree with your choices and take responsibility for them afterwards. I think that would be the main thing.
What can the audience expect from the play?
I think Anita [Dobson, who plays Eleanor] has described it as a bit of a ride...
For the audience or for the actors?
Both, I think! In a space of this size I think it's always going to be for both. I think you have to strap in a bit and just go with it.
It's about a family who are not entirely functional, who can sort of love and hate each other in equal measure even moment to moment. It's a bit of a roller coaster, I think, and you just have to go along with them. It's very representative of a lot of families, especially ones in moments of high tension.
I hope what I have written is funny in places, quite brutal in places, emotional in others, moving... That's what I've aimed for. There are no heroes and no villains. It's not anti-men at all. It's very much about women telling each other their stories and how they feel.
3Women runs at Trafalgar Studios until 9 June
Related Articles View More UK / West End

Stories

Shows
Cindy Marcolina is a reviewer for BroadwayWorld.com, a script reader, and a huge supporter of new work. She's also usually the one wearing red glasses (read more...)