Click Here for More Articles on LONDON TOP 10
ALL MY SONS Leads April's Top 10 New London Shows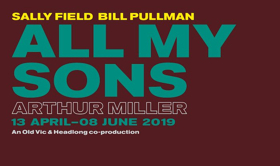 London is never short of temptations, whether splashy West End shows, epic dramas or bold fringe offerings. From Arthur Miller and Caryl Churchill to Don Quixote and zombie gore, here are some of this month's most eye-catching openings. Don't forget to check back for BroadwayWorld's reviews, interviews and features!
1. All My Sons, Old Vic
This year's unofficial Arthur Miller fest continues with a revival teeming with exciting talent. Jeremy Herrin directs a Headlong and Old Vic co-production, and, telling Miller's blistering tale of family bonds, hard truths and disillusionment in post-war America, the starry cast features Sally Field, Bill Pullman, Jenna Coleman and Colin Morgan.
13 April-8 June. Book tickets here
2. Sweet Charity, Donmar Warehouse
Outgoing Artistic Director Josie Rourke's swansong, this promises to be a fascinating take on the classic musical, with Wayne McGregor introducing new choreography. The cast includes Anne-Marie Duff, Arthur Darvill, Lizzy Connolly and Debbie Kurup; KLAXON tickets are released Mondays, plus there's a ballot for those under 26. Read our interview with Debbie Kurup
6 April-8 June. Book tickets here
3. Top Girls, National Theatre
Caryl Churchill's boldly experimental 1980s play about feminism, ambition and capitalism, kicking off with a fantasy dinner party of famous women from history, is revived by Lyndsey Turner. The cast features Katherine Kingsley, Ashley McGuire, Siobhan Redmond, Amanda Lawrence, Ashna Rabbheru, Liv Hill and Wendy Kweh. Read our interview with Siobhan Redmond
Until 22 June. Book tickets here
4. Three Sisters, Almeida Theatre
Following her revelatory take on Summer and Smoke, Rebecca Frecknall is back at the Almeida to direct Cordelia Lynn's new version of Chekhov's family drama. Also returning is her leading lady Patsy Ferran, starring alongside Pearl Chanda and Ria Zmitrowicz as the titular siblings, plus Elliot Levey, Lois Chimimba, Freddie Meredith and Alan Williams.
6 April-1 June. Book tickets here
5. Man of La Mancha, London Coliseum
Kelsey Grammer (AKA Frasier) will dream the impossible dream as the chivalric knight Don Quixote, in this historical adventure musical set in late-16th-century Spain. Lonny Price directs a cast that also features opera star Danielle De Niese, Nicholas Lyndhurst, Cassidy Janson and Peter Polycarpou, supported by the ENO orchestra.
26 April-8 June. Book tickets here
6. Nigel Slater's Toast, The Other Palace
A hit at last year's Edinburgh Fringe, Henry Filloux-Bennett's theatrical version of the top chef's autobiography - which revisits his turbulent Sixties suburban childhood - is a feast for the senses. Jonnie Riordan directs, and the cast includes Giles Cooper, Lizzie Muncey, Stephen Ventura, Marie Lawrence and Jake Ferretti. Read Jonnie Riordan's guest blog
4 April-3 August. Book tickets here
7. Ain't Misbehavin', Southwark Playhouse
Tyrone Huntley makes his directorial debut with this jazz-hot show, and it's also the musical theatre choreography debut of Strictly and The Greatest Dancer's Oti Mabuse. Celebrating the legendary Fats Waller, take a trip back to the Harlem Renaissance of Roaring Twenties Manhattan, as a talented ensemble and band sizzle and swing.
19 April-1 June. Book tickets here
8. Scary Bikers, Trafalgar Studios
John Godber pens, directs and - alongside Jane Thornton - stars in this new comedy. A retired miner and former private school teacher take a tandem cycle ride through Europe, grappling with a budding romance, as well as reckoning with the past and with the monumental Brexit referendum of 2016. Read our interview with John Godber
2-27 April. Book tickets here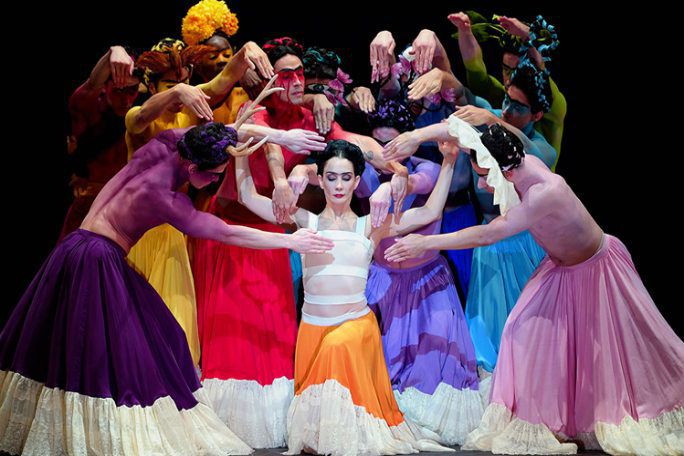 9. She Persisted, Sadler's Wells
Building on English National Ballet's first all-female choreography programme She Said, this exciting triple bill is three iconic stories about and told by women: Annabelle Lopez Ochoa tackles Frida Kahlo, Stina Quagebeur takes inspiration from A Doll's House, and Pina Bausch's Le Sacre du printemps returns following its 2017 sell-out run.
4-13 April. Book tickets here
10. Night of the Living Dead Live, Pleasance Theatre
One for horror fans, this semi-satirical stage version of George A. Romero's zombie classic pays homage to the master while also introducing new grisly thrills. The cast features Ashley Samuels, Jennifer Harding and Marc Pickering, and the hardcore can get up close and personal with the blood, brains and gore by sitting in the Splatter Zone.
9 April-19 May. Book tickets here
Want more recommendations? Find previous Top 10 lists here

Related Articles