Click Here for More Articles on REGIONAL - WASHINGTON, DC
BWW Review: THE SECOND CITY'S ALMOST ACCURATE GUIDE TO AMERICA DIVIDED WE STAND at The Kennedy Center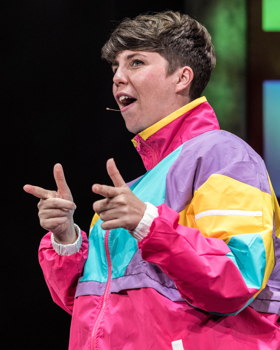 The Second City's Almost Accurate Guide to America Divided We Stand, phew! A title that never seems to end for a show that sadly, ends too quickly. Directed by Billy Bungeroth, Almost Accurate Guide is written by Ed Furman and intrepid cast members Angela Alise, Ryan Asher, Tyler Davis, Katie Kershaw, Chucho Perez, and Ross Taylor, all of who use their own first names throughout the production. The entire cast is watchable and radiates positivity and conviction. This makes sense, after all, they wrote the show!
Part scripted, part improvisational comedy Almost Accurate Guide manages to wring the truth out of a goofy mash up of worrisome hypotheticals and realistic absurdities. The only central plot: Trump is President, North Korea is launching a missile on DC, and we all have 15 minutes to live. America is in deep doo-doo.
Cast members present vignettes of life under President Trump. Asher, in a windbreaker that ignites a flood of memories from my 90s childhood, teaches a women's defense class. Later in the program, she discusses her abortion. How nice is it, she asks the audience, for any woman who has ever had an abortion to know that she is not alone?
Another memorable moment is Davis and Kershaw's collaborative rap about the racial and social inequities endemic in America and, um, the injustices suffered at the hands of Pinkberry. It's true! America is a nation deeply divided, but never fear, Almost Accurate Guide is here to bridge the divide with laughter.
Part of Almost Accurate Guide's genius is its ability to take its audience completely by surprise with the sheer force of its own brand of weirdness, so I don't want to ruin the surprise by telling you any more.
If it sounds like there is a lot going on, you're not wrong. Almost Accurate Guide is a little confusing and a little muddled but no more so than life for a liberal in America right now. Unlike in your real life, there is someone onstage able to give voice to your concerns and make you laugh when you feel like you want to cry. The Second City wants you to know you're not alone!
Scenic and Lighting Designer Colin K. Bills, Costume Designer Izumi Inaba, Stage Manager William Collins, and Music Director Dane Halvorson with Sound Design and Original Composition by Julie B. Nichols round out the production team.
THE SECOND CITY'S ALMOST ACCURATE GUIDE TO AMERICA DIVIDED WE STAND runs through August 13, 2017 at The John F. Kennedy Center for the Performing Arts Theater Lab at 2700 F St. NW, Washington, DC 20566. For tickets call (202) 467-4600 or click here.
Running Time: Approximately 2 hours, including one 15-minute intermission
Photo Credit: Ryan Asher in The Second City's Almost Accurate Guide to American Divide We Stand. Photo by Teresa Castracane Photography
Featured at the Theatre Shop
T-Shirts, Mugs, Phone Cases & More
Related Articles