Click Here for More Articles on REGIONAL - DC Metro Area Maryland
BWW Review: Sail the High Seas with HOW I BECAME A PIRATE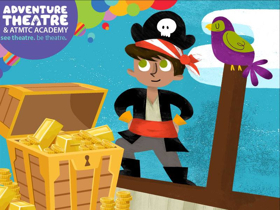 This summer when I was watching a movie, I saw a trailer for the yearly sequel of Pirates of the Caribbean. I thought to myself, are pirates still a thing? With so many other film villain tropes out there, why do we keep coming back to pirates? Well, as evident by the hordes of children adoring How I Became A Pirate at Adventure Theatre MTC, the pirates are alive and well and soaring the high seas.
Based on the 2003 children's picture book by Melinda Long (and illustrations by David Shannon), this tuneful cruise brings a wee lad, Jeremy on board the Jolly Roger. While the usual pirate hijinks occur, the story is less about "how I became a pirate" and more about "how I learned from the pirates". In a Wizard-of-Oz-esq story of going someplace in your dreams, only to find your true love is home, the story teaches the audience, through Jeremy, that pirates can be fun, but home is where I am meant to be. While the score by Janet Yates Vogt and Mark Friedman isn't particularly memorable, the entire piece works to tell the age old tale of finding home.
The seven-member crew is led by Captain Braid Beard, in yet another brilliant performance by the versatile Peter Boyer. Mr. Boyer plays the lovable captain, with a Captain Hook type buffoonery, but without the sinister impetus. Newcomer to ATMTC Kelsey Painter is perfect as the protagonist, Jeremy. From her bundle of energy to her playful naiveté, she encompasses the role and plays a perfect foil to Mr. Boyle. The five-person ensemble (Gregory Atkins, Danny Bertaux, Michelle Huey, Awa Sal Secka, and Sarah Anne Sillers) is equally exceptional with each member playing a unique and memorable buccaneer.
In usual ATMTC fashion, the technical elements were superb. Samina Vieth's playground-inspired pirate ship was spectacular, with Kristin A. Thompson's mood setting lighting. Robert Croghan's swashbuckling costumes and Neil McFadden's sound design all worked in consort with each other. Of course, as is the case with every ATMTC production I have seen, the standout is Andrea "Dre" Moore's eclectic property design. (Why isn't there a Helen Hayes Award category for property design?) Sometimes I think that artistic Michael Bobbitt picks a show that can feature a puppet created by Ms. Moore.
Finally, the true captain of this "one-hour tour" is director and choreographer, Jenny Male. I have had the privilege in my career to work with Ms. Male as her music director and as an actor. What you see on stage is a refined final product, but I assure you that she pays attention to every detail, and makes the actors better and is a true collaborator. Ms. Male, with her extensive fight choreography and dance background, was the perfect choice for this piece, and she successful got to the heart of the story with her extraordinary leadership.
There may be yet another sequel of Pirates of the Caribbean hitting the theaters soon, but the true pirate tale is playing at ATMTC. This show has enough packed into its 60-minute run time that both boys and girls will want to take a trip aboard the Jolly Roger.
How I Became a Pirate plays through October 22, 2017 at Adventure Theatre MTC in Glen Echo Park, 7300 MacArthur Boulevard, Glen Echo, MD 20812.
Box Office: (301) 634-2270 or online.
Photo credit: Sarah Staub
Photo credit: Bruce Douglas
Related Articles
Keith Tittermary is a Washington DC based music director, pianist, and actor. He recently appeared as Horton in Damascus Theatre Company's Seussical and as Brian (read more...)