BWW Review: Gender SWITCH from The Welders at Fringe Logan Arts Space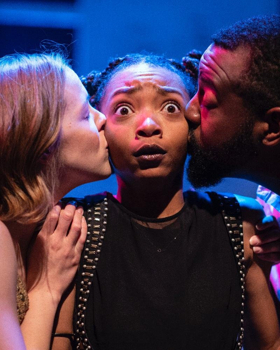 Talk about "Freaky Friday."
Brett Abelman's new play "Switch," at Fringe Logan Arts Space, is more like "Freaky Pride Weekend."
A straight D.C. couple matched up by their mutual genderqueer friend find themselves in the afterglow of intimacy having switched bodies and hence gender.
The balance of the play is exploring the abrupt switch amid Pride Weekend and trying to figure out how or whether they should try to switch back.
It's an interesting exercise that allows the consideration of all kinds of gender identity questions. But, despite the title, the complication is also treated like something as a secret by the non-binary narrator and matchmaker Lark, played with delightful exuberance by Tyasia Velines.
In one of a few interactive portions of the play, Lark whispers news about the switch to one audience member who has to spread it, telephone-style, to every other audience member. (Other audience engagement includes catching beads from the parade and having a few audience members come down and populate a dance floor - viewers are always so surprisingly amenable to this kind of thing).
Up to the big switcheroo, the coupling of the two, engagingly played by Anderson Wells and Mary Myers, is fun to watch, though both characters are more argumentative than they need to be.
But there's not enough known about either of them to create recognizable traits they can adapt once they jump into each other's body. They're physically so contrasting that it's difficult to remind oneself that what's being said now is coming from the other character.
To make it more confusing, director Megan Behm has them try the other two ways they could have played it: In their old bodies, but miming that they have the bodies of the other; but also by playing a voiceover of the very different interior thoughts as the character goes about his or her business. What's confusing to the audience is confusing, too, at Pride festivities, where they both go off to explore the opposite sex while looking like the same sex.
Throwing in a whole portion where the two visit exes to hear unvarnished truth about themselves is interesting but hardly necessary to the story. It's as if they tried to think of everything that could have happened to the two and include all of it.
The factor that will get them back in their original bodies is simply given as a rule -- something to be accomplished by a certain hour, "Cinderella" style. That Lark seems to understand this rule that nobody else knows gives the character a little too much power.
"Switch" is one of the first shows in D.C. to employ the skills of an "intimacy consultant." Emily Sucher's role is to ensure actors are safe and comfortable when handling sexually charged scenes. According to the script, though, those scenes are acted out in T-shirts and shorts lest we be distracted by body parts.
But gender is more than sex, as they find out as newbies on the Pride social circuit, meeting a variety of convincing characters played by Matt Baughman and Chloe Mikala.
Set designer Brian Gillick festoons the set with the requisite number of rainbow flags, in a space that serves as interior and exterior. It's up to sound designer Sam Cooper to provide the thump of the sometimes too-loud disco to the delicate birdcalls as dawn is about the break. His own original instrumental guitar provides a good backing for the intimate scenes too.
Abelman throws in jokes and a number of here-and-now local references (down to the mayoral elections) to bring further immediacy to the story. But what makes "Switch" work as well as it does is totally in the hands of Velines, as arresting and engaging a performer and narrator as you would want. It is Lark's magnetism that drew the couple together in the first place, so there is a feeling of responsibility there in Lark following it through.
Several performances of "Switch" are preceded by a Beyond the Binary series with performers that will further explore gender, sexuality and identity.
The Welders is a playwrights collective that produces new works for each member; "Switch," which has the feel of a work in progress, could use a little work and trimming as it goes forward, but it needn't do anything as drastic as jumping into anyone else's body.
Running time: Two hours, no intermission.
Photo credit: Mary Myers, Tyasia Velines and Anderson Wells in Brett Abelman's "Switch" at Fringe Logan Arts Space. Photo by Teresa Castracane Photography.
"Switch" runs through June 23 at Fringe Logan Arts Space, 1358 Florida Ave NE. Tickets available online.