Review: DC-Area Premiere of Fugard's THE PAINTED ROCKS AT REVOLVER CREEK at MetroStage
For more than 60 years, Athol Fugard has helped us explore South Africa through his complex, flawed, and empathetic characters. He is one of the most significant voices of our time. Fugard's most recent work, The Painted Rocks at Revolver Creek, makes its DC-area premiere at MetroStage.
When Producing Artistic Director Carolyn Griffin slated The Painted Rocks at Revolver Creek as MetroStage's season opener, little did she know that an August tweet would thrust South African farm ownership and race relations firmly back into the world spotlight. MetroStage was eager to return to Fugard, a playwright the company has produced numerous times throughout the theater's three decades. When the company presented Blood Knot in 1987, Nelson Mandela still was imprisoned and apartheid was the law of the land.
Painted Rocks takes us back to that time, placing its first act in the 1980s and the second act 20 years later in post-apartheid South Africa. Fugard depicts the brutality of apartheid, as well as the violence and engrained patterns that have impacted the post-apartheid in South Africa. The connections and contact among the characters takes us on an arc of South Africa yesterday and today, as the country struggles to reconcile its past and its future.
The painted rocks of the title are the life's work of Nukain, a character inspired by the real-life creation of outsider artist Nukain Mabuza. In a small rocky outcrop, or koppie, the 100+ painted stones comprise a garden that represents the artist's abstract vision. As The Painted Rocks at Revolver Creek opens, Nukain is confronted by one last rock, "the big one," and he is inspired to paint the rock's deep, imbedded eyes amid his own life's story, a story marked at one end with constraints and prejudice, contrasted with the inspiration and dignity his artistic creation brings him.
As he paints, he shares with 11-year-old Bokkie his life story and all that the art depicts. Born in Mozambique where he and his mother were starving, Nukain came to South Africa as a young man and found work as a farm laborer. The many roads he walked, the many fences he constructed, are shown on "the big one." As is the vision of a rainbow that inspired him to begin painting the rocks and creating the stone garden. At the center of "the big one" stands Nukain with his marked handprint a beating heart declaring, "I am a man." Nukain, who has no material goods of his own, has this creation, has his dignity, has his story.
Doug Brown as Nukain and Jeremiah Hasty as Bokkie create warm and striking characters. The play's first act is structured with little physical action and long monologues of Nukain's which forces Brown into more of an animated storyteller. The moments when Brown and Hasty can interact deeply, create a bond, share, question, and learn are far more memorable.
When we meet white farm owner Elmarie Kleynhans (Marni Penning) late in the first act, there is a shift. It is here we gain the greatest understanding of the humiliations and limitations forced upon Nukain. Penning presents a multifaceted and richly complicated character.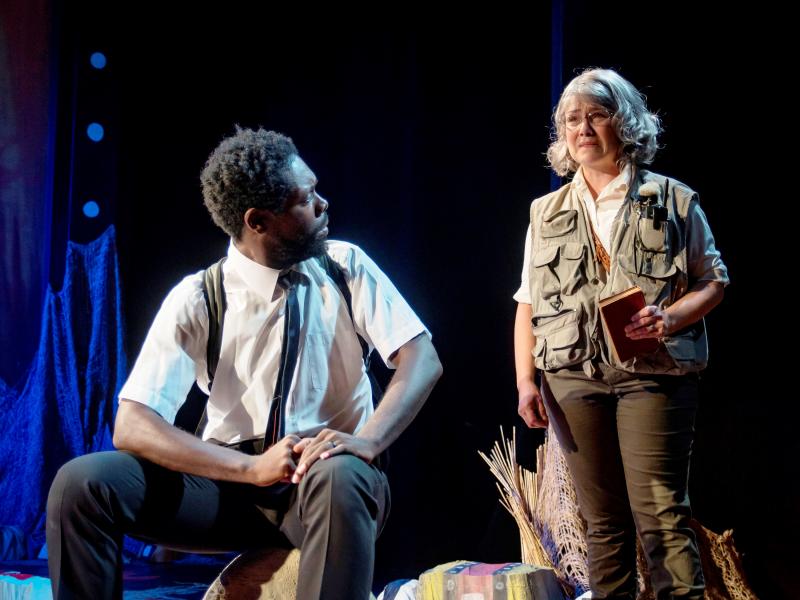 In act two we see Kleynhans again. Penning shows us a woman who, in the 20 years of unprecedented change with the repeal of apartheid, free elections, the shaping of a new constitution, and the work of the Truth and Reconciliation Commission, is frightened, God-fearing, andfighting to retain her way of life.
We have no doubt she'd shoot the pistol she levels at the stranger who wanders into the koppie one evening in 2003. Jonathan Sejake (Jeremy Keith Hunter) was once known as Bokkie and has come back to restore Nukain's rocks that he has remembered so vividly. Hunter is a powerful and compelling force. The scenes between Hunter and Penning are gripping and surprising. There is both energy and nuance in their performances. They aptly illustrate the complications and critical need to build connection. When Sejake says, "let's try again to understand each other" we see the tremendous stakes in making this happen, but we're unsure they can ever bridge the divide.
MetroStage Artistic Associate Thomas W. Jones II directs. The Helen Hayes Award-winner is a significant theater voice, well-known to DC audiences as both a powerful writer and director (including a gorgeous Uprising at MetroStage three years ago, part of the Women's Voices Theater Festival). Three Sistahs, a 1960s musical inspired by Chekhov's Russian masterpiece for which Jones wrote the book and lyrics, will be produced by MetroStage later in the season.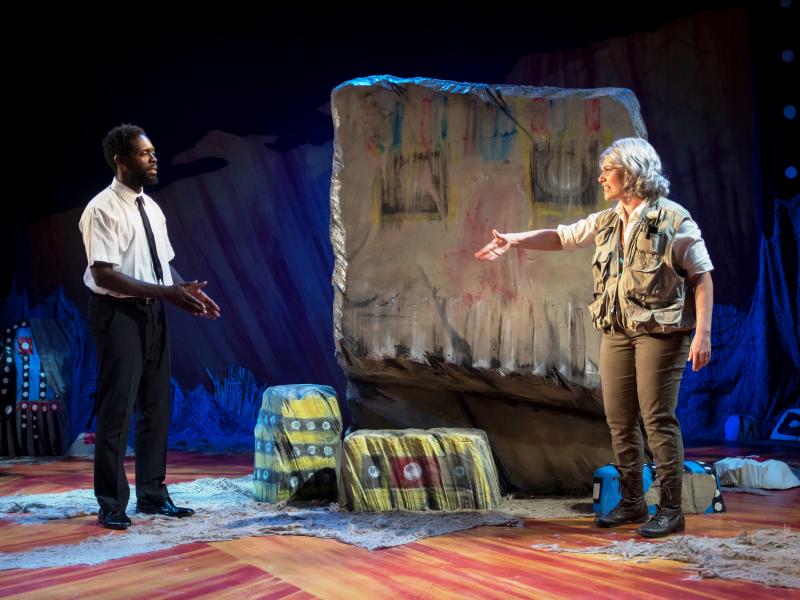 Set and Projection Designer Patrick W. Lord has created a space of warm earth tones punctuated the bold primary color and geometric shapes of Nukain's work. Scenic charge Nancy Bundy is to thank for the dramatic rocks so essential to the production. (Stay within the theater during intermission - it is a treat to witness the crew's "theater magic" that allows the stone garden to age 20 years.) Projections added a sense of movement; while news footage set us in time and place, the projections of road or nature scenes were often an unnecessary distraction. Alexander Keen's light design gave both a sense of the vastness of the koppie and, when needed, drew us in for more intimate moments. Sound design by Gordon Nimmo-Smith created an additional layer of ambiance. Michael Sharp's costumes were sensibly unembellished, utilitarian, and of limited palette, aptly reflecting the play's hardscrabble lives and land.
At the end of this theater season, MetroStage will be moving from its long-time home, a converted warehouse in Old Town Alexandria. The theater is using the occasion of this final year in the space to revisit playwrights, artists, plays and music that have shaped the company. How fortunate that Athol Fugard is among them, and that MetroStage brings this important latest work to the Washington area.
Runtime: 1:40 (including one 15-minute intermission)
THE PAINTED ROCKS AT REVOLVER CREEK by Athol Fugard is produced by MetroStage, 1201 North Royal Street in Alexandria. The production runs through September 30 with performances Thursdays and Fridays at 8 pm, Saturdays at 3 pm and 8 pm, Sundays at 3 pm and 7pm. For tickets, call the MetroStage box office at (703) 548-9044 or visit the theater's website here.
Photo credit: Chris Banks. At top: Doug Brown as Nukain. Next: Jeremiah Hasty (L, as Bokkie) and Doug Brown (R). Middle left: Doug Brown (L) and Jeremiah Hasty (R). Center right, center, and bottom left: Jeremy Keith Hunter (L, as Jonathan Sejake) and Marni Penning (R, as Elmarie Kleynhans). Bottom: Jeremy Keith Hunter.