Anthony Kearns Performs at 'Shelter to Service' Holiday Event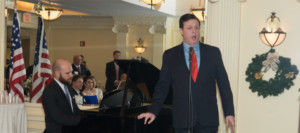 On Sunday, December 17, American Humane, an animal welfare non-profit organization, gathered with its distinguished guests for an annual celebration in the shadow of the U.S. Capitol building at the newly-renovated Phoenix Park Hotel. The event showcased American Humane's "Shelter to Service" program which aims to "save lives on both ends of the leash" by providing wounded American military veterans with service dogs saved from local shelters. Among the 150 guests were active duty military as well as a veteran and his rescue dog who were beneficiaries of the program.
Titled "Holiday Cocktails and Songs of the Season," the evening reception was emceed by Debra Alfarone of WUSA9 DC news, and featured remarks by Irish Ambassador to the United States Daniel Mulhall, former Congressman and former House Appropriations Committee Chairman Bob Livingston, and LTC Don Makay, Commander of the storied 69th Infantry Regiment ("Fighting 69th," New York). The evening's festivities also featured an inspiring performance of holiday favorites by world-renowned tenor Anthony Kearns. Kearns' performance was second part of a "double-header" that evening, as hours earlier he performed the National Anthem at Fedex Field prior to the Washington Redskins game against the Arizona Cardinals.
"As we celebrate this season of goodwill, giving and peace, we should all remember those who have already given so much to keep that peace yet often don't have it themselves - our veterans," said Congressman Livingston, founding partner of The Livingston Group. "Every day, 184 veterans are diagnosed with Post-Traumatic Stress and tragically, 20 take their own lives. At the same time, more than half a million beautiful dogs abandoned to shelters are euthanized each year before finding a forever home. American Humane is an organization that is working to solve both problems with its new 'Shelter to Service' dog initiative. This remarkable program rescues abandoned shelter animals and trains them to become life-saving service dogs for veterans with Post Traumatic Stress and Traumatic Brain Injury; saving two lives - one at each end of a healing leash."
Retired U.S. Marine John Gerula and his American Humane service dog, Oliver, both recent graduates of the "Shelter to Service" program, took the stage to attest to the program's importance. "The event was beautiful," Gerula said. "It was great to see such strong support for an outstanding program that has so profoundly impacted my life."
Ms. Alfarone, who included a segment about John and Oliver and the "Shelter to Service" program in the WUSA9 evening news, said: "This was one of the most special nights I've ever had in D.C. - and for a truly meaningful cause."
Lieutenant Colonel Makay expanded on how the Shelter to Service program is helping so many veterans in similar positions to Gerula: "American Humane's program to support the military is such an important and unique initiative in helping our service members find belonging and normalcy following the challenges of military service. We have a long way to go, but American Humane is leading the way. Service pets do so much in providing the companionship and loyalty that soldiers need along the healing process."
Mr. Kearns, who just completed a multi-city Christmas tour with The Irish Tenors, performed popular Christmas songs for the captivated crowd. "The holiday season is such a special time, in part because it inspires warmth and generosity," Kearns said. "I felt privileged to perform at this wonderful event, supporting a good cause."
LTC Makay, who commands one of the country's most iconic military units, thanked Mr. Kearns for his outstanding performance and led the group in a festive and historic "Regiment Toast," consisting of private labeled whiskey donated by the 69th Regiment and champagne.
The event was organized and executed by Ms. Kirsten Fedewa, a Washington, D.C.-based public relations executive with experience at the highest levels of government, media and entertainment. "This was a really important event, which shined a light on a great program that helps save the lives of our war heroes who have returned home," said Fedewa. "It was a fabulous, special night with all of distinguished speakers, including Irish Ambassador Mulhall, and another great performance by Anthony Kearns."
In addition to the official line up of VIP guests, staffers from Congressional committees including Senate Finance, House Ways and Means, Armed Forces and Veterans Affairs from both chambers attended, as well as representatives from social media and news agencies, government and diplomatic circles, the business community, and military members and veterans.
Sponsors of the event included Publius Public Relations, BisNow, Emergent Biosolutions, American Veterans Center, Eden Gordon Media, CJ Wheeler, SPEY, Kirsten Fedewa and Associates, L.L.C., and the National Beer Wholesalers, among others.
Photo Credit: Miguel Leonardo/ Kirsten Fedewa & Associates, L.L.C.
Related Articles View More Washington, DC

Stories

Shows
More Hot Stories For You