SIGNAL - REDEFINING NEW BRITISH MUSICAL THEATRE at The Hospital Club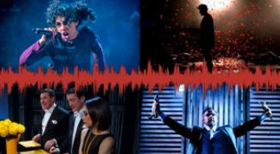 This December, a ground-breaking new event, SIGNAL, takes over The Hospital Club's Oak Room. This free concert - the first in a planned series of SIGNAL events - showcases some of the best and boldest new British musical theatre. A curated selection of composers, lyricists and songwriters, present songs from shows that are currently being written. Helped by a selection of West End performers and accompanied by a live house band, SIGNAL looks to showcase the breadth and talent of those currently developing new British musical theatre.
Curated and hosted by top London musical theatre director Adam Lenson and featuring a fusion of musical styles, including rock, folk, electronica and R&B, this is an evening for those who love musicals and more importantly, those who think they don't.
Adam Lenson says: "I have long been looking for a chance to showcase new British musical theatre in a setting that is separate and insulated from any theatre or existing development pathway and I'm grateful to The Hospital Club for giving us this opportunity. I hope SIGNAL can give writers a safe space to present work regardless of tone, style or form and truly experiment and engage with audiences. Do join us in what will be a very relaxed and informal setting in the heart of London's West End to check out the future of new British musical theatre".
For SIGNAL's debut takeover of The Hospital Club, the evening will showcase world premiere material which has never been performed live before.
Writers confirmed to perform work include:
Kate Marlais and Alex Young (S&S Award Winners, Here)
Chris Ash and Carl Miller (writers of Wasted, the new musical about the Brontë sisters, as seen recently at West Yorkshire Playhouse)
Ella Grace (Michael Grandage Future's Bursary Winner, Nevergate, Ophelia
Zara Nunn (PRS for Music Foundation Award Winner, In Versions)
Bella Barlow and Alli Smith (Vanyas, Lock & Key)
Dylan Wynford (Bright Young Things)
Tim Connor (Stiles and Drewe Award Winner)
Rebecca Applin and Susannah Pearse (Cameron Mackintosh Award Winner,Amy 37)
Sumerah Srivastava and Ajay Srivastava (Bollywood Rose)
Vin Goodwin (The Hospital Club's Vin's Night In)
Dominic Powell (Cases, Rosemary Lane)
Luke Bateman and Michael Conley (The Sorrows of Satan, The Little Beasts)
Chris Czornyj (Catch Me, Remember, Remember)
For full info: http://www.thehospitalclub.com/events/view/05-12-17-signal-redefining-new-british-music-theatre/public