Martin Casella's THE REPORT to Be Directed by Alan Cox at London's ND2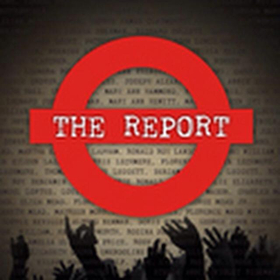 A special invitational presentation of the haunting drama THE REPORT is set for today (Tuesday) at 2 pm at the recently opened ND2 theatre complex in Central London. Based on the bestselling novel by Jessica Francis Kane, THE REPORT is adapted by Martin Casella, whose THE IRISH CURSE had a highly acclaimed Off-Broadway run. The show's director is Alan Cox (MRS. DALLOWAY, "The Good Wife," YOUNG SHERLOCK HOLMES), who recently directed THE PIGEON IN THE Taj Mahal at Irish Rep.
THE REPORT reveals the truth behind the deadliest civilian tragedy of WWII, a horrific incident in a London tube station that was completely covered up by the British government until some 30 years later. As the details of that fateful night are exposed, we discover how trauma, fear and the paranoia of war impact our very humanity, and how the specter of a single mass tragedy resonates across multiple generations.
The cast of THE REPORT features Jasper Britton (HENRY IV and RICHARD II at RSC, ANONYMOUS, THE NEW WORLD), Ilan Goodman (BAD JEWS, THE IMITATION GAME), along with an ensemble including Chris Harper (CORONATION STREET), Kaffe Keating (THE CURIOUS INCIDENT OF A DOG IN THE NIGHT-TIME), Francis Adams, Paul Albertson, Philippa Dawson, Clemmie Evans, David Haydn, Victoria Jeffrey, Sarah Roy, and ZOE WATKINS.
THE REPORT was the top selling production in the 2015 New York International Fringe Festival, where it received unanimous rave reviews led by The New York Times which called the play "excellent" and "gripping!" In addition, THE REPORT won the Festival's Excellence in Playwriting Award.
Martin Casella's theater credits, in addition to the Off-Broadway and worldwide productions OF THE IRISH CURSE, include the award-winning DIRECTIONS FOR RESTORING THE APPARENTLY DEAD and SCITUATE. His most recent film credit is screenwriter for THE LAND OF SOMETIMES, the upcoming, animated British feature starring Ewan McGregor, Helena Bonham-Carter and James Corden.
THE REPORT is being presented by Apples & Pears, a partnership between Broadway and Off-Broadway producers Sarahbeth Grossman, Barry Goralnick, Craig Zehms, and British American Production Company Cutting Hedge Productions. Sarahbeth Grossman is a two-time Tony nominated producer for AN AMERICAN IN PARIS (currently in the West End and on a US National Tour) and Broadway's INDECENT. Other credits include Broadway's DAMES AT SEA, ANN and STICK FLY as well as THE IRISH CURSE. Barry Goralnick's producing credits include EVE-OLUTION and the FringeNYC production of THE IRISH CURSE. Craig Zehms produced the FringeNYC and Off-Broadway productions of THE IRISH CURSE. Cutting Hedge Productions is a Britmerican company bringing together the best from both sides of the Atlantic. Their latest work has been commissioned by the United Nations UK Mission.
For more information about THE REPORT, please visit www.TheReportThePlay.com.
Related Articles View More UK Regional

Stories

Shows
More Hot Stories For You