FOOTLOOSE: THE MUSICAL to Cut Loose at Storyhouse Chester Next Week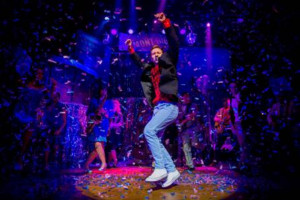 Everybody cut loose because Footloose: The Musical is dancing in to Chester's Storyhouse next week on its first visit to the city and marking the first visiting production and the start of the new season.
The sizzling smash hit show, based on the popular 1984 film starring Kevin Bacon, will entertain city audiences at the stunning £37m Hunter Street venue from 5-9 September.
Footloose: The Musical tells the story of city boy Ren, who moves to fictional Bomont, a rural backwater in America where dancing and rock music are banned by the community's elders. But all hell breaks out when Ren soon has the whole town up on its feet.
Not only does the show feature a host of classic 80s hits including Almost Paradise, Holding Out for a Hero, the Oscar-nominated Let's Hear it for the Boy and toe-tapping title track, but it also bursts with youthful spirit and some dazzling dance sequences.
Footloose: The Musical first opened on Broadway in 1998 where it ran for 709 performances, with a London production following in 2006, opening at the Novello Theatre following a UK Tour.
This latest production comes from Selladoor Worldwide, the team behind recent tours of hit shows including American Idiot, Avenue Q and Little Shop of Horrors.
The cast features Maureen Nolan as Vi Moore. Maureen has been singing with her sisters since she was nine, when they became one of Europe's first girl bands, The Nolans. Best known for their smash hit single I'm in the Mood for Dancing, The Nolans enjoyed phenomenal record sales worldwide, and worked with some of the world's most respected artists including Frank Sinatra.
On stage, she has played Mrs Johnstone in Blood Brothers in the West End and on tour to critical acclaim. She was the fourth Nolan sister to play the role, earning them entry into the Guinness Book of World Records. Other credits include Sadie in Girl's Behind, Jill in Mum's the Word and Sarah in The Naked Truth.
The cast also includes Joshua Dowen (Cool Rider, West End) as Ren McCormack, Hannah Price (reprising her performance from the 2016 tour) as Ariel Moore, Reuven Gershon (Let It Be, West End and Broadway) as Reverend Shaw, Lindsay Goodhand (Crazy For You, Watermill Theatre) as Ethel McCormack, Laura Sillett (Grease, International Tour) as Rusty, Connor Going (The Pirates of Penzance, Sh*tfaced Shakespeare) as Chuck, Emma Fraser (The Vaudevillians, Les Enfants Terribles) as Wendy Jo, Gracie Lai (Avenue Q, UK Tour) as Urleen, Laurence Libor (American Idiot, West End) as Willard, Tomas Wolstenhome (Once, West End) as Bickle, Dominic Gee Burch as Jeter and Alex Marshall (Buddy, UK Tour) as Wes. The cast also includes Luke Dowling, Grace Lancaster, Jamie Ross and Lauren Storer.
Footloose: The Musical has music by Tom Snow and lyrics by Dean Pitchford, and is adapted for the stage by Dean Pitchford and Walter Bobbie. It is based on the original screenplay by Dean Pitchford. It is directed by Racky Plews (American Idiot, West End) with choreography by Matthew Cole, design by Sara Perks and musical supervision by Mark Crossland. It is produced by David Hutchinson and Phillip Rowntree for Selladoor, Tristan Baker and Charlie Parsons for Runaway Entertainment, Jason Haigh-Ellery and Stephen McGill Productions. It is presented by arrangement with R&H Theatricals Europe.
Tickets start from £20.50. Storyhouse has a dynamic pricing policy on the majority of shows, ensuring the earlier you book your tickets, guarantees the best seats at the lowest price. Visit www.footloose-musical.com for more information.
IF YOU GO:
FOOTLOOSE - The Musical
Storyhouse Chester
Tuesday 5 - Saturday 9 September 2017
Eves: 7.30pm | Mats: Wed & Sat 2.30pm
Tickets: From £20.50 (Dynamic Pricing: Book early to receive best seat and the lowest price)
HOW TO BOOK:
Online: Visit www.storyhouse.com
By Phone: Call 01244 409 113
In person: Ticket Kiosks At Storyhouse, Hunter Street, Chester, CH1 2AR or Chester Visitor Information Centre.
Storyhouse is a new public attraction - a theatre, library and cinema, home to a year-round programme of home-made and touring theatre, film along with a host of activities across its considerable public spaces.
Designed by Bennetts Associates and featuring an 800/500 seat-theatre; a 100-seat cinema; a 150-seat flexible Studio Theatre; library spaces; digital production and broadcast facilities; a café bar and restaurant. Storyhouse is carved from the Grade II listed art deco 1936 Odeon cinema and a brand-new state of the art glass extension. Storyhouse is predicted to receive 600,000 visits per year, it brings cinema and theatre back to Chester city centre after a decade long absence. Cheshire West and Chester council has committed an inspirational £32.5 million to fund the creation of Storyhouse.
Photo Credit: Matt Martin
More Hot Stories For You