Ambassador Theatre Group Secures The Acquisition Of Mehr! Entertainment, Germany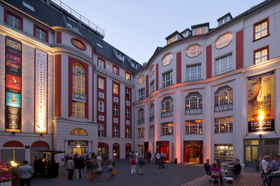 ATG (Ambassador Theatre Group) is pleased to announce the purchase of Mehr! Entertainment, Germany. Whilst ATG has operated in Europe since 2015 with BB Promotions, this represents ATG's first acquisition of venues in continental Europe.
With five venues in Berlin, Hamburg, Bochum, Düsseldorf and Cologne, Mehr! Entertainment is a key player in Germany. The Mehr! Theater am Großmarkt Hamburg, the Starlight Express Theater Bochum, the Admiralspalast Berlin, the Capitol Theater Düsseldorf and the Musical Dome Cologne form the latest additions to ATG's portfolio of theatrical venues worldwide, bringing the total to over 50. Like ATG itself, the Mehr! Entertainment business combines venue operation, content production & programming and ticketing for all of its venues.
Maik Klokow, CEO at Mehr! Entertainment GmbH commented:
"I am delighted that ATG has recognized the strength and venue diversity of Mehr!'s business in Europe. ATG shares my commitment to partner with the world's greatest entertainment companies, to present the best possible shows and deliver best-in-class audience experience. I look forward to playing a key role in helping the group grow further as we combine our strengths and creativity."
Mark Cornell, Group CEO at ATG added:
"It gives me great pleasure to welcome the Mehr! Entertainment team into the ATG family. These major venues across Germany are each unique and captivating in their individual style and offer exciting opportunities to expand our services and reach new audiences. Maik is an extremely talented entrepreneur and business leader. He's built Mehr! Entertainment into a force to be reckoned with in live entertainment and he's a very strong addition to our team.

The Ambassador Theatre Group (ATG) is the world's leading theatre company, operating over 50 venues worldwide, including in the West End, on Broadway, throughout the UK and US and now Germany. ATG is a leading producer of live entertainment shows, with over 70 Tony and Olivier awards under its belt and productions in the West End, on Broadway and touring across the UK, North America, Europe, Australia and Asia. ATG is also the UK's largest theatre ticketing operator through ATGtickets.com, LOVEtheatre.com and Group Line.