Order Of Canada Winner David Fox to Appear in Upcoming Fringe Play FIRST DATES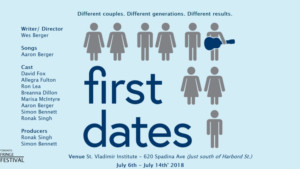 Beautifully penned by Wes Berger, First Dates shares honest, playful and moving stories about the broken-hearted many, the open-hearted few and our search for connection in these fragile times. The play features an amazing cast of actors and production team from the theatre community.
Director: Wes Berger ( The Chance by George F. Walker, Leroy St. Theatre; Cited for Outstanding Direction by NOW Magazine for The Naked Ballerina )
Starring: David Fox (Dora Award winner for The Drawer Boy ; Stratford Festival; Road to Avonlea) Allegra Fulton (Dora Award winner for Frida K; The Shape of Water; John Q) Breanna Dillon (2018 Dora Award nominee for What Happened Was ...) Marisa McIntryre (Dora Award nominee for Company; Mamma Mia -Mirvish ) Ron Lea (My Name is Asher Lev; Doc; Street Legal) Aaron Berger (Niagara Music Award winner, Best Original Songwriter) Simon Bennett (THEA award winner) Ronak Singh (Professionally Ethnic)
Set Design: Chris Bretecher ( The Chance, Leroy St Theatre; Resident Designer, Leroy St Theatre)
All of us search for connection and companionship; we yearn to love and be loved. We search for it, find it and lose it. Everyone has stories to share. Stories about the blunders, triumphs and awkward moments of dating, relationships and everything in between. First Dates f eatures characters of different sexual orientations, different generations and different experiences navigating love and relationships. First Dates is honest, relatable, funny and moving.
"The play encapsulates everything I've learned about love and loss in my nearly 42 years on this earth and I am thrilled and humbled to be able to share it." -Wes Berger, Writer and Director, First Dates.
Carefully seeded throughout the play are intimate and hopeful songs written and performed by Aaron Berger brother to Wes and winner of a Niagara Music Award for Best Original Songwriter.
"He is prolific with his approach to words and music and leaves stunning images while listening to his songs. His songs and vocal performance are captivating and will embrace you..." -Rick Rose, Sony Music Staff Writer; Tangerine Music Group President.
July 6th: 3:15 pm July 7th: 9:15 pm July 9th 5:00 pm July 10th: 1:00 pm July 12th: 7:30 pm July 13th: 11:00 pm July 14th: 3:30 pm
St. Vladimir Institute Theatre - 620 Spadina Ave (Just south of Harbord St.)
Tickets and more information @
https://fringetoronto.com/festivals/fringe/event/first-dates
Related Articles View More Toronto

Stories

Shows
More Hot Stories For You