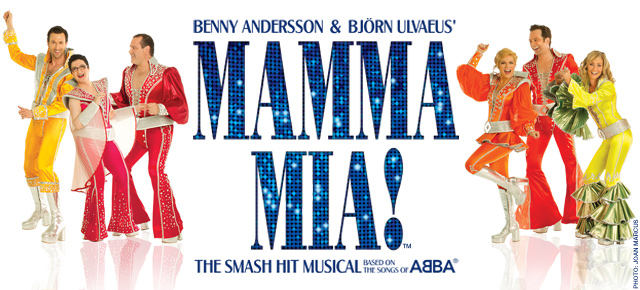 Click Here for More Articles on MAMMA MIA!
BWW Special: 13 Years Later with the Women of MAMMA MIA!
This Monday get ready to break out your dancing shoes, as cast members from the Original Toronto Production of MAMMA MIA! reunite for a one-night only benefit in support of FIFE HOUSE. They are a not for profit organization that seeks to provide secure and affordable supportive housing and support services for persons living with HIV/AIDS.
The event will feature none other than Louise Pitre in the lead role of 'Donna', one in which she originated here in Toronto and then later took to the Great White Way. She will be joined by a group of her fellow cast mates to celebrate the music of ABBA and the success of MAMMA MIA, as well as to raise a toast to the great work that FIFE HOUSE does in our community. Joining her will be Adam Brazier (Sky), Gabrielle Jones (Rosie), David Keeley (Sam), Julie Martell (Sophie), Tamara Bernier (Tanya) and Shawn Wright (Bill).
There's still time to get your tickets for the gala performance tonight where you can experience this special look back at the smash-hit musical MAMMA MIA! Meanwhile, BWW is thrilled to wrap up its coverage with a feature on the women of the show, as Louise Pitre (Donna), Tamara Bernier (Tanya), Gabrielle Jones (Rosie) and Tina Maddigan (who is not joining the group tonight but generously shared her MAMMA MIA! memories all the same) talk about their favourite MAMMA MIA! memories:
What was your favourite memory of your time in Mamma Mia?
TB: One matinee, I was making my first entrance in the show coming down the jetty steps that led to the taverna. My high heel got caught and I went ass-over-teakettle - literally somersaulting down the stairs to center stage. It all happened in slow-motion. But I bounced up with my next line: "How much further in these stinking stilettos?" The audience roared. They thought it was part of the show. I booked a physio appointment as soon as I got offstage. But we all laughed ourselves silly through the entire first scene. Didn't feel a thing until the evening show!
ALSO, during a show just before Christmas, our Sky, who enters the first scene later than the rest of us, was upstairs at the Royal Alex, decorating the fourth floor for our after-show Xmas party. He must have gotten pre-occupied with decorating because he completely missed his cue... said he heard it while he was still on the fourth floor. What followed onstage while we waited for him was a series of hilarious improvs - Donna talked about the boats in the harbour, Sophie talked about her beautiful wedding dress, I asked the young boys at the taverna for a drink! All the while, we could hear Sky bounding down the steps - five at a time - until he finally made his entrance onstage, so out of breath he couldn't speak. "Anyway, that's my boat out there!" Camilla Scott said. We laughed about that for days too.
LP: For me it was doing the sitzprobe at the Royal Alex, that was when Benny and Bjorn heard us for the first time. Benny came up to me afterwards and told me that he had never heard "The Winner Takes it All" sung the way he intended - as a French chanson! Thrilling for me!
GJ: My favourite memory of my time in Mamma Mia was during our Sitzprobe (first rehearsal with the Band). We had worked our way to the very end of the show and were just about to go into the intro for "Waterloo", when Benny Andersson HIMSELF got up and took our musical director's place at the keyboard and proceeded to play through the number. We sprang to our feet en masse and SCREAMED with joy! Most of us were so excited we even forgot to sing! Absolutely electrifying moment!
TM: Choosing just one Mamma Mia memory is almost impossible! Some of the most memorable times of my life were shared with the cast and crew of this show. Getting the initial call that I would join the Toronto company was a highlight I will never forget. Soon thereafter I had a brand new Mamma Mia family and I was sitting in a sitzprobe watching Benny Anderson rock it out on the keyboards. That I will never forget.
I miss hearing the overture, it used to get underneath my skin and just get me pumped up for the show. Then there's memories like my original 'Sky' Adam Brazier ... We go in for the final kiss at the end of the show and the button on his jacket gets caught in my hair, I have to exit the stage still continuing to sing 'I have a dream...' with his arm strapped across my mouth. There's the time that the waist tie on my pajama's got caught on a cast members snorkel. Hence he had to do all of 'Under Attack' with his head attached to my waist and I had to sing with him attached to my waist. Not a pretty picture! My gosh I wanted to laugh!
One of my mind blowing memories was getting to spend the day with the cast of MAD TV. We were with the show in LA and I wrote to the cast as it was my dream to perform as a comedienne on that show. They wrote me back, came to opening night, and I got to spend the weekend on the set with the full company. Mind blown! I could keep going but you only asked for one so I'll stop there. That said, Opening Night on Broadway was pretty spectacular too!
What is your all-time favourite ABBA song (and it doesn't have to be from the show)?
TB: Slipping Through My Fingers because it beautifully captures how important living in the moment is.
LP: Like An Angel Passing Through my Room
GJ: Probably Winner Takes It All for it's simple yet powerful melody and the dramatic sweep of the lyric. (especially when sung by Louise Pitre!)
TM: One of my favourite songs is Waterloo. There's something about the memory and feeling dancing to that song with the cast. Feeling the lights on my face and looking out and seeing the audience smiling so broadly and standing on their feet. It will always remind me of the happiness and good times I got to spend with my Mamma Mia family.
If you could pick one song to perform that didn't belong to your character, what would it be and why?
TB: I always enjoyed watching our Rosie sing Take a Chance on Me. It was hilariously choreographed with her character trying to chase down the character of Bill to convince him to "Take a Chance" on her. I always thought it would be a fun scene to play. As a Donna understudy in my first year of the show, I also got to sing Slipping Through My Fingers which was nice.
LP: To be honest I had so many songs to sing in that show that I never ever wished I could sing anybody else's song!!!
GJ: Does Your Mother Know - such a great, driving, dirty beat to it!
TM: I think I would love the opportunity to sing The Winner Takes it All. Only because in my mind I think I could rock it out like Louise Pitre. But nobody touches that woman. No one wil every sing that song the way she did. So I guess I should stick with singing it in the shower!
Finally, what do you think makes Mamma Mia such an enduring show and/or what would you attribute its worldwide success to?
TB: ABBA songs were extremely popular with my parents' generation (the people who can regularly afford to see big musicals). They were catchy and uplifting and everyone always ended the show on their feet on a high. There wasn't one show that ended with people sitting in their seats. I think it reminded people of a fun time in their lives and got them up and dancing all over again. It was also a smart, modern, woman-driven show that included lots of zany scenes with characters forced into situations outside their comfort zones - making for good comedy. Plus it's about love - it has a few good love stories!
LP: I think the nostalgic aspect of those famous songs is key because they take people back to a happy place when they had no responsibility. The book of this show has to take most of the credit for the overall success. The story takes place with everyday people - not unbelievable characters! And mostly women! A story with heart and nostalgia.
GJ: First and foremost, great music. Secondly, the way the show was crafted around the songs was so clever and truthful. People think that sort of thing is easy to do but it's terribly difficult to get the alchemy right.
I also think that the original British creative team for the show were smart not to cast each production in a "cookie cutter" kind of way. Each and every cast of Mamma Mia are unique and that keeps the chemistry fresh and new.
TM: I think what makes Mamma Mia such a successful show is that it's a lighthearted story which moves quickly and has phenominal music. It's hard not to want to stand on your feet with everyone at the end of it.
When and Where?
Spotlight for Fife - MAMMA MIA Reunion
Monday Oct 28th, 2013
VIP Reception at 6pm, Show at 8PM
For more information or to purchase tickets please visit their official website: http://www.fifehouse.org/index.cfm?pagePath=Events/SPOTLIGHT&id=2522