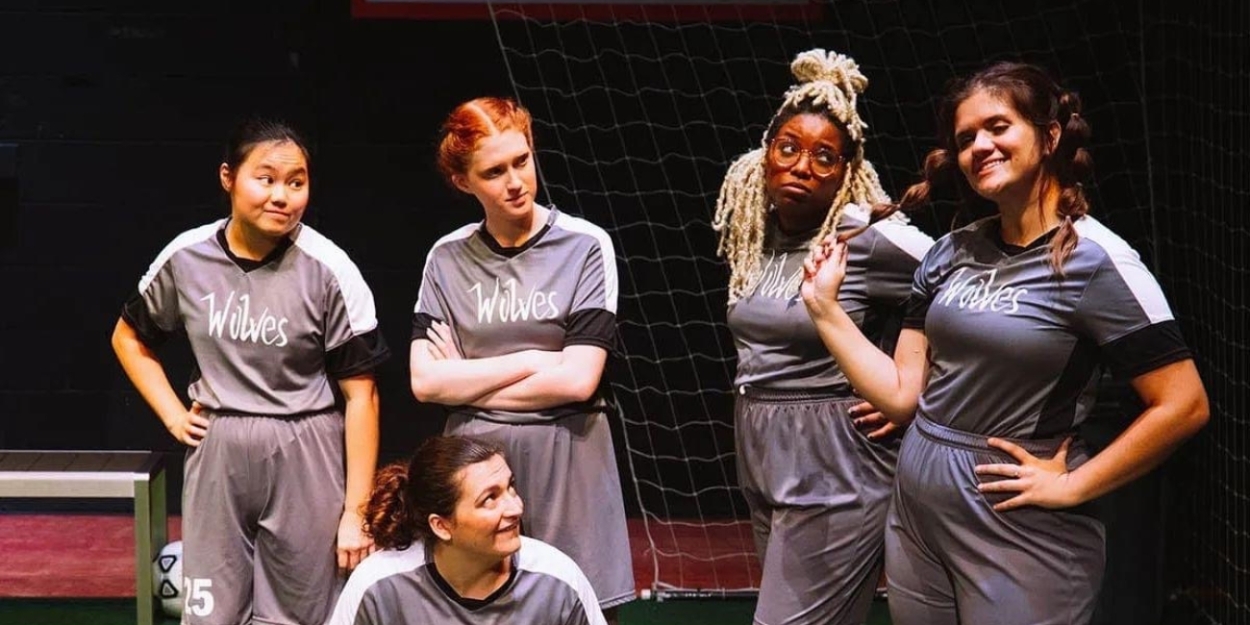 Review: THE WOLVES at ThinkTankTYA
The Wolves by Sarah DeLappe is presented by ThinkTankTYA and onstage at Stageworks Theatre in the Channel District of Tampa through January 22nd.
"We Are the Wolves..."
Please indulge me for a moment if you'd be so kind...
"I wrote this play in a sports bra. I am not an athlete in my current life and hadn't worn one since high school. I would take off my shirt, take off my bra, pull the sports bra over my chest, and sit down to write. I overshare not to advocate for method writing (although...) but to suggest just what sort of play this play was from the start. Physical. Concerned with the body, with women's bodies, not as eye candy or symbolic vessels but as muscular, dexterous, capable, contradictory, and fallible individuals.
Welcome to a planet of teenage girls.
The biological fallacy hounds writers, particularly writers who happen to identify as female. Many assume that she must be writing from her own life or how else did she think of the darn thing? I did not play soccer in high school. I was a teenage girl, I knew other teenage girls, I still do. These characters are not downloaded from my yearbook. This play is not really about soccer.
So why soccer?
AstroTurf and American exceptionalism. It's essential that these girls are playing indoor soccer, deep in the suburbs, in a massive structure engineered to allow them to pursue this leisure activity in shirtsleeves in the dead of winter. The world's sport has been siloed to an Air Dome in a suburb. These American teenagers exist, quite literally, in a bubble. At that particular age when the stakes of everyday life could not be higher, they are desperate to understand themselves and the world around them, but they can only see so far.
I thought of the play like a war movie. Instead of a troop of young men preparing for battle, we watch a team of young women warming up for their soccer game. There's a captain, a rebel, an innocent, a recent recruit, a common enemy. The arc follows an escalation of blood and viscera both in the content of their speech and the actual sustained injuries and traumas. Of course their battlefield is a carpet of artificial grass.
And, yet, on their artificial grass, these girls are allowed to define themselves amongst themselves. Their bodies are their own and they are strong. We do not meet them as the property or accessory of a man- a boyfriend, a father, and institutional custodian in school or in government- we meet them with each other. We're on their turf.
They're not on ours." - Sarah DeLappe's Preface in the published version of The Wolves.
The Wolves, is a play written by Sarah DeLappe. It premiered off-Broadway in the 2016 season at The Duke at 42nd Street. The play has gone on to receive multiple awards and was a finalist in 2017 for the Pulitzer Prize for Drama.
Comprised of a cast of 10 female soccer players all going by their numbers adorned on their jerseys and one Soccer Mom, the play centers on the high school teenage girls' experiences both on and off the soccer field as they meet weekly to warmup on Saturdays pregame prior to a match.
Discussing topics such as Cambodian Genocide, global politics, social gossip, their bodies, their coaches obvious hangovers, and the want and need that drives them all to play soccer in college. With the arrival of the new girl, #46, brings a whole new wave of conflict and comedic relief to the inner mingles of the teenage girls day to day, the conversations involving the group are often inappropriate and cause major turmoil amongst the team.
With focused ideals on teenage pregnancy, social anxiety disorder, and even suicide, The Wolves proves to be a searing, visceral, and social conversation that is all too relevant even today more than ever. In a world where social media plagues our day to day existence, where shows such as HBOMax's Euphoria, and Netflix's Thirteen Reason's Why depicting the environment of the teenage stratosphere, we find ourselves, as audience/viewer's almost a "fly on the wall," to its ever growing popularity and cultural landscape that makes up the world as we have come to know it. I think that in and of itself is what makes The Wolves so present, so real, so right, and so damn perfect for a company such as ThinkTankTYA to tackle (pardon the pun).
The youth of today, and even grown adults are so catapulted towards any sense of drama, of something so inherently different than the normal day to day, that they would stop at nothing just to experience its candor. The reason being, is that the youth of today is living and breathing these moments, these stories in their everyday worldview. With the demand social media platforms such as TikTok, Facebook, and Twitter have over complicated conversations involving body image, and mental health, The Wolves, does the unthinkable...it asks the questions, "What would happen if we were to put a group of teenage girls in a closed space, and force them to look at each other, and more importantly themselves knowing that it will all eventually reach a boiling point, where no topic is off limits."
Pushing the limits, and breaking down the stigma, forcing a conversation. This is the miraculous and truly incredible feat that a play like DeLapppe's The Wolves, not only sets out to discover, but excels on all levels.
Director Georgia Mallory Guy and team have assembled a top-notch cast of performers to bring this compelling story to the stage.
As #14 Jessica Beltran makes her ThinkTank debut. With this hard-hitting and gut- punching portrayal you feel for her every moment. The blow-up between her and #7 late in the show is a battle that needs to be seen, and really highlights Jessica's acting prowess.
As #7 Noa Friedman, who was last seen onstage with Jobsite Theater in their production of Dracula, brings an epic portrayal to the stage. The rebellious bad-ass striker of the team who takes no prisoners and no nonsense. Noa's presence onstage is strong, and you feel her energy at every turn.
As our Captain, #25, Katie Huettel is in her element. She is strong, concise, and a true team leader. What I liked most about this portrayal is the characters silver lining, brimming at the surface, you know there is more to her story, however, when you're on the field she is all business. Having last experienced Katie's prowess onstage in ThinkTank's production of The Lightning Thief, it was wonderful to see her take on #25 and excel on all levels.
Iman Bijou in her ThinkTank debut is wonderful as #13. She is hilarious in all the right moments, and you want to watch her every move. She was a wonderful addition to this cast of strong females, and I look forward to seeing them onstage again very soon.
Haley Janeda as #11, acting as the voice of reason for the team is wonderful here. Having last seen Haley onstage in Jobsite's A Clockwork Orange, it was wonderful to see her in this element again. Always a strong presence onstage, and as #11 her presence knows no limits.
As the innocent #2, Sofia Pickford is wonderful. Having last seen her onstage in Exhibits at the Zoo, Sophia wears a double hat as the productions Costume Designer. She plays demure and innocent so perfectly, and captures the innocence of #2.
#8 played by Adeline Richardson is a great addition to the team. You feel her wanting to be a part of the group, her need for belonging. We all know those people, and went through school with the one who was two colors short of a complete crayon box, and that is where the heart of #8 lies, and Adeline does wonderful work here. #8 is also doubled by Layla Kuck in some performances.
Sydney Reddish as #00 and our Goalie is visceral, commanding, and damn near perfect in every instance. There is a moment late in the show, where #00 is completely alone onstage that needs to be seen for all its power. Sydney creates pure magic onstage, and this is a performance I will remember for some time to come.
#46, Katie Terres is the comic relief of our story. She is quick in wit and humor and is exceptional here. Always wonderful to see Katie onstage, having last seen her onstage at Stageworks in Evil Dead: the Musical, Katie is impressive here, and her performance needs to be seen.
As our Soccer Mom, Jaimie Giangrande-Holcom, though her time onstage was brief she excels in portraying a Mother encapsulated by grief, but hopeful for a better future. Her moment at the end of the show will break your heart and bring you to tears.
From a technical standpoint, The Wolves, is a functional and impressively designed world in which the characters reside. Scenic design by Jo Averill-Snell, and Lighting Design by Karla Hartley help blend the world of the story into our present worldview. Costume Design by Sofia Pickford helps create the depth of these characters, and gives them not only purpose but a winning and professional look. The Stage Management team of Jessie Dorsey and Carly Kuck help to steer the ship from start to finish and is masterfully done so. The clear and concise moment-to-moment direction from Georgia Mallory Guy creates a story that is not only visually appealing in staging, but also guttural and visceral in moments where the depth matters most in the acting vignettes. Georgia helps define these characters' arcs and steers the performer down the right path to help move the story along at an expert pace. As Assistant Director, Calee Gardner, an integral part in helping Georgia Mallory Guy produce an exquisite stage piece, helps bring the heat and makes the soccer skills look expertly choreographed, shepherding along a fast-paced set of warm-ups and drills, helping make the team their best. A wonderful addition to the all-female powerhouse Production Team that brings The Wolves from page to stage. Together creating a truly magical ensemble moment that needs to be experienced in all its glory.
The Wolves by Sarah DeLappe is presented by ThinkTankTYA and onstage at Stageworks Theatre in the Channel District of Tampa through January 22nd. The story is so searing, and so visceral everyone needs to make time to see the incredible work achieved by the company. Don't wait too long, for tickets to The Wolves will be a hard ticket to come by, so visit thinktanktya.org for your tickets to an upcoming performance. Do bare in mind this performance features topics not suitable for a young audience. ThinkTankTYA producing The Wolves, shows Tampa and its audiences a different side to their programming, and this is one that I am so happy and humbled that I was able to experience first-hand. WE ARE THE WOLVES.
Photo Credit: Ashley Emrick