BWW Review: THE MUSIC MAN at the Kennedy Center is a Sheer Delight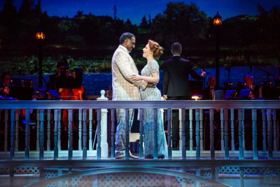 It's not often one individual writes a musical that includes his book, music, and lyrics. But Meredith Wilson did in 1957 with his popular opus THE MUSIC MAN which just happened to win the Tony Award over WEST SIDE STORY and starred Robert Preston and Barbara Cook. I have never seen a professional production of THE MUSIC MAN on stage. Of course, I have seen the wonderful 1963 film starring Preston and Shirley Jones and a few amateur productions.
We must thank the Kennedy Center's Jeffrey Finn, vice-president for theater producing and programming, for implementing this new concept of presenting musicals in a similar vein as Broadway's "Encore" series which brings back older musicals.
So far, this series has been a huge success. We have seen in the past CHESS, HOW TO SUCCEED IN BUSINESS WITHOUT REALLY TRYING, LITTLE SHOP OF HORRORS, and IN THE HEIGHTS beautifully done with superb casts. Once again, Finn's choice is a major success.
The reason THE MUSIC MAN is being presented is because Finn asked Tony-nominated Norm Lewis if there was any show he would like to perform in this new format and he responded quickly the role of "Harold Hill" and hence we are fortunate to see this incarnation.
THE MUSIC MAN is set in River City, Iowa in 1912 and deals with a charismatic conman of a salesman by the name of "Harold Hill" who has had much success coming to small towns and selling the idea of organizing a boy's band selling musical instruments and uniforms. The problem is he has no knowledge of music and instead suggests the young boys use the "think" method and to hum Beethoven's Minuet in G and later play it on their instruments. A problem ensues when "Hill" falls in love with the town's librarian, "Marian Paroo" who even though discovers "Hill" is a charlatan with no musical background sees the success "Hill" has achieved and helping her little brother Winthrop get over his stuttering and shyness. She decides to not reveal the truth about "Hill".
You may recognize a song that the Beatles included in their first album "Meet the Beatles", "Till There was You."
Director Marc Bruni has done a masterful job working on the small part of the huge stage since the 19-piece orchestra is situated in full view at the rear. Somehow, he has worked the 28-person cast successfully on this tiny part of the stage.
Bruni's notes in the Playbill are a must read. I had never known that the lovely ballad "Goodnight My Someone" is actually built on the same tune as "76 Trombones". Bruni continues Hill's "Think" system "offers something for nothing - proficiency without practice. In this fever dream of wish fulfillment, facts become irrelevant. At the end of the show, the parents of River City see and hear only what they want to hear."
Bruni has chosen an all-star cast of 28. Norm Lewis as "Harold Hill" (Tony nominated for PORGY AND BESS), Jessie Mueller as "Marion", (Tony winner for BEAUTIFUL-THE Carol King MUSICAL, also directed by Bruni), Rosie O'Donnell as Mrs. Paroo (comedian, actress, author, television personality, and producer of the musical TABOO), John Cariani as Marcellus (recently in THE BAND'S VISIT and Tony-nominated for FIDDLER ON THE ROOF), Veanne Cox as Mayor Shinn's wife (AN AMERICAN IN PARIS), Damon J. Gillespie as Tommy Djilas (NEWSIES and ALLADIN), David Pittu as Charlie Cowell (two-time Tony nominee and most recently in Conor McPherson's GIRL FROM THE NORTH COUNTRY), and Mark Linn-Baker as Mayor Shinn (many Broadway shows are listed but his great turn in MY FAVORITE YEAR is omitted).
The show owes credit to his young people. Sam Middleton shines as "Winthrop", Ensemble members include three actors from the Signature Theatre's recent hit musical BILLY ELLIOT including Noelle Robinson, Malcolm Fuller and Owen Tabaka who played "Billy" on alternate days.
The cast is uniformly excellent. The voices and the dancing are superb. The 19-piece orchestra under Musical Director James Moore is powerful. They are fun to watch.
Chris Bailey's Choreographer shines, especially in the Library scene. They leap and jump everywhere, and it is a miracle not one got hurt.
Paul Tate DePoo III is the Scenic Designer and Projection Design really make the show work.
Amy Clark's Costume Designs are spot on.
Corey Pattack's Lighting is very moving, and Kai Harada is responsible for the great Sound Design.
Spoiler Alert at end of review if you plan to see it DO NOT READ FURTHER.
Next up is THE WHO'S TOMMY based on the iconic 1969 rock concept album winner of 5 Tony Awards. It plays April 24-28.
THE MUSIC MAN now runs until Monday, Feb. 11 at 7 p.m. due to popular demand. This is the first time a performance has been added in this series.
What a surprise during the bows came the University of Maryland Marching Band into the theater playing in the aisles "76 Trombones." Kudos to whoever thought of this. They got a rousing ovation.
For tickets, call 202-467-4660 or visit www.kennedy-center.org.
Sad to report one of my favorite actors Albert Finney, star of "Tom Jones" just passed away at the age of 82. I was fortunate to see him on stage in London in ART. I'll never forget getting the chance to meet him after the play. He will be sorely missed.
cgshubow@broadwayworld.com
Related Articles View More Tampa/St. Petersburg

Stories

Shows