Photo Flash: Theatre Tallahassee Presents AUGUST: OSAGE COUNTY
Theatre Tallahassee kicks off their 70th Anniversary Season with the award winning drama, August: Osage County.
The play, hailed for its outstanding performances and direction on Broadway, as well as its depiction of a mid-western American family on the brink of collapse, won the 2008 Pulitzer Prize for Drama and the 2008 Tony Award for Best Play. The story follows the large Weston family, who have gathered together unexpectedly after the family patriarch mysteriously disappears. Left behind: a pill-popping, acerbic matriarch; three sisters harboring shady secrets; and an extended family about to erupt into a maelstrom of hidden truths and repressed desires.
This show marks the beginning of Theatre Tallahassee's 70th Anniversary Season. Previously founded as Tallahassee Little Theatre in 1949, the non-profit group has grown from a small troupe of dedicated theatre lovers to a thriving organization that incorporates hundreds of volunteers. This season the theatre is debuting a newly renovated Stagehouse Lobby, and will be celebrating their platinum anniversary over the course of the ten month season.
August: Osage County was written by Tracy Letts and directed by Jimmy Kontos. The ensemble cast features Nancy Diskin (Violet Weston), Rachael Kage (Ivy Weston), Erika Stone (Barbara Fordham), Colleen McClure (Karen Weston), Shawn McCauley (Beverly Weston), as well as Robert Stuart, M. Derek Nieves, Melbin Borerro, Tiffany Underwood, Ken Catullo, Andi Gilroy, Ryan Burk and Aliya Kraar. Set Design is by M. Derek Nieves, costumes by Roberta Brewer, and Lighting Design by Patrick Campbell.
Audience Advisory: This show contains adult language, sexual situations, drug use, and adult themes that may be uncomfortable for some viewers. Viewer discretion is advised.
This production runs for three weeks, from August 23 through September 9. Opening night is Thursday, August 23 at 8pm. Additional performance times: Friday and Saturday performances at 8pm, Sundaymatinées at 2pm. Tickets are $22 for Adults, $17 for Seniors and Military, and $15 for Students. Tickets may be purchased online at TheatreTallahassee.org or by calling the box office at 850-224-8474.
Theatre Tallahassee, a 501(c)3 non-profit organization, is the region's flagship community theater, lifting the arts community to new heights with professional caliber productions that showcase the talents, passions and commitment of your friends and neighbors. The 270 seat Mainstage offers large-scale and more traditional productions while the 90 seat Studio Theatre offers powerful and thought-provoking theater in an intimate setting.
Visit TheatreTallahassee.org or call 850-224-8474 for more information on this and other upcoming productions, to purchase tickets, or to learn about volunteer opportunities.
Photo Credit: Abby Kinch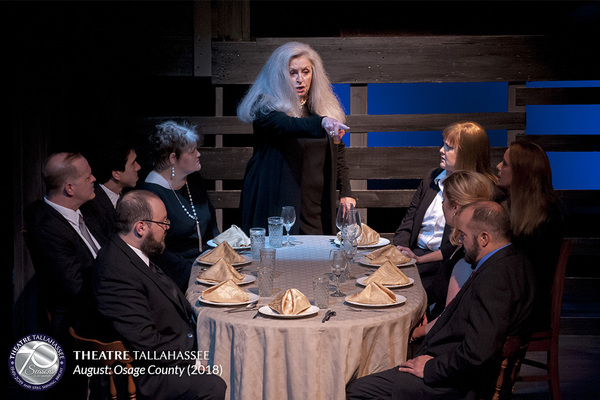 The Weston family gather for dinner (clockwise from top center): Nancy Diskin (Violet), Rachael Kage (Ivy), Erika Stone (Barbara), Colleen McClure (Karen), Ken Catullo (Steve), M. Derk Nieves (Bill), Robert Stuart (Charlie), Melbin Borerro III (Little Charles), Tiffany Underwood (Mattie Fae).

The family confronts their matriarch (from left): Andie Gilroy (Johnna), Erika Stone (Barbara), M. Derek Nieves (Bill), Robert Stuart (Charlie), and Nancy Diskin (Violet)

Barbara (Erika Stone), Violet (Nancy Diskin), and Bill (M. Derek Nieves) discuss the disappearance of Violet's wife, while upstairs their daughter, Jean (Aliya Kraar, left), and housekeeper, Johnna (Andie Gilroy, right), find different escapes.