BWW Review: INSTANT PLAYHOUSE at Playhouse Teater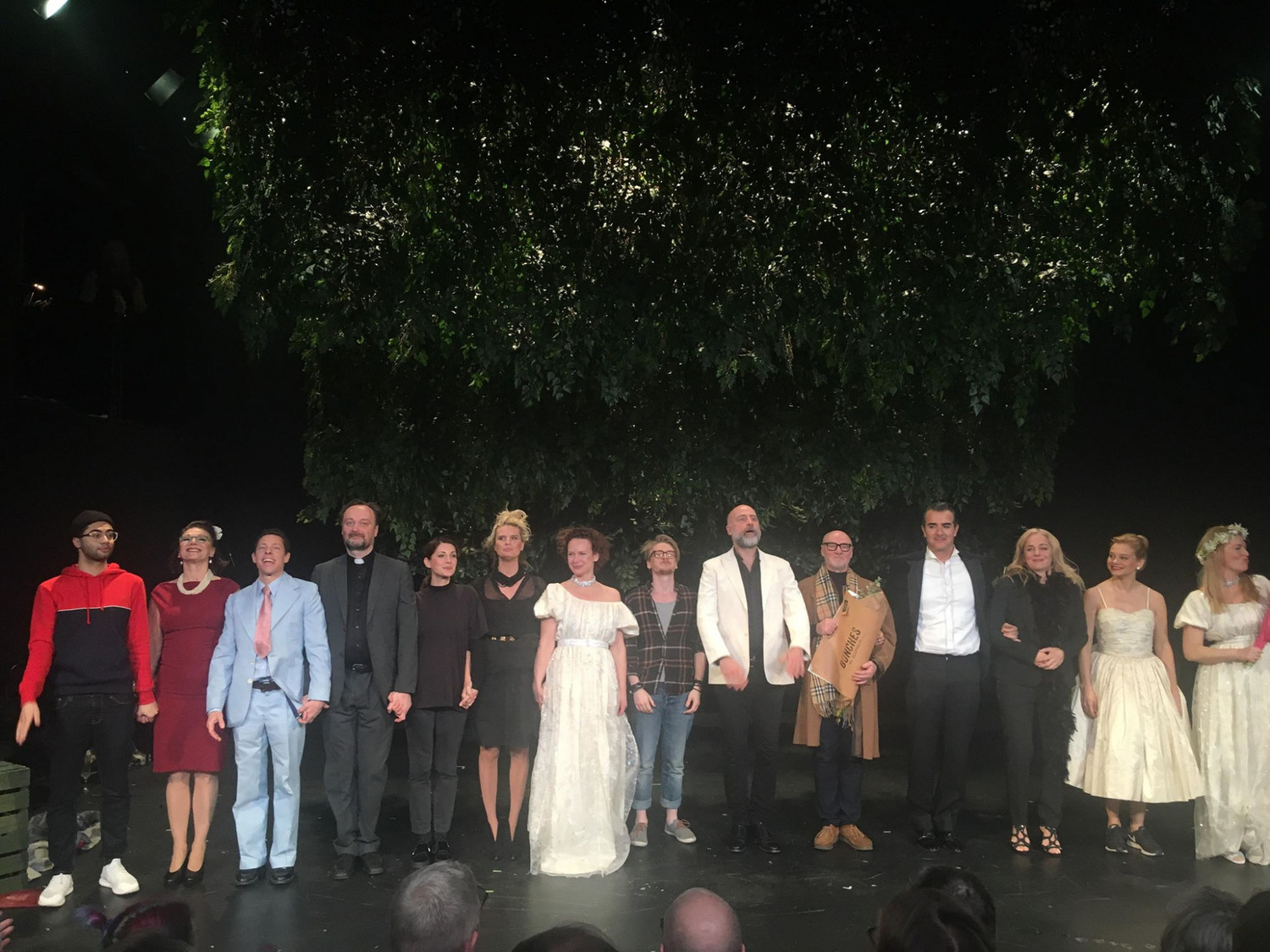 2019 Instant Playhouse 1-3 of February
Playhouse Theatre has an annual charity event called Instant Playhouse. 5 plays will be written, directed and rehearsed by the participating authors, directors and actors in 24 hours. The authors get a theme on Friday morning and they have a few hours to come up with a 20 minutes play. The 5 teams will then work during Friday and parts of Saturday till the first audience turns up on Saturday evening. A create team will make sure there are costumes, sceneries, lights etc. The audience can choose between 3 price levels for the tickets and all the revenues goes straight to a charity. No one gets paid for the work done. This year charity was SOS Barnbyar (SOS Childvillages) and they raised more than 266 000 SEK for the 3 performances.
This year's theme was the Wedding, the Graduation, the Funeral, the New Year's celebration and the 50th birthday party. As a whole, all authors made an unexpected twist on the theme and they were all very funny plays that attracted many laughs.
The wedding (script Jonna Nordenskiöld, directed by Maria Lundqvst) was about a wedding that a couple planned to take place on FaceTime in the woods and they would Facetime with the priest and the witnesses. But then another girl (Hanna Lekander), dressed in wedding dress just like the first bride (Ingela Lundh) appears. It turned out it was an old girlfriend to the groom who couldn't let go him (Björn Lönner). Even if everything turned into a disaster they could not stop updating their social media.
The Graduation (script Emma Broström, directed by Elisabet Klason) is about Lars (Per Graffman) and Maria (Lisa Werlinder) who at old age have attended high school and now taken their graduation. They are in the middle of their celebration when they meet a young guy, Oliver (Johan Marenius Nordahl) who questions whether it really is reasonable for you to take the graduation when you are about to retire, considering that the world will soon go under due to climate changes.
The Funeral (script Bengt Ohlsson, directed by Michaela Granit). Emma's (Christine Meltzer) husband has just died and they are in the middle of a funeral rehearsal. It is so common in America with rehearsal dinners, probably most for weddings. But Emma thinks it would make her relax more at the actual funeral if they have a rehearsal. Ingrid (Nina Zanjani) is an unexpected Old Acquaintance to Emma's husband. The priest (Peter Eriksson) comes a little late and it is very clear that he hasn't read the information about the husband they are about to bury, but he does everything to hide it as he can't admit it to the widow.
New Year's celebration (script Gertrud Larsson, directed by Linus Tunström). Louise (Lia Boysen) and her husband Ludvig (Rafael Edholm) are on their way home after a new year celebration with a little bit too much champagne. They have to stay at a public toilet and there they encounter Lars (Donald Högberg) who is a friend to Louise. A person she does not want to admit to know at first, which is understandable because he is some form of loan shark that she borrowed a lot of money from in order to gamble on horses. Something that her husband does not know about.
50-year-celebration (manuscript Per Naroskin, directed by Johannes Schmid). Working colleagues Charlotte (Katrin Sundberg), Henrik (Fredrik Hiller) and Jean-Pierre (William Spetz) will make a surprise number on their boss's 50-year birthday celebration During the minutes when they wait outside the party to go in and make their performance a lot of things are revealed. Turning 50 can be sensitive to some people. Yes, any age can apparently be subject to ageism. Many fun twists and turns.
I was really impressed by all the actors who in such a short time succeeded so well with their roles and their learning their lines so well and delivery them in a way which made us laugh a lot. Interesting to see some actors in a different role than they usually do. For example, Christine Meltzer showed here that she can be fun in a more serious way without making parody of anyone. For the first time, I saw my neighbor, Peter Eriksson, on the stage and I don't mind seeing him in other plays.
To each play, Josefin Kristiansson sang a well-known song that somehow reflected the play's theme.
Instant Playhouse is really something I can recommend. You get to see a lot of good actors who play a completely new piece that is probably only played here and now. But above all, you are contributing to something good! Everyone on, behind and around the stage contributes with their work and we in the audience pay and get to enjoy amazing plays and in this case lots of child gets resources that makes them get a better life. Can it get better?
Looking forward to next year's Instant Playhouse and I really think you should see it too next year!
Related Articles View More Sweden

Stories

Shows