Review: Stages St. Louis' GREASE Is the One That You Want (Oh Yes Indeed)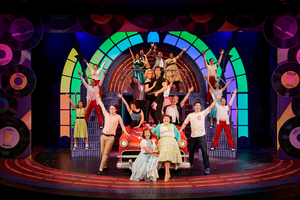 WOW is the word right now, as Grease, with direction and musical staging by Michael Hamilton, plays at Stages St. Louis! In this automatic, systematic, hyyyydromatic show, it's 1950s USA, and a new school year is beginning at Rydel High. A feisty Miss Lynch (Kendra Lynn Lucas) greets us as her students with the morning announcements (and theatre etiquette, too - thank you Miss Lynch), using a training clicker to keep us in check lest we get too rowdy. She knows her students, after all. Moving into the musical, we encounter Sandy Dumbrowski (Summerisa Bell Stevens) and Danny Zuko (Sam Harvey), who met at the beach over summer break and had a sweet little romance. Both will be attending Rydel for their senior year, unbeknownst to one other, so that makes for a scrumptiously awkward reunion. Danny, who must maintain his cool-cat image with his buddies, is now acting like a legit jerk to Sandy, who is just looking to make friends at her new school and fit in. Some of these new friends include the Pink Ladies gang - a flirty, fun Marty (Julia Johanos), the racy, hot Betty Rizzo (Morgan Cowling), a delightfully adorable Jan (Brooke Shapiro), and a charmingly eccentric Frenchy (Lucy Moon). On Danny's side, there's a super-cool Kenickie (Jesse Corbin), the classic cut-up Roger (Collin O'Connor), a more musically than tough-guy inclined Doody (Patrick Mobley), and playboy Sonny (Frankie Thams), all members of the Thunderbirds gang, led by Danny. There's also Patty Simcox (Aisling Halpin) who plays the hilarious and exasperating cheerleader, and the main brain Vince Fontaine (Steve Isom), an older enthusiastic radio announcer who keeps his pervy eye fixed on some of the young ladies.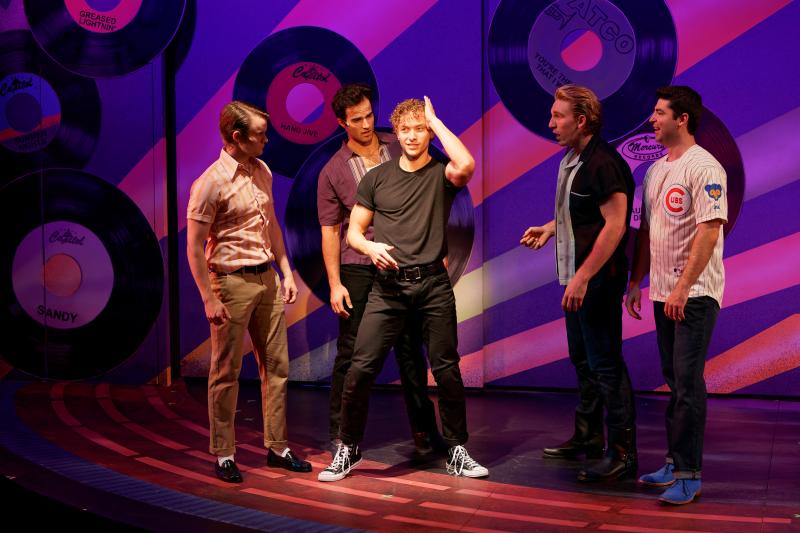 As Danny and Sandy try to find their way back to one another, we get to enjoy many fun subplots where relationships among the long-time friends seriously test their limits, as teen relationships do. Aside from the slightly outdated storyline where Sandy reforms herself into a more vampy version to keep the attention of a boy (okay, okay perhaps the argument could be made that Sandy actually just discovers her best self... and it just happens to be a more vampy version that keeps the attention of a boy), this 50-year old musical that was adapted to film over 40 years ago is as exciting and spicy as ever. The personality types are well-defined in this production of the musical utilizing excellent costume, hair, and acting choices, with Sandy as the goodie goodie sweetheart; Danny the tough guy with a heart of gold; Kenickie, the dreamer who is saving up for a junker he's already deemed "Greased Lightning;" Doody, whose musical dreams don't quite match his talents (but boy does he get his moment in the spotlight!); and Rizzo, with her not-so-subtleness, dishing brashness while oozing raw sex appeal. Frenchy is the girl everyone loves to know, and Patty is the girl we all know, and are glad we aren't. In fact, these are all characters with whom you were acquainted or wanted to be acquainted in high school, and because of that, it is an ageless story of the good old days, nostalgia galore mixed with thoroughly enjoyable salacious teen banter.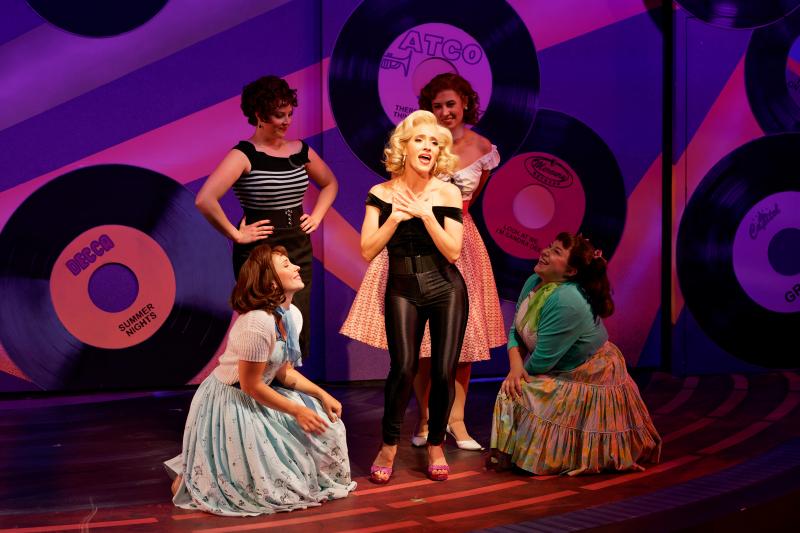 There are so many notable numbers, including "Grease is the Word" featuring the entire company, the opener that gets the show off to a fun start. Bell Stevens and Harvey kill it in "Summer Nights" as do their counterparts, in a number that, like many of the wonderful moments in this show, features small vignettes where fully acted-out scenes are happening as a side to the main action. There are many, many times, in fact, when there are multiple somethings happening simultaneously in small groupings on the small stage, which is fun and exciting, especially since it is a stage full of young, energetic people who are supremely entertaining. That contributes to the flawless timing, with snappy scenes that are thrilling to watch unfold. The choreography by Tony Gonzalez is fast and slick, with several dream sequences that flow seamlessly into the action of the story.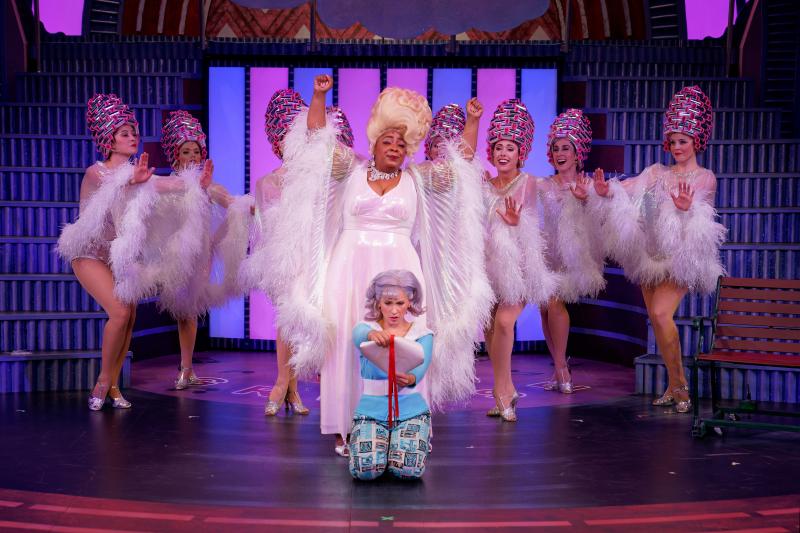 Kendra Lynn Lucas, who plays Miss Lynch and Angel, is deliciously extra in one of these in fact, the audience roaring after her splendid rendition of "Beauty School Dropout." And in the end, "You're The One That I Want" will put you on your feet for the finale, where again the entire company invites you, as a student of Rydel High, to be part of the action.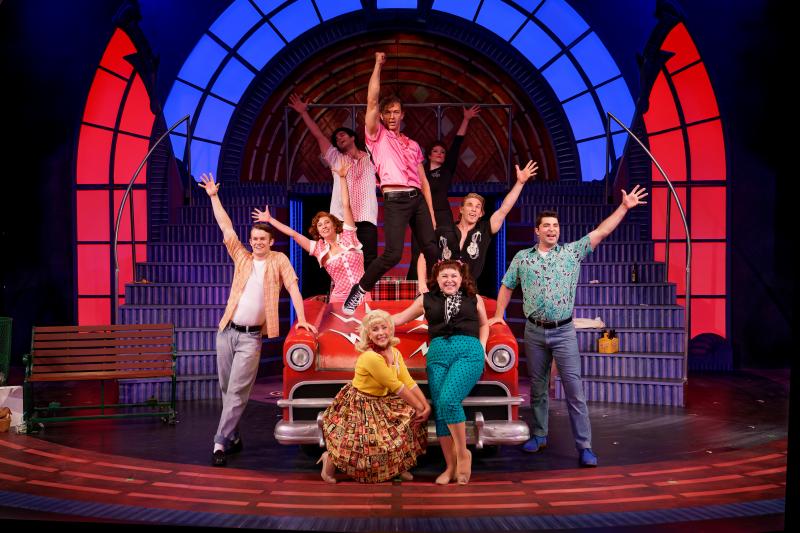 Grease the musical has a book, music, and lyrics by Jim Jacobs and Warren Casey and additional songs by Barry Alan Gibb, John Farrar, Louis St. Louis, and Scott Simon. This show is colorful, bold, and energetic, with spot-on casting, all of the acting and singing strong. With musical Direction by Lisa Campbell Albert, scenic Design by James Wolk, lighting Design by Sean M. Savoie, Costume Design by Brad Musgrove, and Orchestral Design by Stuart M. Elmore, Stages presents Grease through August 18 at the Robert G Reim Theatre. For tickets and more information, https://www.stagesstlouis.org/Home/Shows/Grease/.