Tanya Seale
Tanya Seale writes plays and fiction. She holds a BA in English with minors in Theatre and Scriptwriting from Webster University, and an MFA in Dramatic Writing from Goddard College. You can learn more about Tanya at tgseale.com.
MOST POPULAR ARTICLES
LAST 30 DAYS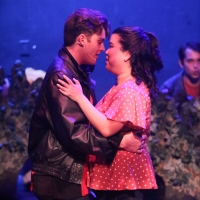 BWW Review: CRY-BABY is a Rockin' Fun Look at Privilege and Classism
Posted: Oct. 13, 2019


LAST 365 DAYS
BWW Review: Lerner & Loewe's PAINT YOUR WAGON Is Pure Gold
Posted: Jul. 28, 2019


BWW Review: FOOTLOOSE at The Muny is a Timeless Smash Hit
Posted: Jul. 20, 2019


BWW Review: KINKY BOOTS Dazzles at The Muny
Posted: Jun. 21, 2019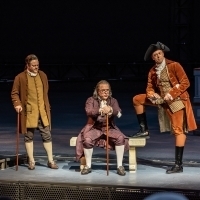 BWW Review: 1776 at The Muny Shows Scuffles and Snags to Independence
Posted: Jul. 1, 2019


BWW Review: THE HUNDRED DRESSES Addresses Bullying, Friendship, Forgiveness
Posted: Feb. 17, 2019



BWW Review: A CHRISTMAS CAROL Warms Hearts and Reminds that Giving > Receiving
Posted: Dec. 7, 2018



BWW Review: ROCK OF AGES Tenth Anniversary Tour is Ridiculously Rad
Posted: Mar. 3, 2019


BWW Review: CRY-BABY is a Rockin' Fun Look at Privilege and Classism

October 13, 2019

New Line Theatre, whose tagline is fittingly #MusicalTheatreAF, opens their 29th season with Cry-Baby, the 2007 musical with book by Mark O'Donnell & Thomas Meehan and songs by David Javerbaum & Adam Schlesinger. It is based on Cry-Baby the film, written and directed by Hairspray creator, John Waters. Let me just pause here and say if you have only ever seen the film, you're missing out, as the musical has a much more cohesive, developed...
---
BWW Review: The Muny's MATILDA is Magically Mary

August 7, 2019

Mary Engelbreit, that is. Roald Dahl's Matilda, playing now through August 11 at The Muny in Forest Park, is inspireda?'the entire productiona?'by the artwork of St. Louis' own Mary Engelbreit, and is it ever something to see! Even on first glance of the curtain, which is painted with colorful stacks of books, polka dots, and hearts on a vine, one can tell this show is going to be a special kind of Muny magic. And sure enough, that inspiration...
---
BWW Review: ASSISTED LIVING: THE MUSICAL Makes Retirement Look Fun

August 4, 2019

Assisted Living: The Musical, written and performed by comedy duo Rick Compton and Betsy Bennett, and accompanied by pianist Jeremy Franklin Goodman, is a hilarious little 75-minute distraction from life's real aches and pains, playing now at The Playhouse at Westport Plaza. The vaudeville-style musical revue is set in the present day at Pelican Roost, a senior living community, where eighteen colorful characters take turns giving the real scoop on life after a person's AARP membership starts. The story (what loose story there is) is framed...
---
BWW Review: Lerner & Loewe's PAINT YOUR WAGON Is Pure Gold

July 28, 2019

Few people seem to be familiar with Lerner & Loewe's Paint Your Wagon. Those who are usually mention the 1969 film of the same title, starring Lee Marvin and Clint Eastwood, known for being a ridiculously miscast and embarrassingly terrible flop. The musical, which originally appeared on Broadway in 1951, is similarly messy, and has gone pretty much unproduced for decades. Fortunately, however, playwright Jon Marans has redrafted the book, top-to-bottom, enhancing both the story line and its characters, and the result is a shiny-new masterpiece with new orchestrations and new dance and vocal arrangements. It is now an entirely enjoyable musical, complex in its structure, with an interesting setting, compelling plot, nuanced layers, appropriate social commentary, and characters...
---
BWW Review: CHICAGO (HSE) Brings the Heat at Ignite Theatre Company

July 27, 2019

Jørgen Pedersen makes his musical directorial debut with Chicago (High School Edition) featuring the talented youth at Ignite Theatre Company, and here's something fun: it features an all-female cast! The fine performers at Ignite (whose mission involves inclusion of performers from all walks of life a?' yay!) deliver a sassy and entertaining production, and despite one's assumption that a high school edition of Chicago might be watered-down...
---
BWW Review: Stages St. Louis' GREASE Is the One That You Want (Oh Yes Indeed)

July 26, 2019

WOW is the word right now, as Grease, with direction and musical staging by Michael Hamilton, plays at Stages St. Louis! In this automatic, systematic, hyyyydromatic show, it's 1950s USA, and a new school year is beginning at Rydel High. A feisty Miss Lynch (Kendra Lynn Lucas) greets us as her students with the morning announcements (and theatre etiquette, too a?" thank you Miss Lynch), using a training clicker to keep us in check lest we get too rowdy. She knows her students, after all. Moving into the musical, we encounter Sandy Dumbrowski (Summerisa Bell Stevens) and Danny Zuko (Sam Harvey), who met at the beach over summer break and had a sweet little romance. Both will be attending Rydel for their senior year, unbeknownst to one other, so that makes for a scrumptiously awkward...
---
BWW Review: FOOTLOOSE at The Muny is a Timeless Smash Hit

July 20, 2019

Sunday shoes are being kicked off right and left in Footloose at The Muny right now, as Christian Borle, the two-time Tony Award winner who has been in 11 Broadway shows, makes his musical theatre directing debut. In this four-time Tony Award-nominated adaptation of the 1984 movie by the same title, you'll find actors of all shapes and colors (insert heart-eye emojis for days!) who fill the stage again and again with dynamic dancing to songs...
---
BWW Review: RODGERS & HAMMERSTEIN'S CINDERELLA Is Wild Deviation from Expectation

July 11, 2019

The Muny's current production of Rodgers & Hammerstein's Cinderella is definitely not Walt Disney's Cinderella. It is nothing like Perrault's or the Grimm Brothers' Cinderella. It's not even pure Rodgers & Hammerstein, but rather a 2013 adaptation based on Rodgers & Hammerstein with a new book by Douglas Carter Beane. This musical holds the essence of your beloved fairytale but is infused (I must warn you upfront) with complicating new characters, a clumsy reordering of the original songs, and a conspicuous political subplot. Essentially, this adaptation, which tries to be everything simultaneously - old fashioned and new-fangled, traditional and progressive - is mostly just...
---
BWW Review: LABUTE NEW THEATER FESTIVAL Serves Up Much to Ponder With New, Fresh Work

July 7, 2019

St. Louis Actors' Studio's LaBute New Theater Festival pulls together two sets of one-acts and a staged reading of high school finalists this month in order 'to bring a fresh vision of theatre to St. Louis.' Blind, open submissions were taken from playwrights near and far, with six new, previously-unproduced professional plays and four plays by high school students making the cut. Accompanying the professional play sets is Great Negro Works of Art, a Midwestern premier by Neil LaBute directed by John Pierson, performed each night of the festival. It allows its audience to peer in on...
---
BWW Review: 1776 at The Muny Shows Scuffles and Snags to Independence

July 1, 2019

Three-time Tony Award-winning 1776 with music and lyrics by Sherman Edwards and book by Peter Stone is based on the events in Philadelphia leading up to the creation of the United States of America's Declaration of Independence, by making real people of historical giants like John Adams, Benjamin Franklin, and Thomas Jefferson. It is with drama and comedy that this dialogue-heavy musical invites us to enter the chamber of the Second Continental Congress and sit for a while with our country's forefathers as they struggle to figure out how to give birth to a new...
---
BWW Review: INDECENT Pays Gorgeous Homage to Love, Art

June 24, 2019

Paula Vogel's Indecent is actually about another play, Sholem Asch's 1906 play, God of Vengeance. At curtain, stage manager Lemml (TJ Lancaster) introduces the troupe, which has been waiting, frozen, in chairs along the back wall. The troupe, all who play multiple characters, is comprised of Paul Cereghino, Zoe Farmingdale, John Flack, Katie Karel, Judi Mann, and Tim Schall, along with musicians Alyssa Avery, Kris Pineda, and Jack Theiling. The year is 1906 and the characters are passionate theatre artists from Warsaw, Poland, committed to the success of Jewish-Yiddish playwright Asch's play about the daughter of a brothel owner who falls in love with one of her father's prostitutes. Controversial? Yes, but Asch dreams of seeing Jewish stories on every stage in every language in what was to be a Yiddish renaissance, and that includes creating stories based on people who might not otherwise have a voice.
---
BWW Review: DISNEY'S 101 DALMATIONS Barks Up the Right Tree at Stages St. Louis

June 21, 2019

It's puppies, puppies everywhere-even in the audience!-as families and young friends are brought into an interactive version of the Stages St. Louis Emerson Family Series production of Disney's 101 Dalmatians, playing now through June 30 at Robert G. Reim Theater.
---
BWW Review: KINKY BOOTS Dazzles at The Muny

June 21, 2019

The most beautiful thing in the world is a shoe at The Muny this weekend and into next week, as Kinky Boots, based on a 2005 film of the same name, takes the stage in its extraordinary St. Louis premiere after its six-year run on Broadway. There, it won multiple Tony awards, with a book by Harvey Feirstein and music and score by Cyndi Lauper, direction and choreography by Jerry Mitchell (direction re-created for The Muny by DB Bonds and choreography by Rusty Mowery). With its many glitzy surprises and its variety of endearing and glamorous characters, this show will have you saying YEAH!
---
BWW Review: BE MORE CHILL is Cool, Fresh Take on High School Angst

June 2, 2019

Part awkward teen drama, part eerie sci-fi, Be More Chill with music and lyrics by Joe Iconis and book by Joe Tracz, based on the 2004 young adult novel by Ned Vizzini, is one of the coolest, freshest comedic musicals in years. It already classifies as a cult favorite, and even though it's currently playing on Broadway, you can (and should) be among the first to see New Line Theatre's production through June 22!
---
BWW Review: I NOW PRONOUNCE is the Wedding That Happened in Spite of Itself

May 24, 2019

As an audience member at Tasha Gordon-Solmon's dark comedy I Now Pronounce, currently playing at the New Jewish Theatre, you are a guest at the wedding of Nicole and Adam. Or is it Aaron? Or Arthur? Or Anthony? Oh heck, the rabbi can't remember, although he attempts in earnest to list all the things the couple has in common before an unfortunate collapse that leaves him deader than a doornail.
---
BWW Review: COME FROM AWAY Uplifts in Spite of Terror

May 15, 2019

Making its St. Louis debut at the Fabulous Fox Theatre right now, a commanding drum beat kicks off a high-energy opening number to welcome the audience of Tony award-winning Come From Away: A New Musical. On its first North American tour with a book, music, and lyrics by Irene Sankoff and David Hein, you'll land on 'the rock' where, for the next 100 entertaining minutes, you'll be treated to a heaping helping of musical hospitality from the residents of Gander, Newfoundland. It is that ill-fated day of September 11, 2001, when 39 planes from around the world transporting close to 7,000 scared and angry passengers - as many as live in the whole town of Gander - are grounded here.
---
BWW Review: THE NIGHT OF THE IGUANA Kicks Off Fourth Annual Tennessee Williams Festival St. Louis

May 11, 2019

If you know Tennessee Williams, and I hope you do/will, you know there's a lot to unpack in his work. His characters are tormented and textured, plotlines layered with the riddles and aches of the human heart. There's no mercy when Tennessee Williams shines a flashlight into the darkest corners of a soul, and you will likely come away from the work exhausted and amazed for both the damage and any bit of renewal you've witnessed. Such is the case in The Night of the Iguana, playing at The Grandel Theatre now, as the main stage production of the 2019 Tennessee Williams Festival St. Louis.
---
BWW Review: SALT, ROOT, AND ROE Challenges and Touches with Deeply Moving Performances

May 4, 2019

The distant sound of Atlantic Ocean waves receive you when you enter the theatre at the Kransberg Arts Center for Salt, Root, and Roe by Tim Price, which is currently making its US premier with Upstream Theater in partnership with Stages Repertory of Houston. When the lights dim, you'll be transported to a small village on the northern coast of modern-day Pembrokeshire, the most westerly part of Wales. An exterior beach in the foreground; an interior wood-planked room filled with packing boxes, small furnishings, and textiles just beyond that; and on the back wall, an illustrated representation of this place - Anest and Iola's seaside cottage - all aptly set the stage for what is to come.
---
BWW Review: DADDY LONG LEGS Entertains With Delightful Melodies and Old-Fashioned Charm

April 1, 2019

In the intimate comfort of The Marcelle Theatre right now, you'll find two adjoining playing spaces-a grand library up top, and a bright, sunny room below. This is where an interestingly-constructed little love story comes to life. It is where Jennifer Theby Quinn and Terry Barber deliver a solid performance of Daddy Long Legs, a musical based on the classic novel which also inspired the 1955 movie featuring Fred Astaire, directed by Insight Theatre Company's Maggie Ryan.
---
BWW Review: TIME STANDS STILL is Harsh and Tender Contemplation on War and Relationships

March 29, 2019

An exposed-brick studio apartment in Brooklyn in 2009 is the setting for Time Stands Still, a moving play by Donald Margulies, directed by Doug Finlayson, playing now at The New Jewish Theatre. Romantic partners for 8 ½ years, photojournalist Sarah (Wendy Renee Greenwood) and war correspondent James (Ben Nordstrom), return home, Sarah's face bandaged, her arm in a sling, and her leg bound with a brace as she struggles to maneuver on crutches. We don't know exactly what has happened just yet, but we know it's bad, as the play opens with poignant silences, emerging compromises, and a shared consideration for anguish. We soon learn that the couple has covered the horrors of combat, famines, and genocides; that they have nearly died several times, and that as Sarah begins recovering from the physical wounds from a roadside bomb, James has already been home and is on meds recovering from his emotional ones. The question associated with a recovery of this magnitude is, "What happens next?" And what happens after that and after that?
---
1