WEST SIDE STORY llegará a Disney Plus próximamente
Hoy la plataforma ha anunciado sus estrenos para los próximos meses.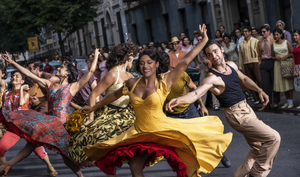 Disney+ ha anunciado los títulos que llegarán a Europa, Oriente Medio y África (EMEA) añadiendo más contenido para todos los públicos a la plataforma. Entre ellos, aún sin fecha confirmada, está el esperado remake de Spielberg de WEST SIDE STORY que llegó a nuestros cines a finales de diciembre.
¡Suscríbete ahora a Disney+ para disfrutar de WEST SIDE STORY!
Del productor y director Steven Spielberg, con guion del guionista y autor teatral Tony Kushner, llega WEST SIDE STORY. La película es una adaptación del musical de 1957 y cuenta la historia de un amor prohibido y la rivalidad entre los Jets y los Sharks, dos bandas callejeras de adolescentes de distintos orígenes étnicos.
La nueva versión de este clásico está protagonizado por Ansel Elgort (Tony); Rachel Zegler (María); Ariana DeBose (Anita); David Alvarez (Bernardo); Mike Faist (Riff); Josh Andrés Rivera (Chino); Ana Isabelle (Rosalía); Corey Stoll (Lieutenant Schrank); Brian d'Arcy James (Officer Krupke); y Rita Moreno (Valentina), ganadora del EGOT (Emmy, Grammy, Oscar y Tony), que es además una de las productoras ejecutivas de la cinta.
En los próximos meses, Disney+ también acogerá el estreno de The Dropout, The Kardashians, y Pistol . Estos títulos se unen a la amplia oferta de cine y series que ya se pueden disfrutar, como Dopesick: Historia de una adicción, Solo asesinatos en el edificio, Ojo de Halcón de Marvel Studios, El libro de Boba Fett de Lucasfilm y Encanto de Disney.