IN THE HEIGHTS se estrenará en Madrid en la temporada 2022/2023
El musical estará dirigido y coreografiado por José Félix Romero.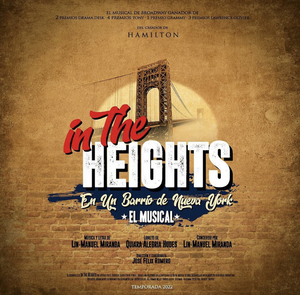 El Teatro Espacio Raro, situado junto a IFEMA en Madrid, acogerá el músical IN THE HEIGHTS, subtitulado como EN UN BARRIO DE NUEVA YORK, al igual que la versión cinematográfica del musical de Lin-Manuel Miranda. La producción llegará a Madrid en la temporada 2022-2023 dirigida y coreografiada por José Félix Romero.
El musical de Lin Manuel Miranda con el libreto de Quira Alegría Hudes se convirtió en un éxito rotundo, recuperando los diez millones de dólares de inversión en tan solo diez meses, ganando los premios Tony a Mejor Musical y Mejor Banda Sonora, entre otros, y el Grammy a Mejor Score.
El elenco la noche del estreno estaba compuesto por Lin Manuel Miranda como Usnavi, Karen Olivo como Vanessa, Carlos Gómez como Kevin, Mandy González como Nina, Christopher Jackson como Benny, Priscila López como Camila, Olga Meredith como Abuela Claudia, Andrea Burns como Daniela, Janet Dacal como Carla y Robbin de Jesús como Sonny.
En 2011, tras 1.189 funciones, el musical bajaba el telón en Broadway y finalizaba la gira nacional que llevaba recorriendo Estados Unidos desde 2009.
Desde ese momento se han llevado a cabo producciones de IN THE HEIGHTS por todo el mundo, pasando desde el off-West End en 2014, hasta Tokyo en 2015, sin olvidar las producciones de Manila, Melbourne, Panamá o Vancouver.
IN THE HEIGHTS se ha estrenado este año en cines. El elenco del filme estará encabezado por Anthony Ramos (HAMILTON) como Usnavi, acompañado por Corey Hawkins como Benny, Leslie Grace en el papel de Nina, Stephanie Beatriz como Carla, Melissa Barrera como Vanessa, Olga Merediz como Abuela Claudia y el mismísimo Lin Manuel Miranda como el Piraguero.