Feliz cumpleaños, Judy Garland
Hoy la protagonista de EL MAGO DE OZ cumpliría 100 años.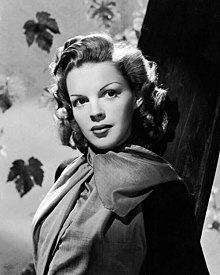 Judy Garland (nacida como Frances Ethel Gumm) nació el 10 de junio de 1922, y saltó a la fama tras interpretar el papel de Dorothy Gale en la película musical EL MAGO DE OZ (1939), con apenas 17 años.
A raíz de ese papel, por el que ganó el Premio Juvenil de la Academia, actuó en varias películas, muchas de ellas musicales, como A STAR IS BORN, CITA EN ST.LOUIS o THE HERVEY GIRLS. Alcanzó el estrellato internacional y fue reconocida por la crítica,
recibiendo un Globo de Oro y un Premio Tony Especial.
Sin embargo, el mundo del espectáculo hizo que la joven actriz intentara suicidarse en varias ocasiones. Los ejecutivos de la Metro-Goldwyn-Mayer (productora de EL MAGO DE OZ), la acusaban de no ser lo suficientemente atractiva y, junto a su madre, la presionaron para que consumiera drogas y así mantenerse delgada. Esto mismo le ocurrió con Warner Bross. El mundo del amor tampoco parecía que le sonriera. Se casó en cinco ocasiones, siendo varios de sus maridos acusados de ser homosexuales, algo que a ella no le importó. Uno de esos matrimonios fue con director de cine Vincente Minnelli, con el que tuvo una hija, la también actriz y cantante Liza Minnelli, conocida por interpretar el papel de Sally Bowles en la versión cinematográfica de CABARET. La industria de Hollywood obligó a Vicent Minelli a esconder su homosexualidad detrás de cuatro matrimonios con mujeres.
Pero nada de esto la detuvo, ya que comenzó a enfocarse en su otra pasión, el canto. Comenzó haciendo varias pequeñas giras, hasta llegar al que fue su gran concierto en 1961, en el Carnegie Hall en Nueva York. Gracias a este show ganó cuatro premios Grammy, convirtiéndose en la primera mujer en lograr esta hazaña.
A pesar de sus triunfos profesionales, su éxito se vio enturbiado por sus adicciones, que acabaron deribando en problemas psicológicos y financieros.
Al igual que muchas otras mujeres, el sufrimiento de Judy Garland, derivado principalmente de la incorformidad con su cuerpo, la llevaron a ser alabada por los hombres homosexuales porque se sentían identificados con ella. Además, sus intentos de suicidio y la presión constante de tener que ser de una manera específica son problemas que la comunidad LGBTQI+, al igual que Judy en su momento, sufre día a día.

También la famosa canción 'Over The Rainbow' suele considerarse un ícono para los homosexuales, habiendo incluso una teoría que dice que la bandera gay está inspirada en el arcoíris por esa canción.
Aunque durante toda su vida estuvo luchando, en 1969 su adicción a las drogas era ya muy fuerte, y cuatro meses después de interpretar 'Over The Rainbow' en el que sería su
concierto más famoso, en Copenhague, apareció muerta a sus 47 años en su
apartamento de Londres, tras una sobredosis accidental.