That Bachelorette Show Photos

by Jennifer Broski - Oct 2, 2015
Beginning Saturday, October 3, 2015, That Bachelorette Show, off-Broadway's biggest dance party and spoof of ABC's 'The Bachelorette,' welcomes actor and reality starVinny Guadagnino of MTV's 'Jersey Shore.' He'll play Giovanni Giovanni, ex-boyfriend and hopeful suitor of the titular bachelorette. Guadagnino joins a cast led by former Miss New York USA and Fox New's 'Red Eye' panelist Joanne Nosuchinsky as bachelorette Adriana Orlando.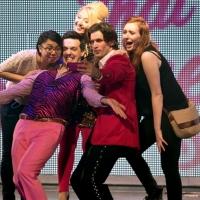 by BWW News Desk - Apr 3, 2015
From the creator of The Awesome 80s Prom comes New York's newest interactive sensation -- THAT BACHELORETTE SHOW. AndrewAndrew, the identically dressed, always fashionable NYC tastemaking DJ / Design duo, will serve as guest DJs for performances through opening, April 25.