The Terms of My Surrender - 2017 - Broadway
In a time like no other in American history, and with a sense of urgency like never-before, Michael Moore comes to Broadway for the first time in an exhilarating, subversive one-man show guaranteed to take audiences on a ride through the United States of Insanity, explaining once and for all how the f*** we got here, and where best to dine before crossing with the Von Trapp family over the Canadian border.
Performed live each night just blocks from Trump Tower, The Terms of My Surrender will, like Moore's films, feature the wry, satirical humor of one of America's iconic political observers and all-around-shit-disturbers, a fearless Midwesterner not interested in taking any prisoners. Audiences are in for one surprise after another.
Video preview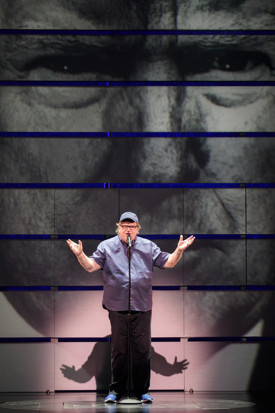 Photo preview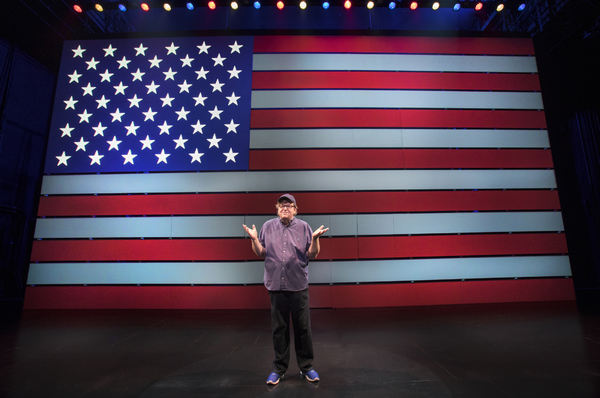 Schedule
Running Time: Two hours and 15 minutes, with no intermission
Featured Reviews For The Terms of My Surrender
BWW Review: The Resistance Hits Broadway in Michael Moore's THE TERMS OF MY SURRENDER - BroadwayWorld
More of a political rally than a theatre entertainment, the nearly two hour long intermissionless production, directed by Michael Mayer, is played under the assumption that every attendee wishes to see every member of the current administration out of office yesterday. The Oscar-winning activist documentarian frequently refers to his patrons as "us" and, at least at Tuesday night's preview, many felt fired up enough to yell out their disapproval of Trump using the kind of language usually reserved for "Access Hollywood" tour buses. "Donald Trump outsmarted us all," is the inconvenient truth he insists his fans accept, pointing out the newbie politician's crafty ability to tell voters in each individual state he sought to capture exactly what they wanted to hear, packaged in easy-to-digest sound bites.
Michael Moore bashes Trump, GOP and even New Jersey in new Broadway show - NJ.com
"The Terms of My Surrender," which officially opened on Thursday night on Broadway at the Belasco Theatre, turns out to be pretty much exactly what you'd expect: A nearly two-hour monologue in which Moore cracks wise about and harangues against President Donald Trump, with frequent, quintessentially Moore-ian lapses into self-aggrandizement and self-congratulation.
The Terms of My Surrender Broadway Cast