The Children - 2017 - Broadway Tickets, News, Info & More
Direct from an acclaimed run in London, the powerful Royal Court Theatre production of Lucy Kirkwood's astonishing new play will make its American debut at MTC with the heralded original cast. In a remote cottage on the lonely British coast, a couple of retired nuclear engineers are living a very quiet life. Outside, the world is in utter chaos following a devastating series of events. When an old friend turns up at their door, they're shocked to discover the real reason for her visit. The Mail on Sunday calls The Children "beautifully written and superbly acted." Hailed by The Independent as "the most rewarding dramatist of her generation," playwright Lucy Kirkwoodmakes her highly anticipated New York debut. Directing is the award-winning James MacDonald (TOP GIRLS at MTC).
The Children will star the original Royal Court Theatre cast BAFTA Award winner Francesca Annis (BBC's "Cranford"), Olivier Award nominee Ron Cook (Juno and the Paycock at The Donmar), and Olivier Award winner Deborah Findlay (RSC's Stanley).
The creative team for The Children will feature Miriam Buether (scenic and costume design), Peter Mumford (lighting design), and Max Pappenheim (sound design)
Video preview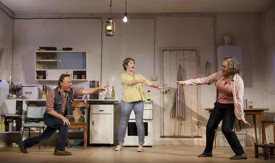 Photo preview
Twitter Watch
@MTC_NYC
12/06/2021 01:15pm
The full cast of Prayer for the French Republic! This powerful world premiere by Joshua Harmon and directed by… https://t.co/lM72x8Lywi
@MTC_NYC
12/02/2021 09:33am
Tune in to @WNYC today at noon as Edie Falco and Marin Ireland discuss #MorningSunPlay with Alison Stewart! https://t.co/7NzJJy4Qqz
Featured Reviews For The Children
Theater Review: The Ensemble Triple Threat of Lucy Kirkwood's The Children - Vulture
The Children - which premiered at the Royal Court in London last year and has now transferred to Broadway's Samuel J. Friedman Theatre with its original cast and director, the deft, deceptively unostentatious James Macdonald - is a play about responsibility and guilt, reparation and redemption. It's also a British play, so these heavy matters are handled lightly, wryly, approached from the side until circumstances absolutely demand a head-on confrontation.
Broadway's Brilliant Apocalypse: Review of 'The Children' - Daily Beast
That swirling unknown is bought startlingly to life at the end of the play, in one of the most visually stunning denouements on Broadway right now. And the true test of sitting and watching a play with no intermission for close to two hours is that you want to follow Hazel, Rose and Robin to where they are going, to listen to them more. But Kirkwood has imagined the right end for them, right before a far more profound end presents itself.
The Children Broadway Cast