The Children - 2017 - Broadway
Direct from an acclaimed run in London, the powerful Royal Court Theatre production of Lucy Kirkwood's astonishing new play will make its American debut at MTC with the heralded original cast. In a remote cottage on the lonely British coast, a couple of retired nuclear engineers are living a very quiet life. Outside, the world is in utter chaos following a devastating series of events. When an old friend turns up at their door, they're shocked to discover the real reason for her visit. The Mail on Sunday calls The Children "beautifully written and superbly acted." Hailed by The Independent as "the most rewarding dramatist of her generation," playwright Lucy Kirkwoodmakes her highly anticipated New York debut. Directing is the award-winning James MacDonald (TOP GIRLS at MTC).
The Children will star the original Royal Court Theatre cast BAFTA Award winner Francesca Annis (BBC's "Cranford"), Olivier Award nominee Ron Cook (Juno and the Paycock at The Donmar), and Olivier Award winner Deborah Findlay (RSC's Stanley).
The creative team for The Children will feature Miriam Buether (scenic and costume design), Peter Mumford (lighting design), and Max Pappenheim (sound design)
Video preview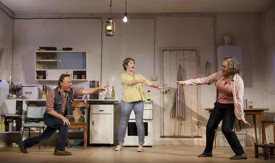 Photo preview
Featured Reviews For The Children
THEATER REVIEW: 'THE CHILDREN' - NY1
"The Children" is a very small play about some very big things; profound, in fact, with its life and death matters. And yet this provocative British 3-hander, so brilliantly performed, could probably have gone a bit smaller. With its slightly tilted set, we're tipped off right from the start that something's not quite right here. For the characters, this is the new normal following a massive disaster that brings to mind the nuclear meltdown at Fukushima.
'The Children' review: An absorbing, thought-provoking play from Lucy Kirkwood - amNY
Black humor occasionally pops up, as do secrets from the past. At one point, the characters listen to James Brown's "Ain't It Funky Now" and recreate a choreographed dance routine from 40 years earlier. But first and foremost, "The Children" is a social drama that is disturbing and thought-provoking.
The Children Broadway Cast