SpongeBob SquarePants - 2017 - Broadway
A legendary roster of Grammy Award winners. A visionary director and a Tony Award-winning design team. One of the world's most beloved characters. Turn them loose on Broadway and what do you get? The musical The New York Times declares, "BRILLIANT!"
"Wonders pour from the stage in a ravishing stream of color and invention" (Time Out New York) as Broadway's best creative minds reimagine and bring to life the beloved Nickelodeon series with humor, heart and pure theatricality in "a party for the eyes and ears" (Daily Beast). Be there when SpongeBob and all of Bikini Bottom face catastrophe - until a most unexpected hero rises to take center stage. The New York Times hails Ethan Slater's performance as our uber-absorbent champion, "a once-in- a-lifetime match of actor and character." Get ready to explore the depths of theatrical innovation in SpongeBob SquarePants, a "Broadway Extravaganza" (The New Yorker), where the power of optimism really can save the world.
Video preview
Photo preview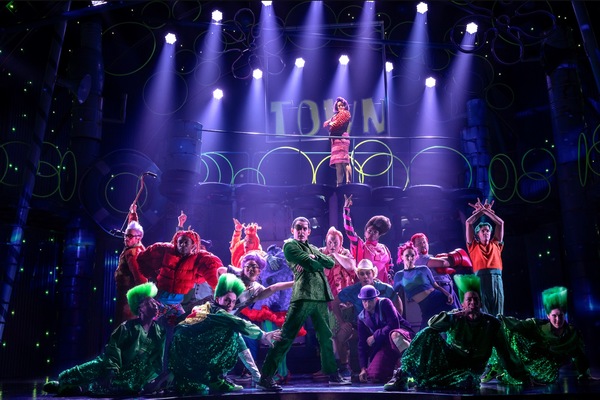 Schedule
Running Time: Two hours and 20 minutes, with one intermission
Featured Reviews For SpongeBob SquarePants
Review: 'SpongeBob SquarePants' now swims with the Broadway sharks - Chicago Tribune
It's a lot. You may have a headache. You may be encouraged in the view that kids cable franchises are best done in arenas with actors being forced to stick their heads inside animated costumes, if they are to be done at all. I think "SpongeBob" deserved and got more, and this is a sincere endeavor to elevate his gestalt. Not every attempt at singularity works - familiar tropes in the storytelling sometimes rear up and squelch the freshness - but, in its best moments, it is very much its own thing. Proudly so.
Aisle Review: Under the Sea, with Squid - Huffington Post
What, you might ask, does it signify when we start our discussion of a new musical by praising the sets and costumes? Well, just what you think it signifies. My guess is that SpongeBob SquarePants will be a favorite with its target audience, sending enchanted crowds pouring forth from the playhouse agog with delight and loaded down with show merchandise. Which, I suppose, is the goal of new Broadway musicals of this ilk. So everyone should be delighted, except for those who aren't.
SpongeBob SquarePants Broadway Cast