SpongeBob SquarePants - 2017 - Broadway
A legendary roster of Grammy Award winners. A visionary director and a Tony Award-winning design team. One of the world's most beloved characters. Turn them loose on Broadway and what do you get? The musical The New York Times declares, "BRILLIANT!"
"Wonders pour from the stage in a ravishing stream of color and invention" (Time Out New York) as Broadway's best creative minds reimagine and bring to life the beloved Nickelodeon series with humor, heart and pure theatricality in "a party for the eyes and ears" (Daily Beast). Be there when SpongeBob and all of Bikini Bottom face catastrophe - until a most unexpected hero rises to take center stage. The New York Times hails Ethan Slater's performance as our uber-absorbent champion, "a once-in- a-lifetime match of actor and character." Get ready to explore the depths of theatrical innovation in SpongeBob SquarePants, a "Broadway Extravaganza" (The New Yorker), where the power of optimism really can save the world.
Video preview
Photo preview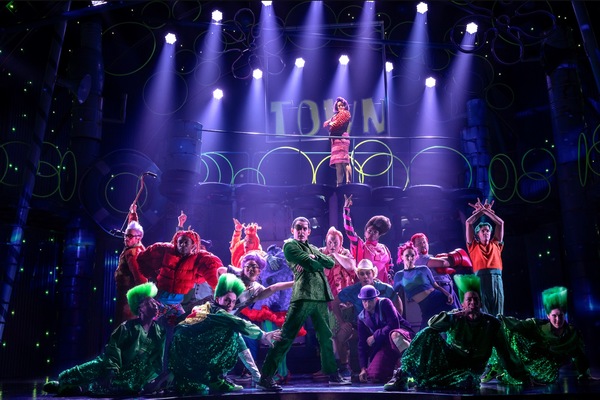 Schedule
Running Time: Two hours and 20 minutes, with one intermission
Featured Reviews For SpongeBob SquarePants
Review: 'SpongeBob SquarePants' now swims with the Broadway sharks - Chicago Tribune
It's a lot. You may have a headache. You may be encouraged in the view that kids cable franchises are best done in arenas with actors being forced to stick their heads inside animated costumes, if they are to be done at all. I think "SpongeBob" deserved and got more, and this is a sincere endeavor to elevate his gestalt. Not every attempt at singularity works - familiar tropes in the storytelling sometimes rear up and squelch the freshness - but, in its best moments, it is very much its own thing. Proudly so.
THEATER REVIEW: 'SPONGEBOB SQUAREPANTS' - NY1
Given the cartoon's manic vibe, it seemed impossible to me that "SpongeBob" would fly - or make that swim - on the stage. How to translate the wacky animated creatures into live bodies was an obviously daunting task, not to mention capturing the rather subversive humor that children find so appealing. Well, hats off to director Tina Landau and her gifted company for being able to ride the wave so entertainingly. Enhanced by pitch-perfect sound effects, they managed to replicate the loony shenanigans of the Bikini Bottom dwellers, all the while making it somewhat palatable for adult tastes.
SpongeBob SquarePants Broadway Cast