Click Here for More Articles on Podcasts
'Broadwaysted' Welcomes Broadway Power Couple, GENTLEMAN'S GUIDE's Lauren Worsham and SPONGEBOB's Kyle Jarrow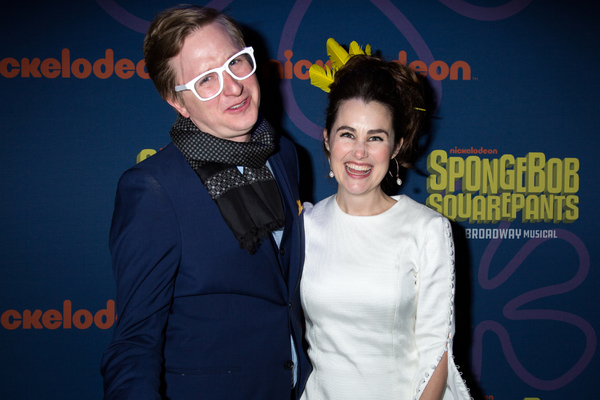 On this episode we are having the "Best Day Ever" because we're sitting down with one of Broadway's Power Couples: the incredibly talented, Tony-nominated Lauren Worsham and the Bookwriter of SpongeBob SquarePants on Broadway, Kyle Jarrow!
This week we're pouring out Hudson Manhattan Rye Whiskey to make Boulevardiers while Kyle spills about crazy SPONGEBOB behind-the-scenes stories (Swings are the best!) and Lauren shares about knowing "there is no box" as a female performer.
"What Have You Seen This Week" finds Kyle and Lauren raving about THE BAND'S VISIT while Kevin and Bryan share their great experience seeing CHILDREN OF A LESSER GOD. Substitute Game Master Kevin leads the group through two newly-created games: "The Mildness" and "I've Decided to Marry You" with Lights of Broadway Show Cards.
Along the way, Kyle and Lauren share how they balance their unique careers that span multiple genres (you have GOT to see their band Sky-Pony!!!!), they take a trip to Kevin's Corner, and we all talk way too much about a Sylvester Stallone movie "Over the Top." We had a great time hanging out in Brooklyn with Lauren and Kyle so tune in and join the fun as our new #FriendsoftheShow get Broadwaysted!
Listen to the episode here:
---
About Lauren: Lauren Worsham is an American actress and singer known for her work in opera and musical theatre. She received a Tony Award nomination for Best Featured Actress in a Musical for her role in A Gentleman's Guide to Love and Murder and appeared as Olive in the first national tour of The 25th Annual Putnam County Spelling Bee. She is also known for being the lead singer of the band Sky-Pony, which has released two albums with original songs titled "Say You Love Me Like You Mean It" and "Raptured Live." Follow her @WorshamLauren
About Kyle: Kyle Jarrow is the talented writer of the book of SpongeBob SquarePants: The Broadway Musical. Kyle's writing career began in theater, winning an Obie Award with director Alex Timbers in 2004 for A Very Merry Unauthorized Children's Scientology Pageant. His feature films include Saint Janet and 2010 Sundance Film Festival NEXT selection Armless. Kyle was also creator and executive producer of the television series Valor. Jarrow is singer, songwriter, and keyboardist for the theatrical rock band Sky-Pony. Follow him @landoftrust
---
About the Show: Broadwaysted: Where we're drunk on Broadway! Literally. This isn't your typical theatre podcast. Come "take a glass together" with us every Tuesday!
Join our cocktail hour as we pour a few rounds, play some games, and chat all things theatre with your favorite members of the Broadway community. From current hits, to past flops, and future stars, Broadwaysted drinks to it all. It's a place to unwind, be yourself, and hang out among friends who love what you love. Feel like you're at the table with your host Bryan Plofsky, co-host Kevin Jaeger, game master Kimberly Cooper, and amazing guests! Let's all get Broadwaysted!
Twitter: @Broadwaysted
Instagram: @Broadwaysted
Bryan's Twitter: @nuttyplofessor
Kevin's Twitter: @JaegerKev
Kimberly's Twitter: @KimberCoops
Related Articles