Rocktopia - 2018 - Broadway
ROCKTOPIA is a musical revolution that celebrates the fusion of the best rock songs of the past century with some of the greatest classical music ever written. ROCKTOPIA showcases the works of musical innovators including Mozart, Queen, Beethoven, Journey, Handel, U2, Tchaikovsky, Pink Floyd, Heart, Rachmaninoff, Foreigner, Copland, The Who and more.
Video preview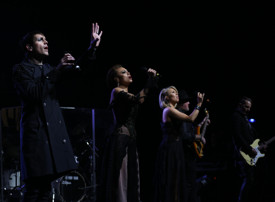 Photo preview
Schedule
Running Time: Two hours and 15 minutes, with one intermission
Featured Reviews For Rocktopia
'Rocktopia' Broadway Review: Beethoven's Not the Only One Rolling Over in This Musical Mashup - The Wrap
The very concept of "Rocktopia" feels so dated, like a glorified field trip to the local symphony hall for a High Art-meets-Low Art lesson in music appreciation. (The idea of blending rock and Rachmaninoff is not new.)
Review: Roll Over, Beethoven? At 'Rocktopia,' It's Time to Roll Back - New York Times
Ultimately, though, the real problem is the set list's utter blandness. Commingling rock and classical music has birthed such wildly diverse artifacts as Emerson, Lake & Palmer's cover of Aaron Copland's "Fanfare for the Common Man," the Metallica-San Francisco Symphony collaboration "S&M" and the popular prog band Trans-Siberian Orchestra. Sadly, no such ear-bending ambition is in evidence in this show's selections. Taken individually, these songs are in the canon for a reason, of course; one after another, their effect is numbing. Judging by the evidence on stage here, if classical music spawned one thing, it is the power ballad.