Review Roundup: Did ROCKTOPIA on Broadway Rock the Critics?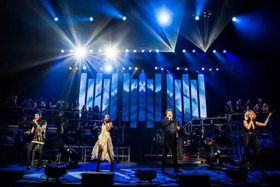 ROCKTOPIA officially opens on Broadway tonight!
An explosive musical concert event that fuses the most iconic 20th-century rock with world-renowned classical masterpieces,ROCKTOPIA features the works of musical innovators across centuries-including Journey, Mozart, Queen, Beethoven, Aerosmith, Handel, Led Zeppelin, Tchaikovsky, U2, Heart, Puccini, The Who and more-performed by an elite lineup of vocalists, a five-piece rock band, a thirty-person choir, and a twenty-piece orchestra.
Grammy Award winner Pat Monahan, lead singer of the multi-platinum-selling band Train, makes his Broadway debut as a guest vocalist during the first three weeks of the run, through April 8, 2018. Monahan will perform songs by multiple artists in the show - including "Kashmir" and "Stairway to Heaven" by his favorite band and musical inspiration Led Zeppelin - as well as a special encore of his own hit "Drops of Jupiter" merged with Gustav Holst's "The Planets". Multi-platinum Rock and Roll Hall of Famer Robin Zander, lead singer of Cheap Trick, will make his Broadway debut as a special guest vocalist for the final week of the limited engagement, April 23 - 29, 2018.
Let's see what the critics had to say!
Elisabeth Vincentelli, The New York Times: Ultimately, though, the real problem is the set list's utter blandness. Commingling rock and classical music has birthed such wildly diverse artifacts as Emerson, Lake & Palmer's cover of Aaron Copland's "Fanfare for the Common Man," the Metallica-San Francisco Symphony collaboration "S&M" and the popular prog band Trans-Siberian Orchestra. Sadly, no such ear-bending ambition is in evidence in this show's selections. Taken individually, these songs are in the canon for a reason, of course; one after another, their effect is numbing. Judging by the evidence on stage here, if classical music spawned one thing, it is the power ballad.
Joe Dziemianowicz, The Daily News: If the notion of Mozart's exuberant "Eine Kleine Nachtmusik" married to Styx's guitar-grinding "Come Sail Away" or a lush Handel aria bleeding into Elton John's plaintive "Don't Let the Sun Go Down On Me" sounds like music to your ears, this may be the mash-up for you. Otherwise, not so much.
Thom Geier, TheWrap: The very concept of "Rocktopia" feels so dated, like a glorified field trip to the local symphony hall for a High Art-meets-Low Art lesson in music appreciation. (The idea of blending rock and Rachmaninoff is not new.)
Frank Scheck, The Hollywood Reporter: Rock and classical music had a shotgun wedding, and their love child is on Broadway in the form of Rocktopia. Not since K-tel's best-selling Hooked on Classics series in the '80s has there been such a misguided attempt to combine two musical forms.
To read more reviews, click
here
!