Review: Classical Standards Play Second Fiddle to Power Anthems in ROCKTOPIA
As with the Broadway season's earlier pop concert extravaganza, HOME FOR THE HOLIDAYS, this theatre critic readily admits to not exactly being an ideal arts journalist to authoritatively review the touring rock anthem/classical music fusion concert called Rocktopia that has made a stop at the Broadway Theatre. Though my knowledge of the highbrow oeuvre is perhaps slightly higher than a layperson's, my experience with classic rock power ballads rarely extends further than the snippets heard at baseball and hockey games or during the occasional car commercial.
But, despite no dramatic content (not even billing for a director or a writer), Rocktopia is playing on Broadway so it's the duty of the theatre press to accept their generous invitations to review.
That's not to say that there aren't seasoned theatre chops on display. The Broadway credits of co-creator Rob Evan include playing Jean Valjean during the original run of LES MISERABLES and the title role in JEKYLL & HYDE. Punker Tony Vincent made a fine impression as the original St. Jimmy of AMERICAN IDIOT and pianist Henry Aronson's numerous Broadway credits as a music director and conductor date back to 1988.
Co-creator and arranger Randall Craig Fleischer, wearing black tails that look like he just sat in glitter, is pretty much upstaged for most of the show, as he conducts a 30-member choir and an 18-piece orchestra while standing out of the spotlight, behind the soloists, which include glammed-up legit soprano Alyson Cambridge, elegant pop diva Kimberly Nichole and gritty belter Chloe Lowery.
Pat Monahan, front man for the band Train and sure-fire winner in any Roger Bart lookalike contest, serves as guest star through April 8th, singing twangy versions of Led Zeppelin's "Stairway To Heaven" and Aerosmith's "Dream On."
As opposed to their classical colleagues, rockers Tony Bruno (guitar and music director), Mat Fieldes (a veteran of MATILDA on bass) and Alex Alexander (drums) are stationed at a prime downstage spot, with sprightly Celtic violinist Máiréad Nesbitt exuding enthused charm wherever she fancies.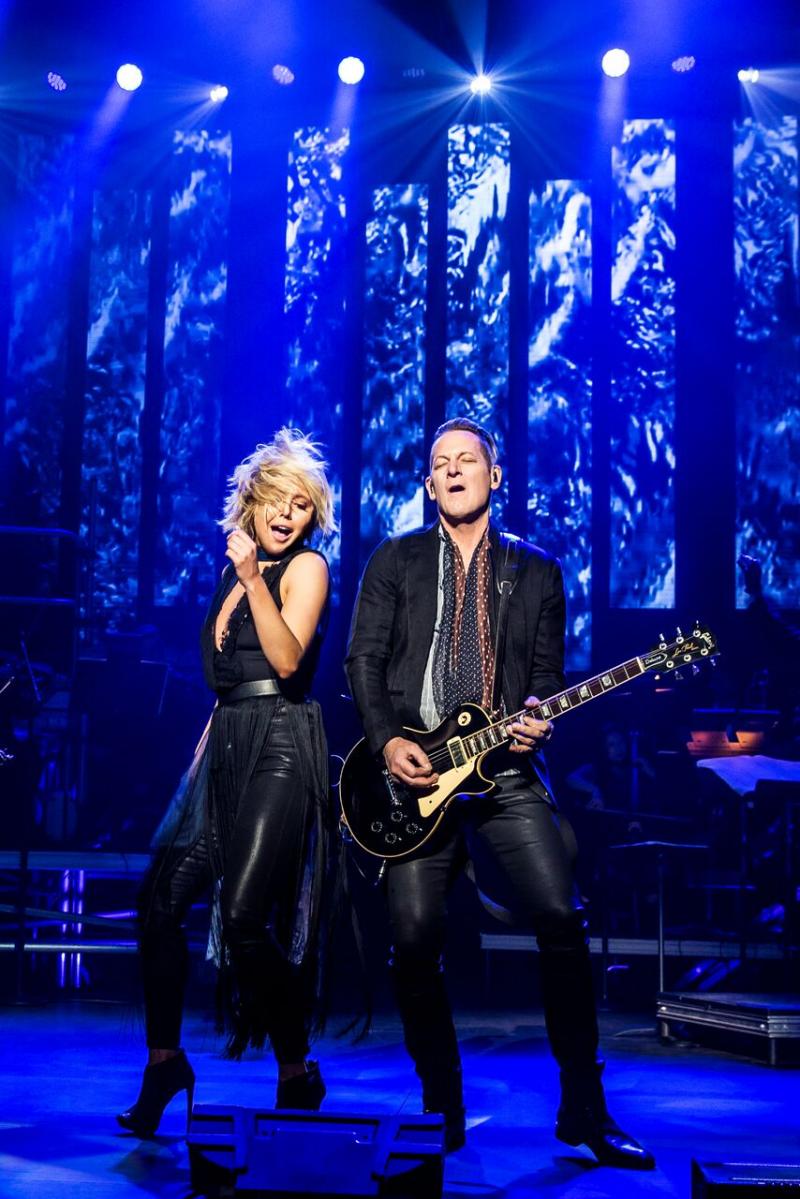 Though purported to represent both styles, the classical selections serve mostly as modest lead-ins to full-throttle rock belting. So it isn't long after clarinetist Giuseppe Fusco plays George Gershwin's thrilling intro to "Rhapsody In Blue" that the landmark symphonic jazz piece is abandoned for a full-company rendering of Queen's "Bohemian Rhapsody." A sample of the "Gate of Kiev" section of Mussorgsky's "Pictures At An Exhibition" is an intro to Evan's performance of U2's "Where The Streets Have No Name."
The exception is when the spotlight caresses Cambridge for her lovely performances of selections like "Musetta's Waltz" from Puccini's LA BOHEME (blending into Evan expressing his admiration with George Harrison's "Something") and Handel's "Lascia ch'io pianga."
But a huge problem with the classical moments is that though were composed to be performed without amplification, Rocktopia blasts them through the sound system with the same lack of finesse used for hits by Elton John and Styx.
Perhaps if they pulled a full switcheroo, having the classics performed in rock style with the newer stuff unplugged and given the longhair treatment (or even pairing up the rock selections with classical standards by the composers who may have influenced the contemporary artists), Rocktopia would have a little more bite to it.
But as it stands, most of the bite comes from emotionally raw Lowery, particularly when she bears into Foreigner's "I Want To Know What Love Is" and Heart's "Alone."
Nichole's fine performance of Bruce Springsteen and Patti Smith's "Because The Night (Belongs To Lovers)" is undercut by video designers Michael Stiller and Austin Switser's choice to flash images of sex shops and porn theatres during the number.
But that wasn't the weirdest contribution by the pair, who seem fixated on nature scenes for most of the evening (close-ups of flowers blooming, generically majestic landscapes). The montage of champions that accompanies Queen's "We Are The Champions" includes pics of Abraham Lincoln, Mother Teresa, Eleanor Roosevelt, JKF, MLK and... um... Anne Frank.
Good taste? Dream on.