Junk - 2017 - Broadway
Ayad Akhtar returns to Lincoln Center Theater with his new play, JUNK. Set in the high-flying, risk-seeking, teetering financial world of the 1980s and inspired by the real junk bond kings of the day, this riveting story shows us from the inside how money became the only thing that mattered.
Financier Robert Merkin will stop at nothing to take over an iconic American manufacturing company, changing the rules as he goes. With his brilliance matched only by his swagger, Merkin sets in motion nothing less than a financial civil war, pitting magnates against workers, lawyers against journalists, and every one against themselves.
Steven Pasquale (The Bridges of Madison County and TV's "Rescue Me") leads an impeccable cast, directed by Tony winner Doug Hughes (Doubt), in this no-holds-barred portrait of the dark side of the American Dream.
Video preview
Photo preview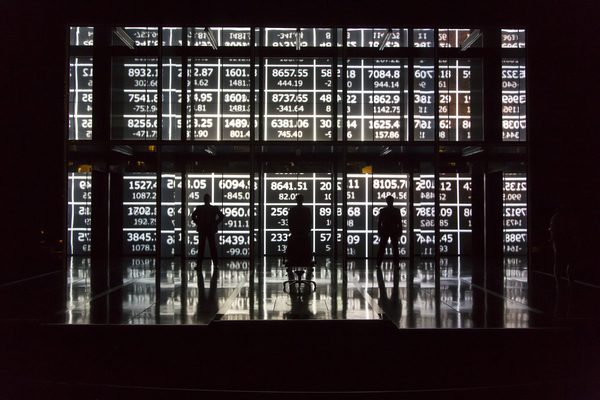 Twitter watch
@LCTheater
10/21/2020 11:47am
Tune-In Alert! Our new Resident Director Lileana Blain-Cruz is directing a reunion reading of Suzan-Lori Parks' The… https://t.co/VEYQLBj5MN
Featured Reviews For Junk
These Wolves of Wall Street Are All Too Familiar: Review of Ayad Akhtar's 'Junk' - Daily Beast
From the outset, Junk by Ayad Akhtar feels too familiar to be original-it is yet another play about greedy and venal Wall Street types behaving greedily and venally in the mid-1980s when Junk is set. Characters are variously housed in two rows of Hollywood Squares-like cells, or stalk to the front of a bare, handsomely lit stage-a dark parody of a game show, perhaps-to assail us with wry observations about capitalism. They also inform us, in their brutal, dense financial argot, about what they are about to do to buy, sell, or destroy. Each character feels familiar, each set-up feels familiar, the butch tone and swagger feels familiar. If you've seen Wall Street, or The Wolf of Wall Street, or Enron, or Margin Call, or Arbitrage, you've seen most if not all of the vital elements of Junk.
'Junk': Theater Review - Hollywood Reporter
Directed by Doug Hughes with a solid cast of 23 and a tireless foot on the accelerator, this is the kind of large-canvas, intelligent drama that Lincoln Center Theater does impeccably, notably so last season with Oslo. The difference, however, is that J.T. Rogers' Tony-winning play had richly individualized characters with incisively drawn cultural distinctions to flesh out the dense detail of its political history lesson. Junk, by contrast, is populated with aggressive arbitrageurs, inside traders and number-crunching sharks, all swimming more or less in the same pool.