Jersey Boys - 2005 - Broadway Tickets, News, Info & More
How did four blue-collar kids become one of the greatest successes in pop music history? Find out at Broadway's runaway smash-hit, Jersey Boys. The Tony Award-winning Best Musical of the 2006 takes you up the charts, across the country and behind the music of Frankie Valli and The Four Seasons.
As Clive Barnes in the New York Post says, 'It's just too good to be true.' Discover the secret of a 40-year friendship: four blue-collar kids working their way from the streets of Newark to the heights of stardom. And experience electrifying performances of the golden greats that took these guys all the way to the Rock and Roll Hall of Fame: 'Sherry,' 'Big Girls Don't Cry,' 'Can't Take My Eyes Off You,' 'Dawn,' 'My Eyes Adored You,' and more. The New York Times says, 'The crowd goes wild!'
Now a Major Motion Picture! Jersey Boys is directed by Des McAnuff, with book by Marshall Brickman & Rick Elice , music by Bob Gaudio and lyrics by Bob Crewe.
Video preview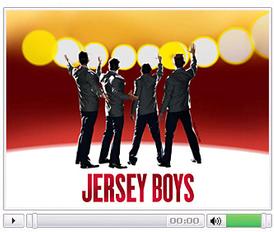 Photo preview
Schedule
Running Time:
2 hours and 30 minutes, with one intermission
Featured Reviews For Jersey Boys
From Blue-Collar Boys to Doo-Wop Sensation: A Band's Rise and Fall - New York Times
In a year in which one pop-songbook show after another has thudded and died, "Jersey Boys," a shrink-wrapped musical biography of the pop group the Four Seasons, passes as silver instead of as the chrome-plated jukebox that it is. Unlike the recent Broadway flops, this show has the advantage of featuring singers that actually sound like the singers they are portraying and a technology-enhanced band that approximates the original sound of their music. Scriptwriters Marshall Brickman and Rick Elice provide some likably sassy dialogue as they chart the evolution of their main characters from street kids in the urban wastelands of New Jersey to pop gods enshrined in the Rock and Roll Hall of Fame. But while "Jersey Boys" is based on fact, it rarely leaps over the cliches of a regulation grit-to-glamour blueprint.
Jersey Boys: Welcome to Falsettoland - BroadwayWorld.com
Now we have Jersey Boys; an exceedingly fun and electrifyingly staged tale of the rise and fall of The Four Seasons, which smartly uses their hit songs as a sort of background soundtrack to the story of a group of blue-collar guys establishing a distinctive sound during the early years of rock and roll. They sing songs on stages, in clubs, and in recording studios, but, aside from a couple of missteps, never as part of a book scene. And yet director Des McAnuff, by being very stingy with applause breaks until the audience is ready to burst, and bookwriters Marshall Brickman & Rick Elice, by deftly weaving the dialogue in and out of the music, have found a method to use songs to fuel the story without overwhelming it. Fans of The Four Seasons may walk in excited to hear familiar favorites like "Sherry", "Big Girls Don't Cry", "Rag Doll" and "Walk Like a Man", but they should leave the theatre impressed with how plot-driven the entire production is without ever short-handing the music. The jukebox musical has found its Pal Joey; a bit flawed, but ambitious, gritty, clever and professional.
Jersey Boys Broadway Cast