Jersey Boys - 2005 - Broadway
How did four blue-collar kids become one of the greatest successes in pop music history? Find out at Broadway's runaway smash-hit, Jersey Boys. The Tony Award-winning Best Musical of the 2006 takes you up the charts, across the country and behind the music of Frankie Valli and The Four Seasons.
As Clive Barnes in the New York Post says, 'It's just too good to be true.' Discover the secret of a 40-year friendship: four blue-collar kids working their way from the streets of Newark to the heights of stardom. And experience electrifying performances of the golden greats that took these guys all the way to the Rock and Roll Hall of Fame: 'Sherry,' 'Big Girls Don't Cry,' 'Can't Take My Eyes Off You,' 'Dawn,' 'My Eyes Adored You,' and more. The New York Times says, 'The crowd goes wild!'
Now a Major Motion Picture! Jersey Boys is directed by Des McAnuff, with book by Marshall Brickman & Rick Elice , music by Bob Gaudio and lyrics by Bob Crewe.
Video preview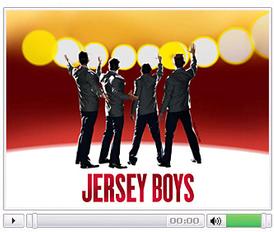 Photo preview
Schedule
Running Time: 2 hours and 30 minutes, with one intermission
Featured Reviews For Jersey Boys
Joyful Jersey - Bloomberg.com
`Jersey Boys,' at the August Wilson Theatre, is quite simply the best jukebox or song-catalog musical so far. It rousingly recreates the catchy songs, convoluted lives and roller-coaster careers of Frankie Valli and the Four Seasons. Never having heard more of the group than their names, and lacking all interest in them and their music, I entered the theater a skeptic, but promptly turned believer.
Jersey Boys - Time Out New York
With Jersey Boys, the Broadway musical has finally done right by the jukebox, presenting the Four Seasons' infectiously energetic 1960s tunes as they were intended to be performed. True, the script adheres closely to the dramatic beats of a VH1 biopic: building bridges in the first act, delving into tunnels in the second. But under Des McAnuff's sleek direction, the result feels canny instead of canned. And Bob Gaudio's music, as sung by a dynamic cast and shaped by Steve Canyon Kennedy's exemplary audio design, sounds as good as it ever did (and sometimes—blasphemy!—even better).
Jersey Boys Broadway Cast