JERSEY BOYS Sets Closing Date After 11 Years; DANCING WITH THE STARS' Mark Ballas Will Be Final 'Frankie Valli'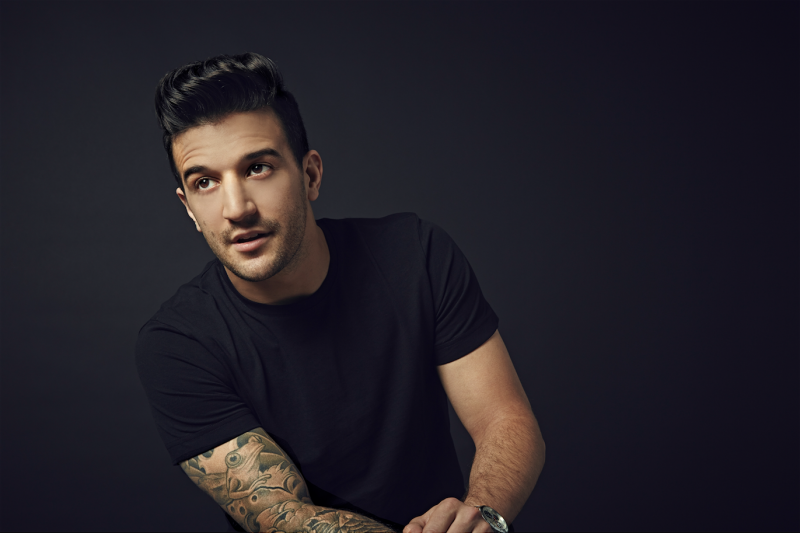 The producers of the Tony, Grammy & Olivier Award-Winning Best Musical Jersey Boys announced today that the Broadway production will end its record-breaking, 11-year run on Sunday, January 15, 2017 after 4,642 performances at the August Wilson Theatre (245 W 52nd St, NYC).
"Dancing with the Stars" superstar Mark Ballas will be the final actor to take on the iconic role of "Frankie Valli" making his Broadway debut in the show on Tuesday, October 18, 2016. He will continue in the role through the end of the show's historic run next year. Mauricio Pérez will continue to play "Frankie Valli" at certain performances during the week and Dominic Scaglione Jr. will play his final performance in the role on October 16th.
Jersey Boys opened on Broadway on November 6, 2005 at the August Wilson Theatre. It is now the 12th longest running show in Broadway history, passing such original Broadway productions as Miss Saigon, 42nd Street, Grease, Fiddler on the Roof, and The Producers. It's also one of only five currently running shows to play over 10 years on Broadway. Jersey Boys has set the box office record 30 times and has gone on to become the longest running tenant in the August Wilson Theatre's (formerly the Virginia Theatre) almost 100 year history. It is also the longest running tenant in any of the five theatres owned by the Jujamcyn Theaters organization. Jersey Boys has grossed more $2 billion worldwide and has been seen by over 24 million people.
Jersey Boys had its world premiere at the La Jolla Playhouse in 2004 before opening on Broadway in the fall of the following year. The national tour was launched at San Francisco's Curran Theatre in December 2006. It has gone on to have North American sit down productions in San Francisco, Chicago, Toronto and Las Vegas. Jersey Boys made its West End debut at London's Prince Edward Theatre in February 2008 and has since transferred to London's Piccadilly Theatre. Internationally, the show has been performed in 162 cities around the world and in 11 countries including Australia, South Africa, Singapore, Turkey, South Korea, Malaysia, The Netherlands and Japan. It has also been translated into Dutch, Korean and Swedish.Jersey Boys continues to tour throughout North America and the United Kingdom.
One of the most acclaimed musicals of all time, Jersey Boys is the recipient of the 2006 Tony Award for Best Musical and the 2009 Olivier Award for Best Musical. The Original Broadway Cast Recording, produced by Bob Gaudio, received the 2006 Grammy Award for Best Musical Show Album and has been certified Platinum by the Recording Industry Association of America (RIAA). The Broadway production also won the 2006 Outer Critics Circle & Drama League Awards for Best Musical. The London production also won the 2009 UK People's Choice and What's on Stage Awards for Best New Musical. The Toronto production is the winner of three Dora Awards, including the Audience Choice Award for Outstanding Production. The Australian production is 2010 recipient of the Helpmann Award for Australia's Best Musical and seven Victorian Green Room Awards. The South African production is the 2014 recipient of the 3 South Africa Naledi Theatre Awards including Best Musical.
Jersey Boys is the behind-the-music story of Frankie Valli and The Four Seasons. They were just four guys from Jersey, until they sang their very first note. They had a sound nobody had ever heard... and the radio just couldn't get enough of. But while their harmonies were perfect on stage, off stage it was a very different story -- a story that has made them an international sensation all over again. The show features all their hits including "Sherry," "Big Girls Don't Cry," "Oh What A Night," "Walk Like A Man," "Can't Take My Eyes Off You" and "Working My Way Back To You."
Jersey Boys is written by Marshall Brickman & Rick Elice, with music by Bob Gaudio, lyrics by Bob Crewe, directed by two-time Tony Award-winner Des McAnuff and choreographed by Sergio Trujillo. The production includes Music Supervision, Vocal/Dance Arrangements & Incidental Music by Ron Melrose and Orchestrations by Steve Orich.
Jersey Boys is produced on Broadway by Dodger Theatricals, Joseph J. Grano, Tamara and Kevin Kinsella, Pelican Group in association with Latitude Link, Rick Steiner / Osher / Staton / Bell / Mayerson Group. Associate Producers are Lauren Mitchell, Rhoda Mayerson and Stage Entertainment, and the Executive Producer is Sally Campbell Morse.
The design and production team includes Klara Zieglerova (Scenic Design), Jess Goldstein (Costume Design), Howell Binkley (Lighting Design), Steve Canyon Kennedy (Sound Design), Michael Clark (Projection Design), Charles LaPointe (Wig & Hair Design), Steve Rankin (Fight Director), Richard Hester (Production Supervisor), John Miller (Music Coordinator), Andrew Wilder (Music Direction), Molly Meg Legal (Production Stage Manager), Peter Fulbright (Technical Supervisor), Tara Rubin Casting / Merri Sugarman C.S.A.(East Coast Casting), Sharon Bialy C.S.A. / Sherry Thomas C.S.A. (West Coast Casting) and Sandra Carlson (Company Manager).
The current Broadway cast is led by Richard H. Blake (Tommy DeVito), Matt Bogart (Nick Massi), Mauricio Pérez (Frankie Valli at certain performances), Dominic Scaglione Jr.(Frankie Valli at certain performances), Quinn VanAntwerp (Bob Gaudio) with Peter Gregus and Mark Lotito, and includes Candi Boyd, Jared Bradshaw, Stephen Cerf, John Edwards, Alayna Gallo, Jon Hacker, Leo Huppert, Rory Max Kaplan, Christopher Messina, Joe Payne, John Rochette, Sara Schmidt and Kara Tremel.
Emmy-nominated Mark Ballas is a multifaceted entertainer. For the past 18 seasons, he has captivated more than 20 million viewers per week on ABC's hit show "Dancing with the Stars." He is a two-time champion, nine-time finalist and he earned a 2011 Emmy nomination for his work on the show. He choreographed Pepsi's Super Bowl commercial starring Sofía Vergara & the Oscar commercial for Shonda Rhimes' "The Catch." In the U.K., Mark appeared in the national tour of Buddy - The Buddy Holly Story and took the lead role of Tony, Off West End, inCopacabana. He also played Judas, Off West End, in Jesus Christ Superstar and Benjamin in Seven Brides for Seven Brothers. Mark currently performs in the duo Alexander Jean with fiancée BC Jean. The team's single "Roses and Violets" and debut EP "Head High" both debuted at #1 on iTunes' Singer/Songwriter chart. They have recently completed a 20 date U.S. tour. Mark is also an accomplished flamenco and electric guitar player. He was trained at The Italia Conti Performing Arts School in London.