Hillary and Clinton - 2019 - Broadway
Behind closed doors in the state of New Hampshire during the early days of 2008, a former First Lady named Hillary is in a desperate bid to save her troubled campaign for President of the United States. Her husband, Bill, sees things one way; her campaign manager, Mark, sees things another. If any of this sounds familiar, don't be fooled; in a universe of infinite possibilities, anything that can happen, will.
In Hillary and Clinton, Lucas Hnath examines the politics of marriage, gender roles, and the limitations of experience and inevitability in this profoundly timely look at an American dynasty in crisis.
Video preview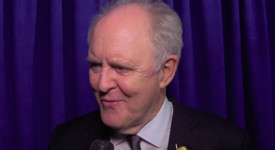 Photo preview
Schedule
Running Time: One hour and 30 minutes, no intermission
Featured Reviews For Hillary and Clinton
BWW Review: Laurie Metcalf, John Lithgow Debate The Art of Getting Elected in Lucas Hnath's Political Fan Fiction HILLARY AND CLINTON - BroadwayWorld
One might wonder if, a century or so from now, audiences might be able to see Hillary and Clinton with fresh eyes, uninformed by public knowledge and public opinion. But for now, it's those previous opinions we hold that act as additional characters in this vibrant social commentary comedy about the job of getting elected.
'Hillary and Clinton' review: Laurie Metcalf, John Lithgow lose this race - New York Post
Not even two of the brightest stage stars - Laurie Metcalf and John Lithgow - can make "Hillary and Clinton" more than a wispy exercise. The barbed comedy that opened Thursday night on Broadway doesn't lack for laughs. But as it rehashes old wounds, it offers no fresh insights into either political or personal realms.
Hillary and Clinton Broadway Cast