Hillary and Clinton - 2019 - Broadway
Behind closed doors in the state of New Hampshire during the early days of 2008, a former First Lady named Hillary is in a desperate bid to save her troubled campaign for President of the United States. Her husband, Bill, sees things one way; her campaign manager, Mark, sees things another. If any of this sounds familiar, don't be fooled; in a universe of infinite possibilities, anything that can happen, will.
In Hillary and Clinton, Lucas Hnath examines the politics of marriage, gender roles, and the limitations of experience and inevitability in this profoundly timely look at an American dynasty in crisis.
Video preview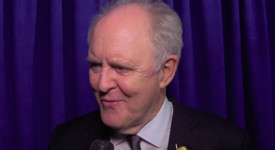 Photo preview
Schedule
Running Time: One hour and 30 minutes, no intermission
Featured Reviews For Hillary and Clinton
Hillary and Clinton - TimeOut NY
Like Hnath's A Doll's House, Part 2, this play is also a protrait of a complicated marriage, loving but not fully satisfying, and of a woman's attempts to define herself beyond it; her agitation is adeptly contrasted with Bill's wounded slickness and the smooth confidence of her primary opponent, Barack Obama (Peter Francis James). Directed firmly and dryly by Joe Mantello, Hillary and Clinton is cogent, snappy and perceptive about political and emotional realities. Much of the ground it covers might seem old to those who follow the news, but the play has now, as it could not have had in 2016, a looming sense of tragedy. Its final line, a shiv to the gut, sends you out hurting into the universe, outside the theater, where we somehow find ourselves now.
Broadway Review: Laurie Metcalf and John Lithgow in 'Hillary and Clinton' - Variety
If anyone could play Hillary Clinton, it's Laurie Metcalf - and here she is, in Lucas Hnath's "Hillary and Clinton," giving a performance that feels painfully honest and true. And if anyone could capture Bill Clinton's feckless but irresistible charm, that would be John Lithgow - and here he is, too. Who better to work with these actors, sounding the depths of these iconic figures, than director Joe Mantello, who is also on deck.
Hillary and Clinton Broadway Cast