All My Sons - 2019 - Broadway Tickets, News, Info & More
Award-winning actors Annette Bening and Tracy Letts return to Broadway in the play that launched Arthur Miller as the moral voice of the American Theater. In the aftermath of WWII, the Keller family struggles to stay intact and to fight for their future when a long-hidden secret threatens to emerge - forcing them to reckon with greed, denial, repentance, and post-war disenchantment across generations.
Video preview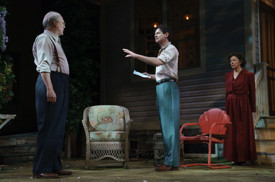 Photo preview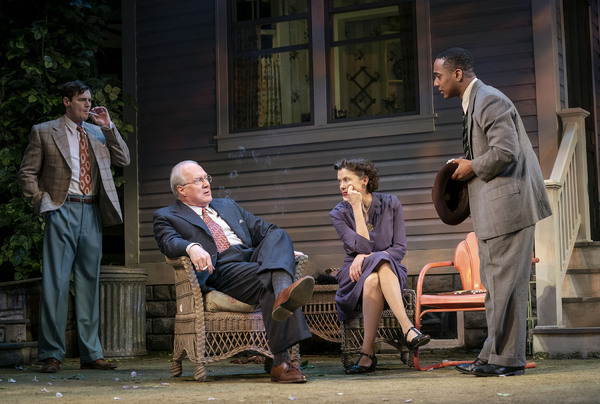 Schedule
Running Time: Two hours and 15 minutes, with one intermission
Twitter Watch
@roundaboutnyc
12/05/2021 03:31pm
Wishing a fantastic Opening Night to our friends at @DoubtfireBway! #DoubtfireBroadway
Featured Reviews For All My Sons
REVIEW: Broadway revival of Arthur Miller's timeless 'All My Sons' reflects today's contradictory demands of a free market and ethical behavior - New York Daily News
Letts' performance likely will strike some as odd or disconnected - I find it perfectly in tune with the moment, and there is much to like about Bening's work, too. Kate Keller is a tricky part - she can come off as merely an enabler or a kook. Bening comes up with something much richer, as does Walker, who is quite moving and, well, sad. It will take another generation or two to fix things, you think.
ALL MY SONS: ARTHUR MILLER'S STILL-SHATTERING BACKYARD TRAGEDY - New York Stage Review
As for how this production judges Joe, it's hard to ignore that Letts bears an eerie resemblance to capitalist warmonger and former Vice President Dick Cheney. Yet even as Joe is careening toward his inevitable fall, he never loses our sympathy. It seems selfish to want to see Letts do more and more stage roles when he could be writing more plays like August: Osage County and Mary Page Marlowe. But he's so spectacular in All My Sons-even in the simple, speechless act of reading a letter-that you can't help but imagine him (and Bening) in, oh, say...Death of a Salesman. Hey, a theatergoer can dream.
All My Sons Broadway Cast