All My Sons - 2008 - Broadway
The greatly-anticipated 2008 production stars Tony Award® winner John Lithgow, Academy Award winner Dianne Wiest, Tony Award® nominee Patrick Wilson, and Katie Holmes in her Broadway debut, and is directed by the world-reknowned Simon McBurney.
As timely today as the day it was written, the play was inspired by a true story about a successful businessman who knowingly sold the government defective airplane parts during World War II. A middle-class couple, Joe and Kate Keller, have lost their younger son in the war, but Kate cannot give up believing that he is still alive. Chris, their surviving son, falls in love with his brother's fiancée Ann and brings her home to tell them of their new relationship and their plans to marry. In the confrontations that follow, cracks begin to appear in everyone' stories, lies are exposed, and a secret is revealed that could destroy them all.
Video preview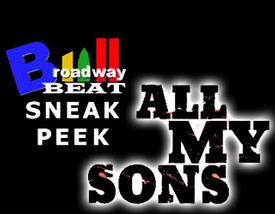 All My Sons Broadway Cast