Review: Tracy Letts and Annette Bening in Arthur Miller's Drama of Evolving American Dreams, ALL MY SONS
While many scoff at Broadway's habit of bringing back so many American classics from decades ago, a well-timed revival of an early work by one of our great masters could reveal a bit about how the young, emerging voices of another era were dealing with the same kinds of issues that we still debate (or avoid) at family dinners today.
Arthur Miller was an unknown 31-year-old with one extremely short-lived Broadway drama under his belt when, in 1947, the success of All My Sons thrusted him into the spotlight.
Unlike the countries that saw the devastation of World War II land at their front doors, America was enjoying great prosperity and feeling out its new status as a world power, and the younger generation of a country that once thrived on isolation was starting to look upon themselves as global leaders encouraging freedom and helping the underprivileged from other shores. On a more personal level, the American dream of individual success to benefit one's family was expanding to a collective consciousness for the good of one's community.
So a contemporary playgoer catching All My Sons for the first time might be surprised to see how much it alludes to themes in the forefront of today's political battles.
The last time All My Sons appeared on Broadway, director Simon McBurney's highly-stylized 2008 production was staged to resemble the play's similarities to Greek tragedy, which are certainly prevalent in the text. But Jack O'Brien's new mounting is firmly presented as a realistic slice of post-war 1940s suburban Americana, set by designer Douglas W. Schmidt in the idyllically lush surroundings of the Keller family's back yard. Like many Americans of his time, family patriarch Joe Keller (Tracy Letts) regards this modest bit of paradise as his reward for a lifetime of hard work as a successful business owner, where he can happily live out his days with his wife Kate (Annette Bening).
At the outset, the most serious concern is that a recent storm has damaged a tree planted as a memorial to Joe and Kate's eldest son, Larry, an air force pilot who was declared missing while flying missions in the Pacific. Though it's been three years and everyone else assumes the worst, Kate steadfastly holds on to the hope that he's coming back some day.
However, younger son Chris (Benjamin Walker) has since developed a relationship with Larry's former fiancée Ann (Francesca Carpanini) but he knows that asking his mother to accept their intended marriage would require her to accept Chris' death.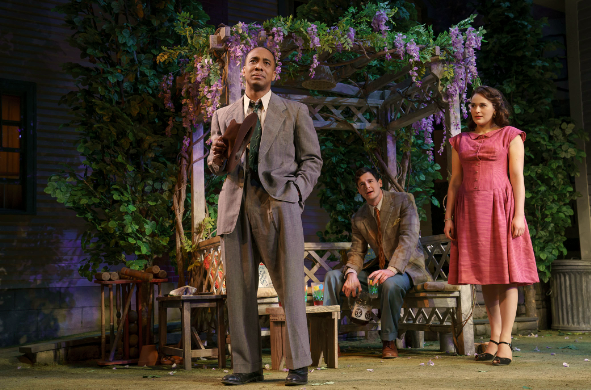 Their relationship is further complicated because Ann's father, Joe's former business partner, is in jail for allowing a shipment of defective airplane parts to be sold to the government, leading to the deaths of twenty-one military pilots. Joe also served time for his suspected involvement in the incident but was later exonerated.
When Ann's brother George (Hampton Fluker) arrives after a prison visit with their father, he brings with him accusations that Joe set up his partner to take the fall, hoping to save both his own skin and the solvency of his business.
Secrets are revealed, confrontations are made and, on a small level, the world changes.
Contrasting with video designer Jeff Sugg's horrific clips of doomed airplanes plummeting to the ground, O'Brien's production is decidedly low-key. Letts' Joe is an unremarkable everyman, happy to retire comfortably. Bening's Kate, living in an era when wives don't have much choice in the matter, determinedly stands by her husband's claims of innocence, knowing that her personal future is dependent on his. Walker's Chris, whose wartime experiences may have instilled a greater empathy for others, is an earnest voice of emerging ideals.