Jet City Improv Presents THE EMERALD CITY SLASHER Next Month
Performances run October 6-22.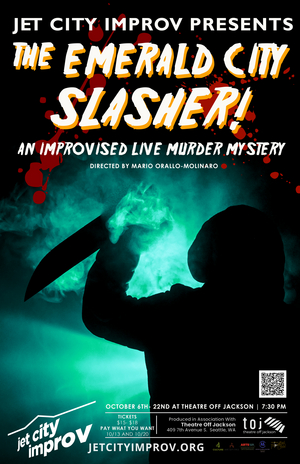 Jet City Improv will present its first new show of the fall season: The Emerald City Slasher, produced in association with the Theatre Off Jackson. Join us for an improvised PNW murder mystery where you create the characters and follow them as they find out who the menace is or if they're the next victim of... The Emerald City SLASHER! The killer's identity will be different with every performance.

Says Director Mario Orallo-Molinaro, "I chose to direct Emerald City Slasher because it bring some of my favorite things together--murder mystery, slasher, horror, Seattle local lore, and improv. The audience creates the characters and the magical cup of destiny defines their fate. Who are the victims? Who survives the madness?"

Neither the cast nor audience will know the killer's identity until curtains!

Buckle up, because it's going to get bloody wild!

DIRECTOR - Mario Orallo-Molinaro
STAGE MANAGER - Kayla Imrisek

CAST:
Randy Dixon
Avery Evans
Scott Flanary
Sara Jo Geiger
MK Hopps
Josh Hunter
Lauren Johnson
Erika Lowe
Bethy Meyers
Dash Pozo
Darrin Schultz
Madi Thomas

Performances @ Theatre Off Jackson
409 7th Ave. S., Seattle

Thursday, October 6, @ 7:30pm
Friday, October 7, @7:30pm
Saturday, October 8, @ 7:30pm
Thursday, October 13, @ 7:30pm
Friday, October 14, @ 7:30pm
Saturday, October 15, @ 7:30pm
Thursday, October 20, @ 7:30pm
Friday, October 21, @ 7:30pm
Saturday, October 22, @ 7:30pm

Tickets available here.