BWW Review: WET's Hilariously Creepy FEATHERS AND TEETH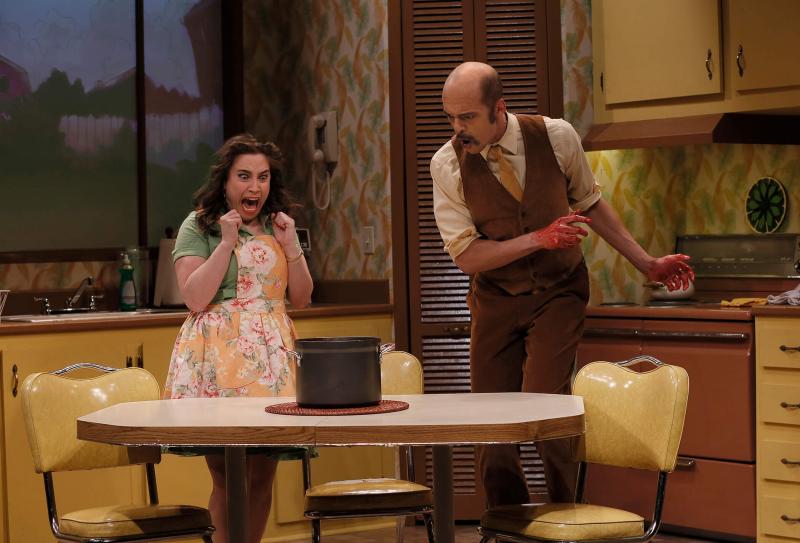 From the moment you set foot inside the theater at 12th Ave Arts to catch Washington Ensemble Theatre's current production of Charise Castro Smith's "Feather's and Teeth" you'll be struck with two things. First, the desperately trying to be idyllic 1970's family home that's slightly off kilter from the brilliant set by Pete Rush, and second, the earworm of Nancy Sinatra's insistent "It's Such a Pretty World Today" boring its way into your head thanks to the pitch perfect sound design from Maggie L. Rogers, both setting a delightfully askew tone for what's about to happen. And both setting up the fantastic journey with a fantastic design team and fantastic actors and fantastic staging making for a ... say it with me ... a wonderfully creepy show. (I told you things were a little off, right? Don't expect the expected.)
In Smith's play we meet Chris (Rachel Guyer-Mafune), your typical angry teen with even more to be angry about since her Mother has recently died. Even worse her Dad, Arthur (Brandon J. Simmons), has taken about two months to grieve and now his new girlfriend, the ever-chipper Carol (Samie Spring Detzer) has moved in. Carol looks to be trying to make everything like the perfect family until one day Arthur comes home and has hit some animal with his car. It's not like anything they've ever seen but it dies, and Carol insists on burying it. But then its offspring come back and Chris along with Hugo (James Schilling), the German boy from next door, take care of them in secret. Meanwhile Carol has secrets of her own and the arrival of these mysterious creatures begin to expose her for what she truly is.
This messed up "Leave it to Beaver" makes for an absolute delight and director Bobbin Ramsey keeps the insanity clipping along with some beautiful staging making the tension build to a frenzied pace. And on Rush's set, with Roger's sound design, and a thoroughly unsettling lighting design from Ryan Dunn the show practically leaps off the stage to eat the audience. (Don't worry, it doesn't.) And I must mention the outstanding projections from Bryce Bartl-Geller and animation from Broom Cupboard Studio that took this story to a whole new level.
The cast is, in a word, sublime. Detzer's Doris Day-esque mother kills (literally) with her hilarious lilt and giggle that can turn on a dime into a ferocious demon. She is simply astounding. And Simmons as the easily pliable man under her spell makes for the perfect companion. Guyer-Mafune creates the ultimate foil for Detzer and watching the two of them face off is a gift. Plus, her monologue telling the history of her family is worth the price of admission. And Schilling had everyone rolling with laughter from the moment he set's foot on stage in those little shorts and just kept the comedy coming while still managing a wonderful partner for Guyer-Mafune that she can manipulate.
If you're looking for a morbidly funny good time, then "Feathers and Teeth" is the one. And with this top-notch production you can't go wrong. And so, with my three-letter rating system, I give Washington Ensemble Theatre's production of "Feathers and Teeth" an "I'm still geeking out about that animation" YAY+. And one final note, curse you Maggie L. Rogers for making me never want to listen to Nancy Sinatra again!
"Feathers and Teeth" from Washington Ensemble Theatre performs at 12th Ave Arts through April 15th. For tickets or information visit them online at www.washingtonensemble.org.
Related Articles View More Seattle

Stories

Shows
Born and raised in Seattle, WA, Jay has been a theater geek for years. He attends as many shows as he can around the country (read more...)