BWW Review: Seattle Rep's TWO TRAINS RUNNING Undercut with Quiet Strength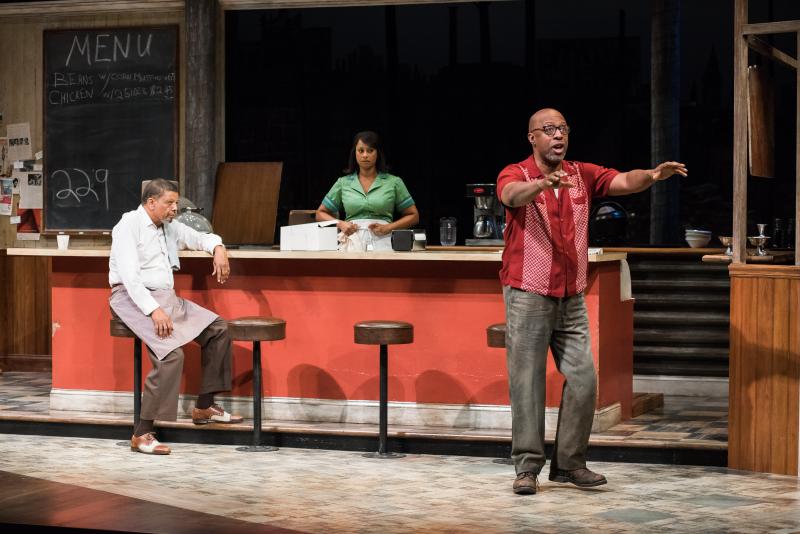 The Seattle Rep, fortunately for all of us, has long held a special relationship with the works of August Wilson. They're one of the few theaters in the country to have done his entire Century Cycle sometimes premiering those plays as was the case with "Two Trains Running" which they produced back in 1991 and have brought back to us this season. And as always, Wilson's plays still resonate and the Rep, this time in conjunction with Arena Stage, continues to present them with tons of honesty and heart.
The seventh play in the Century Cycle, we visit the denizens of a Pittsburgh diner in the tumultuous 1960's. The diner has seen better days whereas it used to be packed with customers now only a few regulars visit each day. Wolf (Reginald Andre Jackson), who keeps running numbers out of the diner much to owner Memphis' (Eugene Lee) consternation. Holloway (David Emerson Toney), with his stories of days gone by. The well to do undertaker from next door West (William Hall Jr.) who keeps trying to buy the place from Memphis. And the slow-witted Hambone (Frank Riley III) with his single-minded desire for what's owed him. All waited upon by the no-nonsense yet troubled Risa (Nicole Lewis) who's now being pursued by the confident dreamer Sterling (Carlton Byrd) who's just gotten out of jail. But even as things are changing in the world, so are they changing in this smaller world as the city is looking to buy the diner in order to tear it and everything around it down and Memphis is determined to get a fair price no matter what.
As with any of Wilson's plays the gripping story is only served even more engaging by the incredible dialog and complex characters and how they all effortlessly weave together. Director Juliette Carrillo keeps a beautiful pace for the piece never feeling rushed through even when conveying loads of exposition and the embodiment of these actors in this world is perfection. This is greatly aided by spot on scenic and costume designs from Misha Kachman and Ivania Stack. Not only are the actors transported to the era but so are we.
Each member of this ensemble is simply a true professional at the top of their game. Lee delivers such a guarded yet raw performance that it doesn't even feel like a performance but like we're just there eaves dropping. Hall makes for a superb adversary for him yet keeps him real in his own right. Toney and Jackson bring some wonderful added life to the diner. Lewis is simply a force of nature and her chemistry with Byrd is palpable with the two of them giving one of the best and sweetest seduction scenes I've seen on stage. And Riley may not have many lines in the show but that doesn't mean he doesn't have a lot to say and he does.
Everything about this production is simply top notch but then we should expect nothing less from the Rep presenting a Wilson play. They know how to do it well and this is no exception. And so, with my three-letter rating system, I give the Seattle Rep and Arena Stage's production of "Two Trains Running" a thoughtful YAY. With this one I believe I am, personally, half way through the century cycle. Here's hoping we get many more from the Rep so I can complete it for my bucket list someday.
"Two Trains Running" from the Seattle Rep and Arena Stage performs at the Seattle Rep through February 11th. For tickets or information contact the Seattle Rep box office at 206-443-2222 or visit them online at www.seattlerep.org.
Related Articles View More Seattle

Stories

Shows