BWW Review: Onward Ho's BIG ROCK - As Solid as Its Title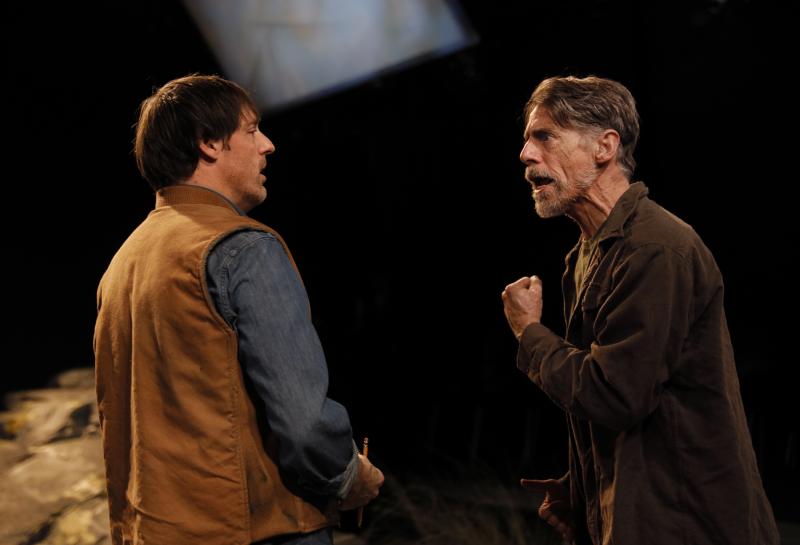 Ah, the family drama. I've seen too many to count. Parent and child don't see eye to eye even though they're more similar than they realize. Rift comes from neglect/abuse/death of other parent/etc. Catalyst opens wounds further to let secrets out and begin healing. Some work and some are merely someone else's therapy on stage (a thing, Dear Readers, you know I despise). Onward Ho! Productions is currently presenting one such family drama at West of Lenin with the World Premiere of local playwright Sonya Schneider's "Big Rock". And I'm thrilled to report that I did not catch Ms. Schneider's therapist anywhere near the stage but then how could I with such a well-crafted, engaging play told by three of Seattle's finest actors.
In this particular family drama, Harris Sands (Todd Jefferson Moore), a well-known poet, has secluded himself in an isolated house on an island to work on his new book with only the local jack of all trades Hamish (Evan Whitfield), who fetches him supplies, for company. Enter Harris' daughter Signe (Meg McLynn) who's come to visit her father or has she come to escape her own art opening about to happen in the city? When neither of their artistic endeavors turn out as they would like the two of them must face the rift between them and the demons in their way in order to reconnect with their art.
I was fortunate enough to see one of Schneider's works a few years back, "Royal Blood". Another family drama but nothing like this one except for the fact that both contain honest, and real characters with rich dialog filled with lines you wish you could come up with in conversation but also never sound forced or contrived. Also known as, damn good writing. And at the helm we have director Laurel Pilar Garcia who also directed the aforementioned "Royal Blood" keeping that same element of solid storytelling alive with a fantastic pace and crystal-clear intentions. Plus, there was that stunning set in a tiny space from Julia Hayes Welch. Kudos all around.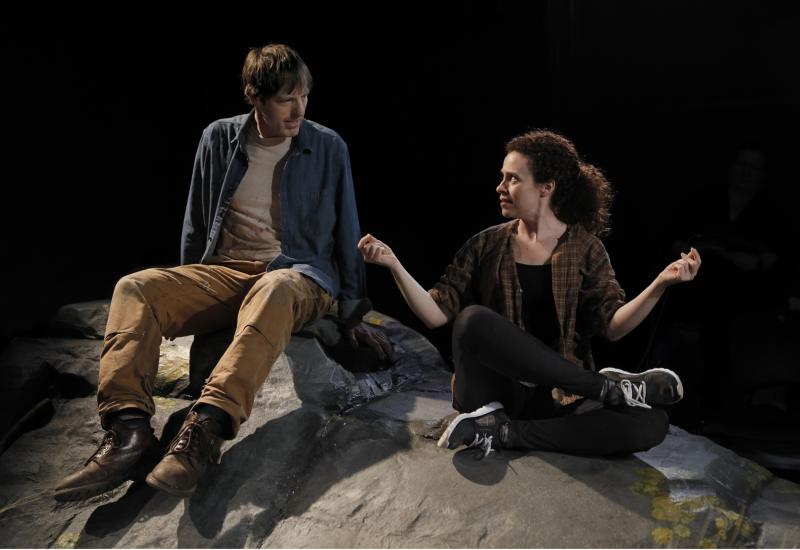 And then there's the triumvirate of talent on stage. Moore never ceases to amaze as he melds into any character and can still make you empathize. He's a gruff, spiteful, alcoholic but dammit we want him to win. Whitfield is delightful as the ebullient handyman. With an adorable puppy quality mixed with an old soul you can't help but hang on his every word. McLynn. What can I say about Meg McLynn that I haven't gushed about before? She's simply one of the best actresses in town and she just keeps getting better. Every nuance and movement of her performance elicits so much and her journey in the piece is a stunner.
This is one of those shows that on a cursory glance of the offerings in town you may let pass you by but don't. A beautiful piece told by consummate storytellers giving performances that you really do not want to miss. And so, with my three-letter rating system I give Onward Ho! Production's World Premiere of "Big Rock" a hearty YAY+. This is one of those little shows that shows us all how good theater can be in this town.
"Big Rock" from Onward Ho! Productions performs at West of Lenin through March 31st. For tickets or information visit them online at www.onwardhoproductions.com.