BWW Review: Join the Party with Seattle Shakes' Uproarious SHE STOOPS TO CONQUER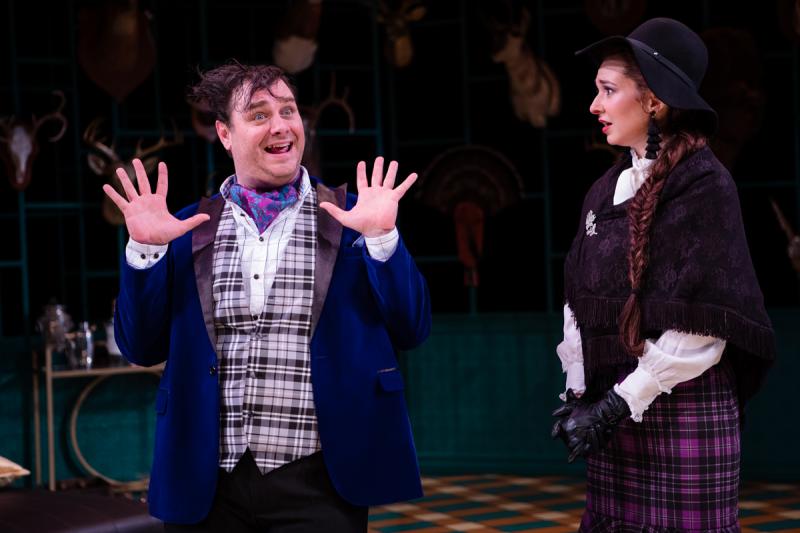 Ah, the restoration comedy. Those bawdy little comedies from the 1600's and 1700's with ill-mannered aristocrats being put through their paces. Now let's take one of those, spice it up with a bit of modern flair, pepper in some of the funniest damn people in town, and a hilariously ridiculous three person band with some original songs and what you'll have is the joyous, bound to go off the rails at any minute, high-speed train ride that is Seattle Shakespeare Company's current production of "She Stoops to Conquer".
In this lighthearted little romp, we meet Charles Marlow (MJ Sieber), the son of a rich land owner who has been sent to the home of his Mother's friend Mr. Hardcastle (R. Hamilton Wright) to meet his daughter Kate (Shanna Allman) for the two to marry. However, Charles has a little problem in that he can never work up the nerve to speak to high-born ladies as opposed to the ladies' man he is with the common folk. Kate finds this out and poses as a barmaid to allow her to get to know Charles better, aided by the fact that Charles thinks Mr. Hardcastle's home is an Inn thanks to a practical joke from Kate's step-brother Tony (Basil Harris). Speaking of Tony, his mother, Mrs. Hardcastle (Julie Briskman) wants him to marry Kate's cousin Constance (Jocelyn Maher) but she's in love with Charles' friend George Hastings (Lamar Legend) and to add insult to injury Tony can't stand Constance but cannot refuse her until he comes of age and gets his inheritance. And thus, the hijinks ensue.
Aside from raucous staging and addition of original music (which we'll get to in a minute) the best thing director Mekaela Pollock did for this production is to give the actors carte blanche to ad lib. Not to say the show is messy or a complete departure from the script but with the number of asides I cannot believe were in the original script, I can only assume the rehearsal room became a sort of ad libbing writers' workshop to punch up and modernize this piece making it pop. And it worked! And then there's that music from Brendan Milburn. Those original songs, mostly sung by Harris and backed up by the Three Pigeons band, not only add to the whole party vibe but also move the story along with a delightful recap kind of way and bookend the show perfectly.
The set from Julia Hayes Welch is an inspired level of insanity all its own with a forced perspective floor, see through walls, and the most terrifyingly hysterical mounted animal heads covering every inch of it. You should really pay attention to them. I swear one of them was a kind of Kermit the Frog with antlers. Combined with Chelsea Cook's outrageously patterned costumes and Andrew D. Smith's fantastic lighting and the play is a visual feast.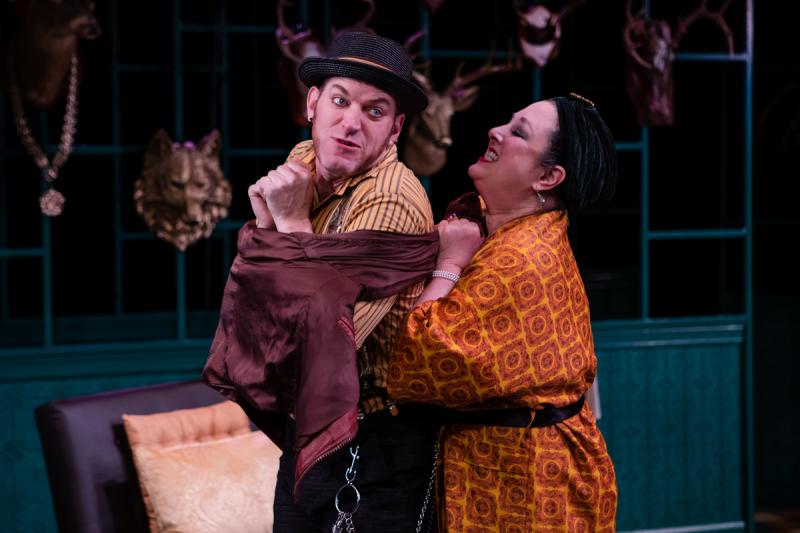 And then there's this ensemble which came from the comedy Gods. Each and every one from the leads down to the band who keep showing up in the most ridiculous places with the most hilarious effects. Kudos to all of them, Harry Todd Jamieson, Evan Mosher, and Steven Tran for not only keeping us rockin' but killing it in small, often unspeaking roles. And extra kudos to Mosher for stealing one of the opening scenes by simply not knowing where to put his hands. Karen Jo Fairbrook delightfully pulls in double duty as a local barkeep as well as Charlie's doting Mother. Legend and Maher are wonderful as the couple scheming to stay together at any cost. And Wright's ever more flustered Mr. Hardcastle get's funnier and funnier as the night goes on.
But it's Harris and Briskman, and Sieber and Allman who run off with the show. Harris is already a comedy troupe unto himself and takes Tony into a whole new realm. But when added to the comedy gold of Julie Briskman, the two cannot be stopped. Briskman's high-brow mother that constantly devolved into a brash New York Mutha stopped the show several times and I think we need a sequel of just Tony and his Mother. Then there's Sieber who has seemingly inherited the physical comedy prowess of Harvey Korman or John Candy (you millennials can Google them) and honed those skills to a razor's edge. And Allman matches him beautifully as she attempted to slink around the stage in a bad interpretation of a low-born barmaid.
If you are unable to have fun at this show, then you have something wrong with your funny bone and need to consult your physician. And so, with my three-letter rating system, I give Seattle Shakespeare Company's production of "She Stoops to Conquer" a rousing good time of a YAY+. And now if you'll excuse me, I need to go and figure out how to create a ringtone out of Julie Briskman screaming "I DON'T WANT TO GO INTO THE BUSHES!"
"She Stoops to Conquer" from Seattle Shakespeare Company performs at the Center Theatre through April 14th. For tickets or information contact the Seattle Shakespeare Company box office at 206-733-8222 or visit them online at www.seattleshakespeare.org.