Review: A PROPER PLACE at Village Shipwrecks Itself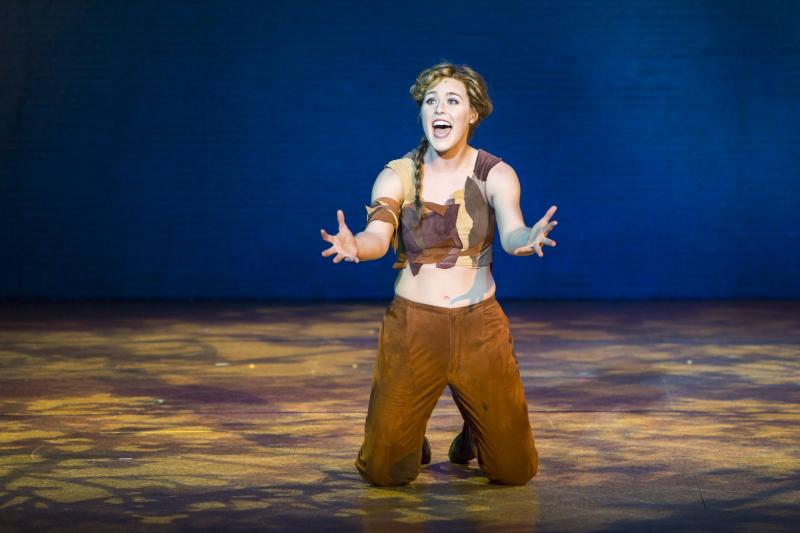 There's the old adage in any kind of entertainment that if you have a strong finish, the audience can forgive some pitfalls that may have come before. Unfortunately the new work currently playing at Village Theatre has many of those pitfalls (and some good moments too) but they're followed by one of the most egregiously bad, anti-climactic and lackluster endings I think I've ever seen.
Based on J.M. Barrie's "The Admirable Chrichton", the musical written by Leslie Becker and Curtis Rhodes is billed as "Downton Abbey" meets "Gilligan's Island". We follow the antics of Lord Loam (Hugh Hastings) and his upper crust family, his daughters Mary, Agatha and Catherine (Chelsea LeValley, Krista Curry and Sarah Bordenet), his nephew Ernest (Randy Scholz) who's engaged to Agatha, and the Reverend Treherne (David Caldwell) who's engaged to Catherine. Lord Loam considers himself quite the progressive even inviting the servants to tea (for one hour only) and decides to take his family on a sea voyage and brings their butler Chrichton (Kevin Vortmann) and kitchen maid Tweeny (Sophia Franzella) along with them. They are soon shipwrecked on a deserted island where the family realizes how useless they are at surviving and how ingenious Chrichton is at keeping them alive and comfortable and eventually the lines of class and station begin to blur.
It's a cute show. It's got a fun premise and the characters are likable and fun enough and there are a few quite pretty songs but largely the show lacks much to engage. Many of the songs are unmemorable and don't move anything along, there are story points and character moments that are put forth and then completely abandoned and then there's that ending where we are about to get the emotional denouement for the two main characters and that moment suddenly ends up happening off stage while the rest of cast watches it from on stage, and curtain! As an audience member it seemed like the writers had felt we'd seen enough and didn't deserve any closure. You do know we can't see the actors when they're off stage, right?
Director Jerry Dixon and the wonderful cast do what they can with the piece although I must question a few moments where we got lengthy musical interludes with nothing happening. LeValley is her usual fabulous self with her incredible stage presence and killer pipes and she is perfectly matched with Vortmann who's matinee idol looks are only surpassed by one of the clearest and richest, most powerful voices I've heard. And extra kudos to Vortmann who only stepped into the role a week ago when the previous lead sustained an injury. You would have never known he hadn't been with them all along. Hastings is a delight as the doting patriarch and Curry and Bordenet have some wonderful moments as the squabbling spoiled daughters. Caldwell remains solid throughout as the rational conscience of the group. And Scholz and Franzella are hilarious as the foppish twit and no nonsense maid who he ultimately falls for.
The show does have some things going for it with this cast and a few soaring numbers but is ultimately betrayed by the writing and that ending. And so, with my three letter rating system, I give Village Theatre's "A Proper Place" an unengaged and frustrated MEH-. I remember enjoying this much more when I saw the workshop at the Village Originals Festival so I have to wonder, what happened?
"A Proper Place" performs at Village Theatre in Issaquah through April 23rd and then moves to their Everett location running April 28th through May 21st. For tickets or information contact the Issaquah box office at 425-392-2202 or the Everett box office at 425-257-8600 or visit them online at www.villagetheatre.org.