EDINBURGH 2018: BWW Q&A- Stupid Cupid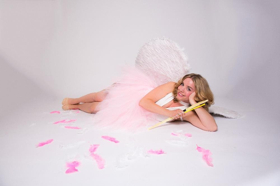 BWW catches up with Liz McMullen about taking Stupid Cupid to the 2018 Edinburgh Festival Fringe.
Tell us a bit about Stupid Cupid.
Stupid Cupid is a one-woman show all about Love. Cupid has been rigorously training in matters of the heart and she's finally ready to get her wings! But in the middle of her big exam, she accidentally shoots herself with one of her own arrows, making her fall in love with everyone in the audience. And after the first arrow leaves its mark, Stupid Cupid craves everything from the erotic to exotic - leading her down a path of passionate adventures and new insights on modern love. But with so much l'amour to explore, will Stupid Cupid get her wings before exam time is up?
Where has it been performed so far?
Stupid Cupid was apart of the 2017 Vancouver Fringe Festival in Canada. It was my first time performing in my home country in over ten years and it was well received.
Then Stupid Cupid was at the Brighton Fringe festival just last month. It's also had a short run at The Hen & Chickens Theatre in London. Next stop the Edinburgh Fringe Festival!
Why bring it to Edinburgh?
Edinburgh is the biggest festival! Everyone goes there. Ever since I got into theatre as a teenager and when I first discovered what fringe festivals were (I'm from Calgary- which is an oil'n gas town full of cowboys), I wanted to go to the Edinburgh Fringe; it's the big apple of Fringe Festivals!
Plus my show needs an audience due to the audience interaction element. Edinburgh fringe audiences seem up for it from my experience as a punter in previous years. I can't wait to share Stupid Cupid with everyone in Edinburgh. It's going to be a great festival!
Who would you recommend comes to see Stupid Cupid?
Anyone who loves love...or sex. Or both. Or wants to impress their date. Or just have a good laugh at the blunders of a Cupid who thinks she knows all about love, but discovers there's a lot she doesn't know...cue orgasm! Hen parties, couples and women in general seem to be my largest audience at previous festivals. I should mention, even though I think it's obvious, this show isn't suitable for children and has a 17+ rating.
Are there any other shows you're hoping to catch at the festival?
I am hoping to see as many solo shows as I can, in solidarity with my fellow solo artists. This includes Michelle Zahner's A Modern Guide to Heroism and Sidekickery, Gary Starr Performs Everything, The Guilty Feminist, Lucy Frederick: Even More Naked, Thea-Skot Through the Heart and Your To Blame and improv shows! I use to do improv, so I am keen to see all the great improv troupes that will be there, like Austentstious! And for late night comedy, Spank!
Stupid Cupid is at Underbelly Med Quad - Clover from August 1st - 27th (Not 13th)
For further information visit https://tickets.edfringe.com/whats-on/stupid-cupid
Photo Credit: Tom Webb