THE STAR WHO COULD NOT TWINKLE & OTHER WINNING PLAYS Concludes FST's Children's Theatre Series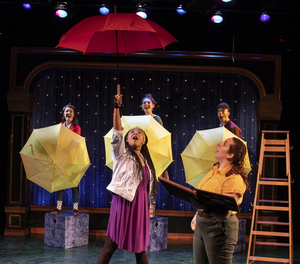 Florida Studio Theatre (FST) will present The Star Who Could Not Twinkle & Other Winning Plays, a collection of plays inspired by the imaginations of children in sixth grade and below. The Star Who Could Not Twinkle & Other Winning Plays is presented as part of FST's WRITE A PLAY (WAP) program, an award-winning arts-in-education initiative that provides students with the example, the inspiration, and the skills to write their own original plays. Plays generated through the program are submitted to FST's annual youth playwriting competition. Winning playwrights have their work selected out of thousands of submissions from around the world, to be brought to life in a professional production performed by skilled actors at FST. This year's anthology of winning plays is titled The Star Who Could Not Twinkle & Other Winning Plays.
When choosing winners, FST looks for plays with an inventive plot and characters, strong dialogue, insight, and diverse themes. "I look for a unique point of view and something that is honest and authentic in a winning play," said Caroline Kaiser, FST's Director of Children's Theatre. "Children are instinctive storytellers and the best young playwrights tell stories that can only come from their young imaginations."
This season, FST received plays from over 7,100 playwrights, a new record in the past 12 years of the WRITE A PLAY program.
"We have received plays that run the entire creative gamut this year," said Adam Ratner, FST's Young Playwrights Festival Coordinator and Lead Teaching Artist. "Plays that range from swashbuckling adventure stories about pencils battling erasers to charming tales of unicorns giving dancing lessons. Although there are certain themes that we often see repeated-the fear of not being accepted, the sorrow of losing a loved one, and the pure joy of achieving a goal-these young playwrights continually imbue their works with a personal spark of imagination that makes each play one-of-a-kind."
Wise, heartfelt, and often humorous, this compilation of award-winning short plays highlights the most creative and imaginative writing by elementary school students from around the world. This year's play submissions to FST's WRITE A PLAY program come from as far as Camden, NJ, Israel, and Scotland. Each play submitted undergoes a thorough evaluation process and is read at least twice by FST staff members and community volunteers.
Directing these touching original pieces is FST Associate Artist Jason Cannon. Cast in The Star Who Could Not Twinkle are FST Acting Apprentices: Samantha Dempsey, Brooke Emmerich, Tim Hiemstra, Marc Johnson, Pedro Leos, Reilly O'Connell, and Will Stapleton. These actors have previously been seen in FST's productions of Pinocchio, Deck the Halls: A Holly Jolly Holiday, and Tomás and the Library Lady.
The Star Who Could Not Twinkle & Other Winning Plays will play on weekdays to school groups in FST's WRITE A PLAY series and on Saturdays (and select Sundays) from March 28 to April 18 to the public as part of FST's Children's Theatre series in FST's Keating Theatre. Single tickets are $10. For more information, please visit floridastudiotheatre.org or call 941-366-9000. To book your school, please contact Hannah Bagnall at hbagnall@floridastudiotheatre.org.