Review Roundup: Berkeley Rep's METAMORPHOSES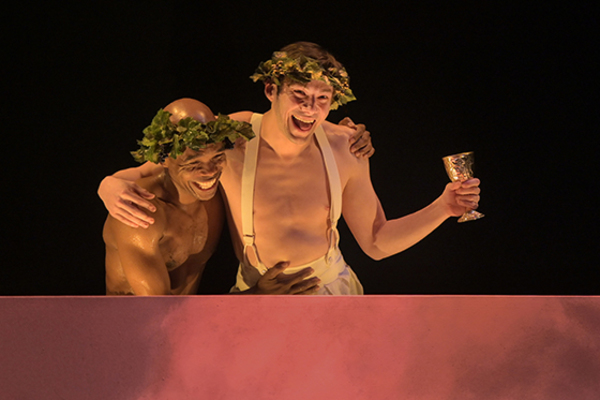 Berkeley Repertory Theatre's Metamorphoses is now on stage. This co-production with the Guthrie Theater is led by nationally and internationally renowned writer and director Mary Zimmerman.
At the turn of the millennium, Berkeley Rep presented Mary Zimmerman's breathtaking Metamorphoses - it later received a critically acclaimed Broadway run and garnered her the Tony Award for best director. Since then, Zimmerman has become a Berkeley Rep favorite, enthralling audiences with eight gorgeous productions including most recently The Arabian Nights, The White Snake, and Treasure Island.
"Mary Zimmerman is an artist whose work is infused with beauty, imagination, and intelligence," says Artistic Director Tony Taccone. "At the heart of her storytelling lies a wellspring of empathy that always feels restorative. Metamorphoses is a soaring, lyrical play that touches the very core of our humanity. We are thrilled to present it as a part of our 50th anniversary season."
Dreams and reality collide with gods and mortals in Mary Zimmerman's ode to the power of love - and the shadows that lurk beneath it. From a pool of water in the intimate 400-seat Peet's Theatre, she summons Ovid's classical tales of passion, betrayal, hope, and transformation, inviting us into a realm of shared cultural myths and beautiful, unshakable visions.
Previews for Metamorphoses begin Thursday, January 24, 2019 and the show runs through Sunday, March 10, 2019. Press day will be Thursday, January 31, 2019. Ticket for the run start at $40, and can be purchased online at berkeleyrep.org or by phone at 510 647-2949 (Tue-Sun, noon-7pm).
Metamorphoses premiered in New York City at The Second Stage Theatre in September, 2001 (Artistic Director: Carole Rothman; Managing Director: Carol Fishman; Executive Director: Alexander Fraser) and was originally produced by Lookingglass Theatre Company, Chicago. It is based on Ovid's Metamorphoses translated by David Slavitt and published by Johns Hopkins University Press, 1994. The section of Rainer Maria Rilke's poem "Orpheus, Eurydice, Hermes" was translated by Stephen Mitchell (1995, Modern).
Let's see what the critics have to say!
Georgia Rowe, SF Examiner: King Midas (Raymond Fox) sets a wry tone as a self-congratulating one-percenter ("Money is a good thing") whose wish for the golden touch quickly turns disastrous. Erysichthon (the great Stephen Epp) is possessed by an all-consuming hunger, while Phaeton (Rodney Gardiner), the son of Phoebus Apollo, takes a bright comic turn on a swimming pool float while griping to his therapist. Apparently, it's not easy being the son of the Sun God.
Emily S. Mendel, Berkeley Side: The dark wading pool of water with a platform bordering it on all sides is an exceptional feature of the set, and occupies most of the stage. The pool is central to all of the stories, although its function changes from tale to tale. It is used as a laundry basin, a swimming pool, an ocean and the River Styx. The scenic designer Daniel Ostling, reprises his original Rep work, as do costume designer Mara Blumenfeld, lighting designer T.J. Gerckens, and sound designer Andre Pluess. The haunting original music by Willy Schwarz is still a perfect accompaniment.
Lily Janiak, SF Chronicle: The stunning direction extends to each element of mise-en-scene. A golden-peach glow, by lighting designer T.J. Gerckens, takes almost corporal form as the fingertips of the gods as they morph Lamson's Alcyone, winding and searching with her arms, out of human form. A spotlight and a column of rain simultaneously shower on Moggridge's Orpheus, as blood-red devils lounge behind him: He's both cursed and the center of the world's attention and pity in his cursedness.
Sophie Kim, Daily Californian: The narrative framing of the play is also quite interesting. The stories are always told through a side character on stage, a story within a story. The most explicit case is the account of Myrrha (Sango Tajima) told by Vertumnus (Benjamin T. Ismail) in order to win over Pomona (Louise Lamson). Perhaps the play is attempting to pay homage to the ancient tradition of oral poetry reading. Another peculiar example is the tale of Cupid and Psyche. During this portion the set is dimly lit in an erotic red and narrated by the subdued whispers between two unnamed characters who watch the couple's downfall take place before them. One continuously asks questions about the tale like a curious child (Suzy Weller) and the other answers all of her inquiries calmly (Alex Moggridge). The tension between Cupid and Psyche is effectively relayed by the monochromatic lighting and hushed, mellow voices.