LASC Presents THE LEGEND OF GEORGIA MCBRIDE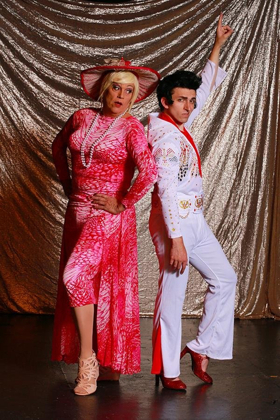 Los Altos Stage Company proudly pulls out all the stops for the South Bay Premiere production of Matthew Lopez's sparkling The Legend of Georgia McBride. A stark contrast to other works in the award-winning playwright's repertoire, this sassy, charming 90-minute comedy takes the Bus Barn stage by storm September 6 through September 30.
Los Altos Stage has this fierce, fabulous, and raucous showbiz comedy opening its 2018-19 season. Georgia McBride premiered in 2015 at the Denver Center Theatre for the Performing Arts and has since been produced at major theaters around the country.
Times are tough for Elvis impersonator Casey, who performs his act for an audience of zero in a Panama City, Florida dive bar. With the rent long overdue and a baby on the way, desperate Casey watches as a seasoned drag queen named Miss Tracy Mills brings her show to town. After filling in for one of Tracy's regular girls on short notice one night, Casey decides to trade in his sequined jumpsuit for a sequined dress, and under Miss Tracy's tutelage, finally achieves stardom. With The Legend of Georgia McBride, Los Altos Stage joyfully and campily brings a very different side of Matthew Lopez's repertoire to the Bay Area with this heel-toting showbiz comedy.
Matthew Lopez is the author of The Whipping Man, one of the most widely produced new American plays of the last several years. The play premiered at Luna Stage in Montclair, NJ and debuted in New York at Manhattan Theatre Club. Los Altos Stage Company's production of The Legend of Georgia McBride is directed by local favorite Linda Piccone (TBA nominated The Great American Trailer Park Musical) and Choreographed by Lee Ann Payne. It features Jeffrey Adair, Ashley Jaye, Michael Saenz, Michael Weiland, and Todd Wright. Scenic design is by Randy Wong-Westbrooke, costume design by Y. Sharon Peng, lighting design by Craig Vilbig, sound design by Gary Landis, and property design by Ting Na Wang. The Legend of Georgia McBride plays at the Bus Barn Theatre September 6 through September 30. Performances run Wednesday through Sunday. Wednesday-Saturday performances start at 8pm. Sunday performances start at 3pm.Ticket prices range from $18 (student) to $38, including gala opening night tickets with an artists' reception following the performance. Tickets can be purchased online at www.losaltosstage.org or by calling the Box Office at 650-941-0551.
Jeffrey Adair as Miss Tracy Mills and and Michael Weiland as Casey. Photo by Richard Mayer. For high resolution press image, please click here. About Los Altos Stage Company
Los Altos Stage Company is a quintessential American neighborhood playhouse, serving Los Altos and the greater South Bay area, and paying tribute to the full canon of American musicals, comedies, and dramas. This 23-year-old theater company strives to bring together a diversity of theater enthusiasts, practitioners, and supporters to create, explore, and celebrate the rich tapestry of American culture and experience through live theater. Los Altos Stage Company produces five to six shows annually at its intimate 99-seat theater located on the Los Altos Civic Center campus.