Franc D'Ambrosio to Return to Feinstein's at the Nikko with 'THE PHANTOM UNMASKED'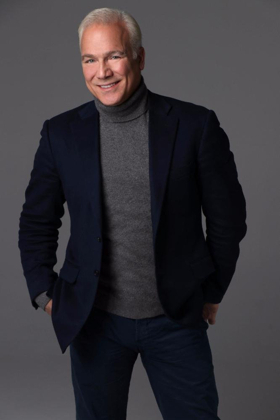 To celebrate 30 years of The Phantom of the Opera on Broadway, Franc D'Ambrosio returns to Feinstein's at the Nikko with The Phantom Unmasked - The Songs of Broadway, a magical evening celebrating the finest songs of Broadway, for two performances only - Friday, January 5 (8 p.m.) and Saturday, January 6 (8 p.m.). Tickets for Franc D'Ambrosio range in price from $30-$60 and are available now by calling 866.663.1063 or visiting www.ticketfly.com.
Franc D'Ambrosio is best known as the "Phantom" in Andrew Lloyd Webber's Tony Award-winning Musical, The Phantom of the Opera. Affectionately known as "The Iron Man of the Mask," Franc was awarded the distinction as the "World's Longest Running Phantom," with over 2,300 performances of the lead role, a title he held for a decade. This accomplishment was immortalized in a cemented hand ceremony.
Mr. D'Ambrosio is a welcomed and frequent guest artist with many major symphonies in America and Europe (Pop Series). With the success of D'Ambrosio's national and international tours, he has joined the ranks of the famed Michael Crawford and Sarah Brightman as only a handful of Phantom alumni to successfully crossover to solo careers. He celebrates 13 years of continuous touring.
D'Ambrosio's resume also includes an Academy Award-nominated film, an Emmy Award-nominated television show, a four-time Tony-nominated Broadway show, Two Grammy considerations, and a National Theatre Award nomination.
D'Ambrosio currently tours extensively - throughout the United States, Europe and South America - with his critically acclaimed one man shows: Franc D'Ambrosio's Broadway - Songs of the Great White Way (debut 2004), Franc D'Ambrosio's Hollywood - Songs of the Silver Screen (debut 2007), I'll Be Seein' Youz...A Bronx Boy's Musical Perspective of World War II (debut 2010), and Franc D'Ambrosio's Christmas in New York "(debut 2011).
Under the musical supervision of two-time Grammy Award winner David Caddick, Franc is pleased to be part of a new musical production, The Four Phantoms, featuring four of Broadway's iconic leading men who have received accolades worldwide for their stirring performances as the Phantom in Andrew Lloyd Webber's Broadway phenomenon The Phantom of the Opera. They have graced stages including London, New York, San Francisco, Toronto, Germany, Los Angeles, and Las Vegas. The program premiered to audience acclaim in Atlantic City and Phoenix in August 2016 and sold-out performances at Feinstein's/54 Below and Key Largo, FL in 2017.
Recognized for his vibrant voice and legato singing, D'Ambrosio was invited by Olympic Champion Brian Boitano to perform as a special musical guest in the skater's NBC special "Brian Boitano's Skating Spectacular." D'Ambrosio also joined Boitano in his next TV special, "The 2005 Tribute to Movies on Ice," starring as special musical guest with multi-Grammy Award winning vocalist Michael Bolton. His performance of "Music of the Night" skated to by Boitano, received the evenings only standing ovation.
In the middle of his full schedule of solo concerts, D'Ambrosio has co-starred with Dorothy Hamill in the critically acclaimed "Broadway On Ice." D'Ambrosio also starred in the Louisiana Lyric Opera's successful production of Miss Saigon. The National Italian American Foundation featured D'Ambrosio as their special guest artist for the prestigious 2011 Spring Gala - an event co-hosted by Joe Mantegna and Gary Sinse.
In July of 2011 D'Ambrosio was pleased to accept the invitation to co-star in the production Love Changes Everything - a celebration of the music of Andrew Lloyd Webber. This production boasted an all-star cast, which also featured Tony Award nominee Liz Callaway, Kevin Kern and Laurie Gayle Stephenson. They played to packed houses and received rave reviews. Said Alice T. Carter from the Pittsburgh Tribune: "Most impressive is D'Ambrosio who played the title role in The Phantom of the Opera for six years and delivers an exquisite version of "The Music of the Night."
In February 2013, D'Ambrosio brought his popular Broadway program to the Hard Rock Live stage in Hollywood, Florida. Over 1,800 audience members gave D'Ambrosio three standing ovations.
In November 2014 Franc was pleased to be part of "Superstars of Skating" programs in Brazil - featuring gold and other figure skating medalists - that was broadcast live on Brazil TV. Franc was also part of a Christmas program that aired on Brazil TV's morning show. In December 2014, Franc was part of the cast of "Broadway on Ice" which enjoyed a 16-show run in Mexico. Franc was featured in a return engagement of "Superstars of Skating" in Brazil in September 2016.
D'Ambrosio celebrated his Italian heritage by serving as the Grand Marshal of the San Francisco Columbus Day Parade and festivities in October 2015.
Franc D'Ambrosio's passion for teaching his craft to young artists leads to Italy each summer where he teaches at the Lorenzo Malfatti Accademia Vocale di Lucca. He also lectured for the University Of Cincinnati's College-Conservatory Of Music in Spoletto, Italy. He works with the Cherubini Music Conservatory in Florence, Italy and American University in Washington DC. D'Ambrosio also participates in numerous lecture series for such prestigious institutions as the New Conservatory Theater in San Francisco, the famed Julliard School NYC and the American Academy of Dramatic Arts in New York City. While touring, D'Ambrosio makes himself available to local school outreach programs across the U.S. and Europe. He offers both lecture and master class formats.
For additional information on Franc D'Ambrosio, visit www.francdambrosio.com.
Located within Hotel Nikko (222 Mason Street, San Francisco), Feinstein's at the Nikko presents a wide range of entertainers from stage and screen all within an intimate 140-seat cabaret setting. There is a $20 food and beverage minimum per person inside the showroom which guests can use towards cocktails as well as a variety of small plates crafted exclusively for Feinstein's at the Nikko through Restaurant Anzu. Cheese and dessert platters will also be available in the showroom.
Guests of Feinstein's at the Nikko can enjoy a variety of food and beverage options before performances. Kanpai Lounge, located in Hotel Nikko's lobby, offers light cuisine, a full bar and specialty cocktails. Restaurant Anzu, Hotel Nikko's intimate restaurant located on the second floor, serves sustainable California cuisine enhanced with Asian flavors. Restaurant Anzu will also offer Feinstein's at the Nikko guests a special three-course prix-fixe dinner ($45 per person) prior to all performances. Reservations can be made by calling (415) 394-1100. For additional information on Feinstein's at the Nikko, visit: www.hotelnikkosf.com/feinsteins.

Related Articles View More San Francisco

Stories

Shows
More Hot Stories For You