BWW Review: FUN HOME at TheatreWorks Silicon Valley puts the home and the heart in dysfunction
In the Bay Area regional production premiere of a much-lauded musical, TheatreWorks Silicon Valley makes it fun to go home again when the destination is Fun Home.
With music by Jeanine Tesori (Shrek The Musical, Violet) and libretto and lyrics by Lisa Kron (Well), the musical moved from Public Theater renown in 2014 to Broadway and marked the first time an all-female writing team picked up Tony Awards for score and book. The work is based on a graphic novel memoir by artist Alison Bechdel and chronicles her attempt to reconcile her family life growing up in a funeral home, coming out as lesbian, and the death of her father, a closeted gay man.
In what is now becoming something of a musical biography trend - a la Summer: The Donna Summer Musical and The Cher Show - Alison is presented in three stages of life and played by three actors. When I saw the Public production, I most connected with Beth Malone as the older narrator Alison. When it toured San Francisco, it was youthful Alessandra Baldacchino and her sense of wonder that resonated the most as Young Alison. Here in Mountain View, almost logically, Erin Kommor as Middle Alison made the strongest impression, with her geeky, coltish awkwardness and joyful sense of discovery.
Alison has daddy issues, but daddy has issues of his own. Bruce, the deeply conflicted father, was a Tony-winning role for Michael Cerveris. Here James Lloyd Reynolds is masterful taking on the mantle and making it his own. Trapped in what feels like a powerless situation, his Bruce ekes out what little control he can in his world, demanding exacting placement of furniture, objet d'art, and family members. Still, he's not stone. You see the love he feels for his children, especially Alison, even if she cannot. You also feel the undercurrent of pain he knows both his compulsions and obsessions bring.
It would be easy to have made this a dour polemic about LGBT oppression from within and without, but the gifts of Kron, Tesori, Bechdel - which director Robert Kelley artfully deploys - are the moments of lightness and pure joy that make the losses all the more tragic. These elements play front and center most naturally with the kids. If Lila Gold, who alternates with Ruth Keith as Young Alison, is not a standout - the song "Ring of Keys" feels like a missed opportunity to shine - the threesome of Gold, Jack Barrett (the saving grace of The Full Monty, recently at Hillbarn Theatre), and Billy Hutton (alternating their roles with Dylan Kento Curtis and Oliver Copaken Yellin respectively) are a pretension-free fun zone. Their family-business commercial, "Come to the Fun Home," is wacky enough in concept, but the trio go for extra innings with inspiring exuberance and a complete lack of artifice.
As the Bechdel doppelganger, Moira Stone narrates from adult Alison's view, trying to connect the fragments of feelings half-remembered and fuzzy memories with the quizzical, almost dispassionate eye of journalist - indeed, Rachel Maddow came to mind more than once - until, near the end, she steps into the action. Then Stone melts into "Telephone Wire," being both in the anguished, awkward moment of wanting to connect with her father, and undercut by the hindsight and regret of missed opportunity and knowing what is to come.
Trying to hold her family together brings out the steel and the deep vulnerability of Helen, the matriarch, expertly played by Crissy Guerrero. Denial gives way to desolation and anger as Helen reconciles the state of her marriage and life. Guerrero's performance is beautifully sublte with flashes of fire as she confronts Bruce's lies. Visibly resigned to the truth and trying to ameliorate her situation, she makes a poignant play to protect her daughter. "Don't you come back, no matter what," she says simply but clearly.
William Liberatore complements Kelley's fluid staging with his consistently precise, crisp, and pleasing music direction and Andrea Bechert has designed a delightfully flexible yet specific world I which these characters can really live and reveal themselves to us.
Take the youthful advice of the Bechdels and come to this Fun Home where you might just find a familiar place at the table.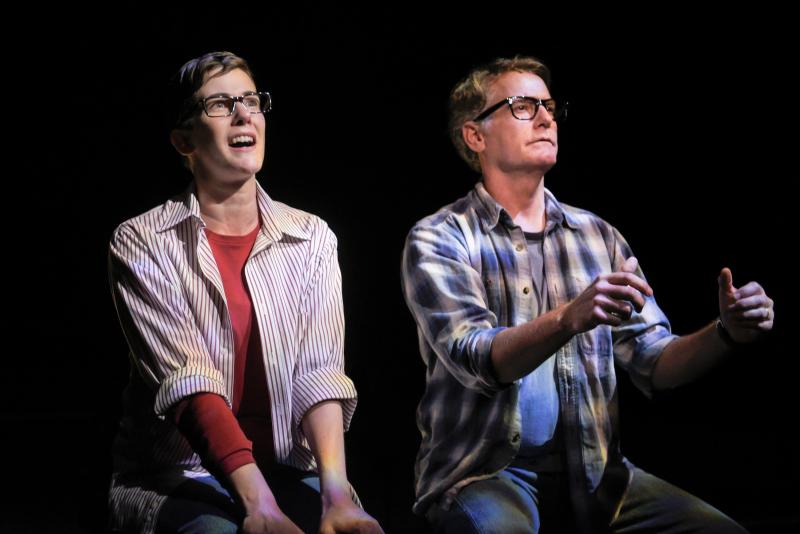 Fun Home runs through October 28 at TheatreWorks Silicon Valley.
TICKETS | Images: Kevin Berne

Related Articles View More San Francisco

Stories

Shows
Robert Sokol is the editor-publisher of BAYSTAGES, the creative director at VIA MEDIA, serves on the executive committee of the American Theatre Critics Association (ATCA), (read more...)