47 Playwrights in Four-and-a-Half Days Write Original Plays Inspired by The Topic FALL DOWN, GET UP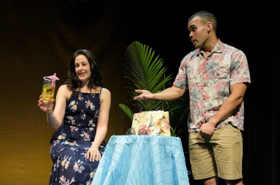 PlayGround continues its 25th season of its celebrated Monday Night PlayGround staged reading series on Monday, November 26, 8 PM at Berkeley Repertory Theatre's Roda Theatre. The topic for November's round, announced this morning, is "FALL DOWN, GET UP". Members of the 2018-19 PlayGround Writers Company have just four-and-a-half days to generate their original ten-minute plays inspired by the topic. The top six scripts will each receive an hour-and-a-half rehearsal and a professional script-in-hand staged reading at Berkeley Rep on November 26. PlayGround writers in Los Angeles are working simultaneously on the same prompt and their finalists will be presented at Hollywood's Broadwater Mainstage (home of Sacred Fools Theatre Company) on November 12. Tickets are $15-$30 and 5-admission series subscriptions are just $75 ($50 for 25-and-Unders). For tickets or more information, visit http://playground-sf.org/monday.
The playwrights of the 2018-19 PlayGround Writers Company are: Linda Amayo-Hassan, Terence Anthony, Lynn Aylward, Carson Beker, Cass Brayton+, Tom Bruett, Madeleine Butler, Ron Campbell, David Cole, Michael Curry, Nara Dahlbacka, Rob Dario, Victoria Chong Der+, Nancy Fishman, Elizabeth Flanagan, Jerome Joseph Gentes+, Akaina Ghosh, Lauren Gorski, Ruben Grijalva+, Garret Jo Groenveld+, Tanya Grove, Karen Hartline, Sam Hurwitt, Michelle Ianiro, Nicole Jost+, Lisa Kang, Melissa Keith, Kate Keleher, Molly Krost, Jonathan Luskin+, Katie May+, Alanna McFall+, Tom Mercer, Laylah Muran De Assereto, Isaac Ontiveros, Lana Palmer, Erin Marie Panttaja+, Evelyn Jean Pine+, Madeline Puccioni, Marsha Roberts, Annette Roman, Cleavon Smith+, Nic Sommerfeld, Martha Soukup, Lucy Urbano, Leela Velautham, Steven Westdahl (+ Resident Playwright).
Recent topics have included: "Justice", "We Hold These Truths to be Self-Evident," "Artificial Intelligence," and "Probable Future or Possible Future" as part of a now-five-year collaboration with Planet Earth Arts and Stanford University. The top six plays from each month are rehearsed for just one-and-a-half hours each and presented as script-in-hand staged readings at Monday Night PlayGround, now celebrating its twenty-fifth year. PlayGround audiences get to enjoy a unique behind-the-scenes perspective, with a free Pre-Performance Discussion at 7:10pm. Audience members can also experience the thrill of being a producer through the monthly People's Choice Awards, helping to determine which plays and playwrights go on for consideration in PlayGround's annual showcase, the Best of PlayGround Festival.
The 25th season also marks the return of PlayGround's Equity company with a newly-signed two-year agreement announced in tandem with PlayGround's #FairWage campaign for increased artist compensation. The PlayGround Company represents some of the Bay Area's leading directors, actors, and designers, with a majority belonging to Actors' Equity Association, the union of professional actors and stage managers. The 2018-19 PlayGround Company includes: Molly Aaronson-Gelb, Patrick Alparone*, Liz Anderson*, Rinabeth Apostol*, Michael Asberry*, Michael Barrett Austin*, Mary Baird*, Millie Brooks, Julia Brothers*, Nicole Apostol Bruno, Lizzie Calogero*, Ron Campbell*, Joy Carlin*, Nancy Carlin*, Desdemona Chiang, David Cramer*, Will Dao*, Anne Darragh*, Dodds Delzell*, Carolyn Doyle*, Nora el Samahy*, Rebecca Ennals, Britney Frazier*, Michael French, Sarah Gasser, Norman Gee*, Douglas B. Giorgis*, Amy Glazer , Cindy Goldfield*, BW Gonzalez*, Margo Hall*, Rosie Hallett*, Daryl Anthony Harper, Eric Fraisher Hayes*, Brian Herndon*, Lyndsy Kail*, Danielle Levin*, Jeffrey Lo, Gwen Loeb*, George Maguire*, Melanie Marshall, Julia McNeal*, Sam Misner*, Brady Morales-Woolery*, Lisa Morse*, Molly Noble*, Soren Oliver*, Joseph Patrick O'Malley*, Melissa Ortiz*, Doyle Ott*, June Palladino*, Carla Pantoja*, Louis Parnell*, Jed Parsario, Michael Phillis , Rebecca Pingree, Stephanie Prentice*, Virginia Reed, Cathleen Riddley*, Katja Rivera , Adrian Roberts*, Stacy Ross*, Adam Roy, Lindsey Marie Schmeltzer, Robert Sicular*, M. Graham Smith, Ken Sonkin*, Lauren Spencer*, Teddy Spencer*, Howard Swain*, Jomar Tagatac*, Emilie Talbot*, Danielle Thys*, Jon Tracy , Mark Rafael Truitt*, Liam Vincent*, Maryssa Wanlass, Tracy Ward , Reggie D. White*, Aaron Wilton*, Elena Wright* (* Member, AEA).
PlayGround, the Bay Area's leading playwright incubator, provides unique development opportunities for the Bay Area's best new playwrights, including the monthly Monday Night PlayGround staged reading series, annual PlayGround Festival of New Works, full-length play commissions and support for the production of new plays by local playwrights through the New Play Production Fund. To date, PlayGround has supported over 200 local playwrights in the development and staging of more than 850 original short plays and 75 new full-length plays, with 6 more commissions currently in development. PlayGround also operates Potrero Stage (formerly Thick House), a state-of-the-art 99-seat black box theatre in San Francisco's Potrero Hill neighborhood, home to some of the Bay Area's leading new play developers and producers, including PlayGround, Crowded Fire, Golden Thread, and Playwrights Foundation. For more information, visit http://playground-sf.org.
Tickets are $15 general admission ($30, priority seating) online in advance and $20 general admission at the door, subject to availability. 5-admission series subscriptions are just $75 and include priority seating (25-and-Under subscriptions are just $50). For more information about the Monday Night PlayGround series, call (415) 992-6677 or visit www.PlayGround-sf.org/monday.
Photo credit: Mellophoto.com
More Hot Stories For You